"I See What You Mean" is the name of the forty-foot sculpture of a blue bear by Lawrence Argent that stands outside, staring into the windows of the Colorado Convention Center in Denver. This startling public art work has become a regular photo-op for visitors, bloggers, and art seekers. On a recent trip to Denver, looking down from an adjacent hotel at this marvelous and entertaining creature, I could also easily observe scores of construction workers pouring concrete, floor after floor, for a new high-rise building, going at it twenty-four hours a day in the frigid air. I suspect some of them felt as cold as the bear was blue.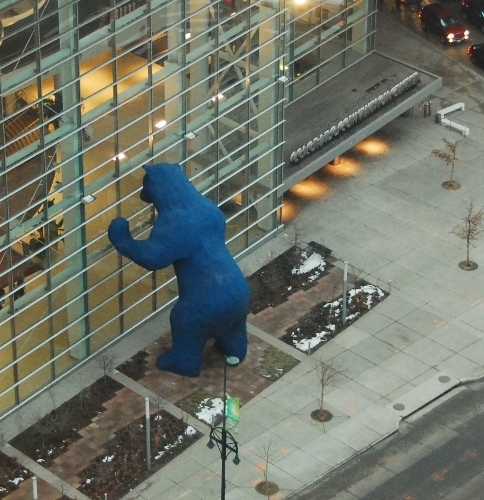 Not far away from "I See What You Mean," a gathering of experts at the Denver Art Museum/Petrie Institute of Western American Art was exploring American sculpture in the 19th century. The assembled experts included Thomas Smith, Andrew J. Walker, Thayer Tolles, Peter H. Hassrick, Sarah E. Boehme, Alice Levi Duncan, and Patricia Limerick, whose discourses actually edged into the 20th century and covered prominent sculptors, including Hermon Atkins McNeil, Augustus Saint-Gaudens, James Earl Frazier, Frederic Remington, Charles Russell, and Paul Manship.
More than once during the discussions the point was made that many of the public works of these artists, in one way or another, reflected a nostalgia for elements of American life that existed safely in the past (Indians and cowboys), or classical mythological heroes, or animals headed for extinction (lions, bears, elephants). James Earl Frazier's "End of the Trail" sculpture of an Indian slumped on his horse in a defeated pose and Frederic Remington's "Broncho Buster" epitomize this nostalgia. Charles Marion Russell was quite frank about his intentions, pointing to the untrammeled wilderness of the past and the larger-than-life characters who peopled it. Several of his own exhibitions carried the title "The West That Has Passed."
Russell and his cohort pose a clear contrast with Lawrence Argent, who explains his approach this way:
I am an artist that utilizes assorted mediums and venues to engage the viewer in questioning the assumed and provide a vehicle by which stimulus opens a plethora of responses that defy verbal articulation.
denvergov.org
Despite this contrast, the presence of monumental artworks in public spaces is something we have grown to expect, and the message intended by the artists is not necessarily that received by viewers. Argent's blue bear stands near the end of a long procession of monumental sculptures, particularly those of wildlife, that occupy the public (usually urban) landscape. Artists' intentions aside, the telling contrast may be between free animals in the wilderness (a notion with its own nostalgia) and urban parks with wildlife sculptures. Who knows? Art may defy verbal articulation yet again and bring us to a better co-existence with animals and the earth.