It's a rare opportunity to get one-on-one time with a revered basketball player, let alone when said athlete is three-time NBA champ Dwayne Wade. But earlier this month in Miami, that's exactly where a group of journalists found themselves--center court at American Airlines Arena, specifically, at the invitation of Hublot, official timekeeper--and first U.S. team sports partner--of the Miami Heat.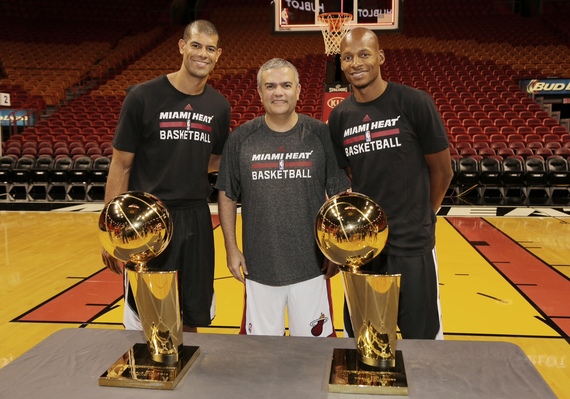 "I've been honored over the years to be an ambassador for Hublot," said Wade, the first NBA ambassador for the Swiss luxury watch brand, who is in a rarified circle that includes the likes of Kobe Bryant and Usain Bolt. "This isn't even a dream; it surpasses a dream."
Over the course of the weekend, guests, hosted by Hublot CEO Ricardo Guadalupe, partook in watching the Heat battle the Charlotte Bobcats from the Hublot VIP suite, participated in a first-ever basketball clinic on the hardwood led by Heat members Ray Allen and Shane Battier, legendary coach Pat Riley and basketball icon Alonzo Mourning and were hosted by Wade himself for an intimate dinner in South Beach.
During the occasion, Hublot announced a three-year extension to its partnership with Wade and that the two are already working on a second collaborative watch to debut next fall. Whereas Wade's first Hublot watch--the King Power Dwayne Wade--was more about basketball (translation: casual, sportier), he wants his second to be more elevated. "My initial goal was to make sure the watch world was familiar with me and the way they could be was because of my association with basketball," he explained. "My next watch can be more style, more classic, a little more German."
While Wade was coy when asked how many Hublot timepieces he owns--"I'm well taken care of," he offered--he did wax poetic on appreciating the craftsmanship that goes into the making of any high-caliber timepiece. "Hublot has really opened up the world to me in a unique way," he says, referencing his many international travels with the brand. "Having visited the manufacturer in Switzerland, it's eye-opening to see the blood, sweat and tears that go into making these watches." Apropo, really, when one takes a walk through the Miami Heat locker room, where a similar sentiment is echoed throughout the murals that illustrate key game moments throughout the years.
"The one thing that's great about the brand is that there are so many different designs to choose from," said Wade. "Even though I dress a little crazy, I'm simple when it comes to how I pick watches." Wade described himself as the typical guy: "I've gotta have a black watch--a black base watch with a silver face--a gold watch with a gold face...because your watch needs to go with multiple outfits," he says. "I don't wear a lot of ice; I'm more of a classic guy."
As for elevating one another's profiles, Wade acknowledges that with the power, comes responsibility. "If I've done anything for them, it's hopefully having been a good walking billboard representing what they expect from me: someone people can identify with, someone people can look at and say they want to emulate or go to the same places I have. It's beyond sitting there smiling with a watch on my wrist."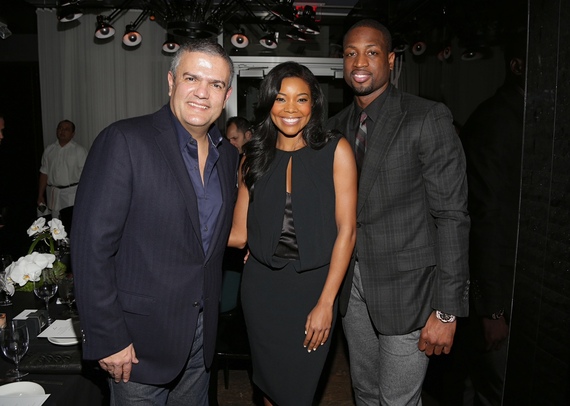 Given Hublot's penchant for athleticism and all things sports-centric, the Wade partnership, above all others, comes across as a truly genuine--and, familial, even--relationship that goes beyond the dime-a-dozen endorsement deals of today. As Battier explains, this symbiotic connection serves a dual-fold purpose.
"We have so many people that are strictly basketball fans, but the minute you walk into this arena and see Hublot, you become curious about what this brand is," he says. "So you start to look into it and the fans of each other bleed into each organization."