Leaving your day-to-day work and normal surroundings, even if only for two days 70 miles to the North, can be eye opening. Lessons learned, even important ones like the vitality of vision in successful communities, however, fade without persistent attention. Vision, and leaders who live the vision, were my takeaways from the Colorado Experience 2012. That, and how cool it would be to have a slide in my office.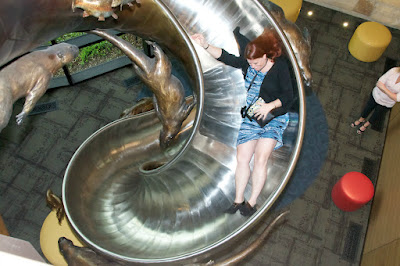 My Leadership Denver classmate Paula Henry takes the Otter plunge.
This second installment of the Colorado Experience program of the Denver Metro Chamber Leadership Foundation brought about 125 business and civic leaders from Denver to Fort Collins. Cooperation was the word that best expressed my thinking about last year's inaugural Colorado Experience to Colorado Springs. This year's word is vision, and I want to share with you three successful visions shared with this year's group. Then, I'll consider what happens to vision when persistence wanes.
Invest in systems to run the company and then invest in people to run the systems. Otterbox is a successful Colorado company with strong visions of how a company succeeds. Success, however, was not a straight-line result from their vision. Persistence and multiple trips "back to the garage" were required. Equally compelling: a successful company must not only be engaged in its community, it must inspire others to do so. Thank you, Otter owners Curt and Nancy Richardson.
Let your life speak. It's not just a Quaker adage; it's as much a part of the brew as the hops at New Belgium Brewing. Leaders honor the company's triple bottom line of people, planet and profits that makes New Belgium sustainable; employees understand the vision is more than lip service. Recognize that challenges are inevitable, so celebrate accomplishments. After all, if it is not fun, it is not sustainable. Thank you, New Belgium CEO Kim Jordan.
Make the skills to succeed available to the not-yet-successful. This is my take on the 150-year-old vision behind our Land-Grant colleges, including Colorado State University, a focus of much of this year's Experience, as well as my undergraduate alma mater Texas A&M, and many other schools. Imagine the audacity of investing (during the Civil War!) in a system of higher education to be available based on merit, not social class. Our collective investment in those schools fueled the growth of innovation and entrepreneurship that created our nation's economic success and strengthened our democracy in the process. Eighty years later, the GI Bill renewed that investment, this time directly in the young people who had served in our country's military. Thank you, CSU President Tony Frank.
The world's greatest system of public education enabled America to become a nation blessed by opportunity, productivity and prosperity, but the vision of making the skills we need available at affordable prices is being forgotten. I read in the Wall Street Journal that 30 years ago we led the world in educating young adults; today we are 15th. President Frank described the shift in educational costs, and the allocation of those costs, over the same period. We once had a system in which two-thirds of the reasonable cost of a public college degree was an investment by the state in its future. We now have a system in which the individual student bears two-thirds of an increasingly expensive education, often using loans that may not be repayable.
If we want to revert to a system in which the skills to succeed (and not be a burden to society) are generally available only to those who already have means, then it seems we should at least have a conversation about it. Perhaps the vision that replaces the Land-Grant idea requires a complete rethinking of what we mean by "education" and how it is delivered. I know I don't have the answers, but I know we won't solve the problem without leadership.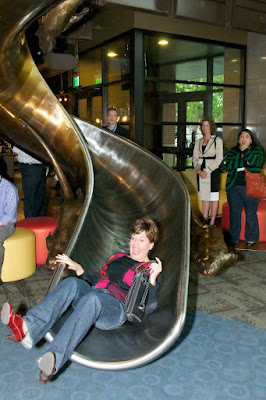 Denver Metro Chamber of Commerce CEO Kelly Brough shows her leadership style.
Which brings me to one of my favorite moments of the Experience (along with the Otter slide and the New Belgium beer), when Kelly Brough, CEO of the Denver Metro Chamber of Commerce, asked our group to remind ourselves of the qualities leaders need when tackling tough issues. Collaboration means we resist positional battles and focus on shared goals. Passion brings the energy and courage required when facing certain risk. Of course, leaders need vision and the commitment to live the vision, even through inevitable setbacks. That is our Colorado experience.