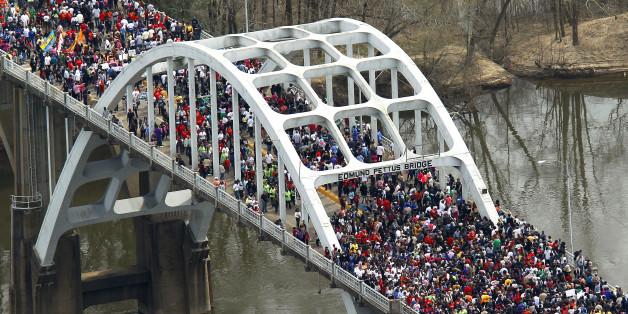 The Edmund Pettus Bridge was named after a Confederate general who became a Grand Dragon in the Ku Klux Klan. His name, still emblazoned over the top of that now famous bridge, was a powerful and threatening symbol of white power and supremacy in Selma, Ala. The Student Non-Violent Coordinating Committee (SNCC) had at one time removed Selma from their list of places to organize because "the white folks were too mean, and black folks were too afraid."
But that didn't deter a group of courageous African Americans from marching across that bridge a half-century ago, risking their lives for the right to vote in America. They were attacked and beaten by the fierce forces, led by notorious Sheriff Jim Clark, for their resistance to the frightening violence of white power.
Last Saturday, during the 50th anniversary event of "Bloody Sunday," I spent many hours just looking at that bridge. The words that kept coming to me were "courage" and "resistance." My question became: What bridge we will now have to cross?
Congressman John Lewis, whose skull was cracked that day as a young man, opened the main event.
"On that day, 600 people marched into history ... We were beaten, tear gassed, some of us [were] left bloody right here on this bridge. ... But we never became bitter or hostile. We kept believing that the truth we stood for would have the final say."
Then Lewis introduced the president, "If someone had told me, when we were crossing this bridge, that one day I would be back here introducing the first African-American president, I would have said you're crazy."
What happened on this bridge, President Barack Obama said, "was a contest to determine the meaning of America," and where "the idea of a just America, a fair America, an inclusive America, a generous America... ultimately triumphed."
But soon after celebrating the heroes of that generation, Obama did an important thing: he turned from the past to the future, highlighting the ongoing struggle. I encourage you to watch his moving remarks below, which some have rightly commented were the "among his very best."
"What greater expression of faith in the American experiment than this; what greater form of patriotism is there; than the belief that America is not yet finished, that we are strong enough to be self-critical, that each successive generation can look upon our imperfections and decide that it is in our power to remake this nation to more closely align with our highest ideals? ... It requires the occasional disruption, the willingness to speak out for what is right, to shake up the status quo. That's America."
After the president spoke, some of us were invited and to join him and his family in walking up the bridge with the "foot soldiers" -- those who marched on the bridge that day 50 years ago. The feelings I had as I marched behind those humble and courageous heroes were almost overwhelming. All were elderly now, but still marching, some in wheel chairs.
Walking alongside people like C.T. Vivian, I felt so honored and blessed to just be in the presence of these men and women whose march changed the world. Hugging my friend John Lewis at the top of the Edmund Pettus Bridge brought joyful tears to my eyes.
There I asked myself: What bridge must the next generation now cross? I thought of my two young sons and the bridge they will need to help us cross.
Then it struck me: The next bridge is America's transition from a majority white nation to a majority of minorities. That historic demographic shift will occur in the next few decades, and the very prospect of it is what now lies beneath the current racial tensions in America -- the racial divisions over policing issues that have so visibly erupted, the opposition to immigration reform, and even the personal animosity to President Obama, who represents this enormous demographic transition.
But demographic changes in and of themselves do not create the economic and political changes racial justice requires. That takes conscious commitments, choices, and decisions. The white minority could still retain the power to dominate, govern, and try to veto the future for a long time. While demographic change is clear, it does not make positive changes inevitable. It's possible it could just lead to greater collision and increasing racial tensions and conflicts.
Or we could cross the bridge together to a new American future.
Seeking, finding, learning, welcoming, embracing, and creating new relationships and frameworks for a richly multiracial culture, with economics and politics that reflect our diversity, is the great task before us now. I believe that will be the mission of the next generation, and I believe many will claim it. As the president said, "...it is you, the young and fearless at heart, the most diverse and educated generation in our history, who the nation is waiting to follow."
We can resolve our current racial tensions and conflicts only by crossing the bridge to the new American future -- deliberately and positively. It is time to turn the demographic revolution going on in America from a continuing crisis to an enormous opportunity.
Jim Wallis is president of Sojourners. His book, The (Un)Common Good: How the Gospel Brings Hope to a World Divided, the updated and revised paperback version of On God's Side, is available now.