For most of the American workforce, the coming weekend includes an extra day. Thank you, President Washington, et al.
Now, it may be tempting to do something like organize your attic, delve into your e-reader or make plans for that canning business you dream of starting.
Drop everything for this news flash: According to a recent TravelEffect.com study, "couples who travel together are significantly more satisfied with their relationships, enjoying better sex and improved romance long after the trip ends."
Plan a last-minute trip. Case closed.
If you're the party or romantic types -- or the types who just hate the cold -- South Beach is calling. For the more serious among us, D.C. provides cultural and historical draws.
This place is just hot. Hot, hot, hot. Between the beach bods, the fashion, the clubs and the driving pulse of the city, you are in for an overwhelmingly exciting time. You and your partner had better be ready to party, day and night.
For some reason, when I'm in South Beach, I find myself by the hotel pool instead of at the beach. But if the beach is your thing, try the area around 12th and Ocean (mostly gay, but you'll find some straights playing there, too). Conveniently, the intersection also boasts the popular gay hangout Palace Bar and Grill.
If you're looking to buy your beaux a special something, head to the open-air Lincoln Road Mall. Yes, it's trendy. And yes, you could go to many of those shops at home. But there are plenty of unique stores offering the only-find-'em-here gifts.
Walking along Lincoln Road also gives you a good excuse to check out Herzog and de Meuron's (the team behind the Bird's Nest stadium erected for the Beijing Olympics) famed 1111 Lincoln Road building... er, masterpiece. Part parking garage, part shopping complex and part residential building, it is spectacularly modern.
When hunger strikes, I have two suggestions. One is expected, but in an unexpected way: Nobu! It can be expensive and hard to get a reservation -- at this point, nearly impossible for Valentine's weekend.
Tip #1: Sit at the bar. No reservation necessary. Tip #2: Use Nobu as your starting point for the evening, to save money. Go there in the late afternoon and order lychee martinis, shishto peppers with miso (I actually have dreams about these peppers), and the must-try creamy rock shrimp tempura. Then walk Collins Avenue before you enjoy a late dinner.
Another great option, Bella Cuba, serves delish food without the pretentiousness that you may find elsewhere.
The exotic, circuit-driven scene entices, so hit it at least once. Twist and Score set the standard for gays. Twist comprises seven different bars, and Score claims to be the largest gay club in SoBe.
Steering clear of the typical scene? Step into the Rose Bar in the Delano Hotel. Or try its next-door neighbor, the Hyde Lounge at the SLS, which is quickly establishing itself as an "it" spot.
While away, it's a good practice to take in some culture. In honor of Saint Valentine, check out the World Erotic Art Museum. The collection is huge and raunchy (insert joke here). The current exhibit, "Rembrandt's Erotic Secrets," showcases erotic etchings by the master.
This city without a state contains much of the country's treasures. It's a perfect place to honor our past presidents -- walk where they walked, see what they saw, go to the gay bars they went to.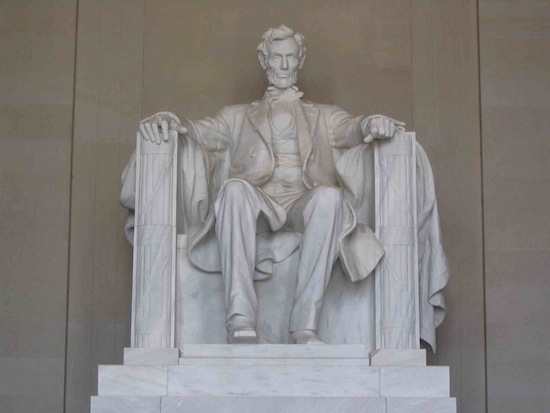 Lincoln Memorial (photo by Jim Werner)
D.C. is not about the scene, so the fun you have at night should only supplement your daytime adventures. Every place holds its own significance; seek out the ones that mean the most to you. Since this is Presidents' Day weekend, consider visiting the big three: the Lincoln, Jefferson and Washington memorials. Or you could see all 44 of the chiefs at Madame Tussauds Wax Museum's Presidential Gallery. Tip: At night head to the back of the Lincoln Memorial, and you can see the JFK Eternal Flame in Arlington National Cemetery.
Touring works up quite an appetite. Try the fairly new indoor food hall, Union Market. This incredible market showcases more than 40 local vendors, including Oh, Pickles for the pickle-loving crowd. Or you could head to the gay-friendly Logan Circle neighborhood and indulge at The Pig. Owned by a gay-uncle/gay-nephew team, this pork-centric restaurant serves up the entire swine with seasonal vegetables from the family farm in Maryland.
You can shop all over town, but M Street in Georgetown may be your best bet, with everything from the secondhand store Buffalo Exchange to high-end boutique Rag & Bone. On Cady's Alley, directly off M Street, get fitted for what is described as the best fitting men's clothes at the brand-new Bonobos Guideshop.
When you're ready for some libations, start at JR's Bar & Grill; it's one of those neighborhood bars that always seem to be packed. The heavy pours and drink specials might have something to do with that. Then head to Nellies Sports Bar. There's so much to love there: the sports, the friendly guys, the drinks, the freaking name.
Whether it's romance or culture you're seeking, you can plan all your gay travel getaways at fagabond.com.