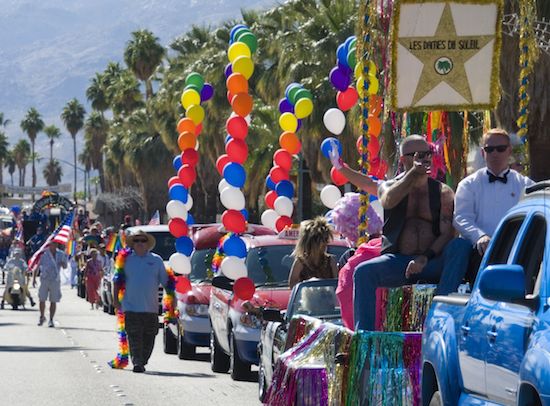 Photo courtesy of Palm Springs Pride
Though June is LGBT Pride Month, our proud brothers and sisters can wave their flags all year long thanks to events sprinkled throughout the calendar. One notable non-summer bash is about to take over the West Coast: Palm Springs Pride Festival, the last Pride event of the year.
From Nov. 1 to 4, Palm Springs Pride dazzles both LGBT crowds and their fans with a two-day festival, a parade, drag darlings, music and entertainment and block parties.
While our country may seem so irreversibly divided these days, Pride celebrates our freedom in a great country. This year's theme, "Long May It Wave," evokes pride by calling to mind our other flag. The internationally known rainbow stripes symbolize equality and embrace diversity.
And what better time for a California getaway?
You'll find more than enough to fill your days and nights during the Palm Springs Pride Festival. Here are the not-to-be-missed highlights:
Miss Broadway in Drag (Nov. 2): Get in some lovely entertainment at the Palm Springs Canyon Theater, where fabulous performers are judged in evening gown, talent and swimsuit categories. You can help decide the winners by buying a VIP ticket, which comes with voting rights.
Arenas Rd. Block Party (Nov. 3): Always bursting with gay pride, Arenas Road turns into an all-out party for Palm Springs Pride. For one night revelers (21 and up), dancers, performers and food and drink vendors pack the street to say it loud and say it proud. Mix it up by popping into the bars and clubs that line Arenas
Pride Parade (Nov. 4): Palm tree-lined streets and clear blue skies set the stage for this picture-perfect celebration, when thousands of spectators along Palm Canyon Drive cheer for their favorite themed floats. For the first time the Pride Parade will meet up with the AIDS Parade to honor 25 years of care, prevention and advocacy
Pride Festival (Nov. 3-4): The main event spans the weekend. Expect more than 100 performances on various stages, 150 vendors and organizations, a cabaret tent, a country western dance tent, food trucks, karaoke, a farmers' market and drinks. Buy the two-day tickets to save $5.
And while you're there...

Photo courtesy of the Palm Springs Bureau of Tourism
What Palm Springs lacks in ocean views it makes up for with mountains and big blue skies. If you're up for a hike, the famed Joshua Tree National Park is only an hour away. It's conceivable that you could miss the cold; in that case you can take the Palm Springs Aerial Tramway to San Jacinto Peak, where you can hike, cross-country ski or just have a romantic (albeit chilly) picnic.
Many people come simply to spend their days lounging by pools and looking up at the sky. There are numerous gay resorts where you can do that (mostly in the Warm Sands and the San Lorenzo areas), though you end up checking out your neighbors more than anything in the distance.
For more adventurous activities (at least ones that don't require a safe word), Palm Springs has a wide selection of things to do in and around the area. In town and closer to sea level, you can enjoy resort-y activities like tennis, or head out to one of the numerous famous golf courses. At night you'll find fun bars and restaurants to hang out, several along East Arenas Road.
For more information on Palm Springs, and to book your vacation, check out fagabond.com.