The explosion of data over the past two years has shifted the marketing landscape on a seismic level. Marketers now have access to an incredible breadth and depth of data, and these insights have the potential to create transformative business results. However, IBM found that 7 out of 10 marketers feel under-prepared to make use of the data available to them. There's clearly a disconnect between the opportunity and the reality.
This is particularly true for content creation. As every brand evolves into a publisher, marketers are tasked with producing high-quality content that sets them apart from their competitors. Most brands have access to the data necessary to make impactful decisions -- they just need to use that data wisely.
Countless variables determine what content resonates with consumers and what doesn't. Using historical and real-time data allows content creators to identify new opportunities and see how they stack up against the competition. Data analysis plays a role throughout content development, from conception to publication and beyond. Predictive capabilities fundamentally shifts content creation from trial-and-error to a forward-thinking process, and sophisticated analytics allow marketers to optimize their content in an efficient feedback loop, forecasting its value, measuring its performance and maximizing its success.
Make a Business Case for Your Efforts
The Custom Content Council found that of the $43.9 billion spent on marketing last year, 42 percent -- or $18 billion -- was spent on content marketing efforts. There is a massive opportunity for content marketers to invest in programs that deliver positive return on investment (ROI), so long as they know how to make a strong business case and report on their results.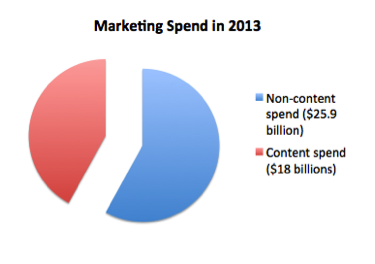 With predictive analytics capabilities, content creators can accurately forecast the revenue and cost savings for their campaigns. By pre-emptively quantifying the value of their efforts, marketers can select the opportunities that will deliver the best results, making a strong business case to executives. Once the program is underway, marketers can use analytics to report on the content's actual value.
Create A Closed Loop Content Cycle
Analytics empower content marketers at each stage of content development, from planning to publishing. When used throughout the content lifecycle, analytics provide continuous feedback that informs ongoing strategy and improves results. Analytics play a particularly critical role at the creation, distribution and promotion levels.
Create -- Marketers can use predictive capabilities during the ideation phase to anticipate what content will be most effective, rather than waiting until after it is published. Historical and real-time data allows marketers to optimize their content as they create it, resulting in better engagement and a more efficient process.
Distribute -- Predictive analytics allow marketers to forecast what channels are the best fit for distributing their content, eliminating guesswork and reducing unnecessary costs.
Maximize -- An important part of the content creation process is maximizing the lifetime value of that content. Tracking content performance at the content level allows marketers to highlight their best performing content and promote it across every channel.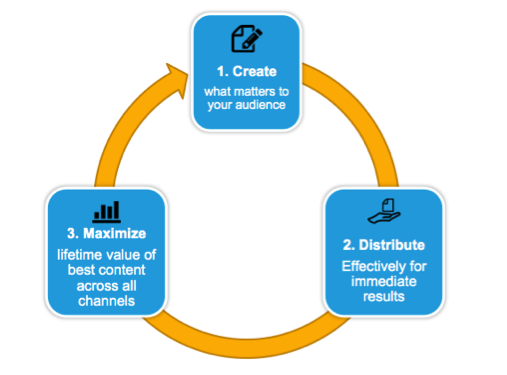 Each part of the content lifecycle benefits from the phase before and informs the phase that follows. By leveraging analytics at each of these phases, marketers can create a streamlined process that results in higher traffic, conversions and revenue.
AT&T's "It's Not Complicated" ad series stands out as an excellent analytics-driven campaign. You've probably seen the ads, which feature a man in a suit speaking with adorable kids in a classroom about why "bigger is better." Beginning three years before the series debuted, AT&T analyzed data from copytesting and competitive wireless ads to determine the storyline, character interactions and humor that would most appeal to consumers. The hard work more than paid off -- this campaign generated an additional $50 million in sales. Not only that, the company is using the lessons learned from its massive data-oriented project to inform future campaigns.
Data opens up opportunities for marketers that were never before possible, from forecasting financial results to implementing real-time feedback based on actual consumer interactions. By using technology to harness these insights, brands can be prepared for the new world of data and take advantage of this data to achieve their content marketing goals.