 It's your new favorite soccer player of all time, Jimmy Conrad, and below is the unsuspecting picture I took of the person who sat behind me on my nine-hour flight to Warsaw from NYC. Well, I thought it was unsuspecting. Why is she staring right at the camera? That's creeping me out.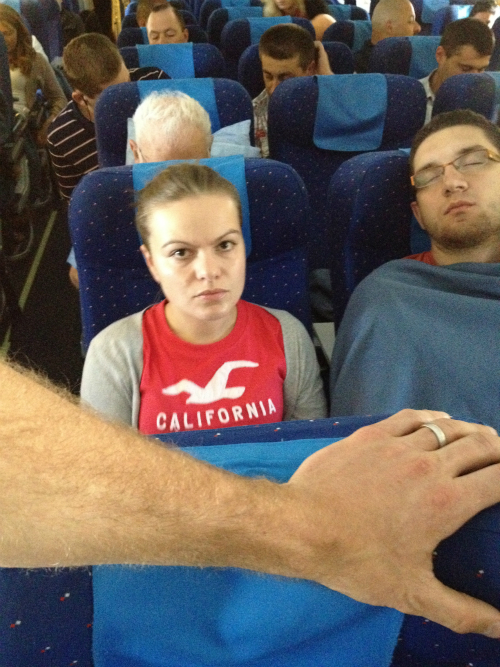 Anyway, she apparently had a hard time getting comfortable because she kept hitting my seat before finally settling on having her knees firmly pressed in the small of my back. So humor me for a moment and close your eyes and imagine it's one of those crazy massage chairs that everyone sits in but no one buys from Sharper Image and the big wheel that rolls up and down your vertebrae is stuck in that one place that doesn't really feel that great, which is probably why they don't sell any, and that's me... for hours.
Good thing I stole a bunch of these to wipe all over my body to help me get back to full strength.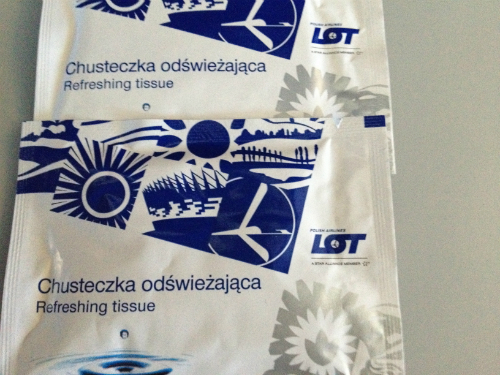 But whatever, it doesn't matter now, I'm here! I'm at the Euros, my first major sporting event as a fan, and I'm excited and so are the people of Poland! The city of Warsaw is buzzing with excitement and the red-and-white colors of the country are everywhere. As I read in a Polish newspaper, this tournament is their opportunity to showcase what their beautiful country, culture, and people are all about so follow my adventure on this blog, at www.youtube.com/kicktv, or via Twitter (@jimmyconrad_com) and I'll show you if they accomplish their mission.
So think about it because Me + A Microphone + A Video Camera + A Foreign Country = Awesome.