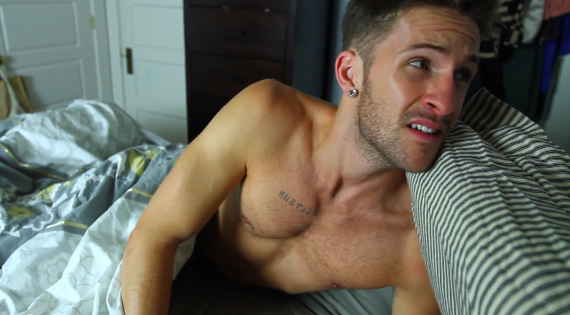 As a go-go boy, it is not uncommon to "work" while under the influence of alcohol. It's my experience that with a healthy buzz, it becomes less awkward when that strange man puts his hand down your underwear and tucks a $5 bill under your balls. Just kidding. I very rarely got fives. But I did get wasted. Those drunken nights left me waking up in various beds all over the city of Los Angeles.
Due to my level of blackout, there was no telling whom I'd wake up next to. Sometimes I woke up next to a handsome 25-year-old with perfect abs in his home in Hancock Park, and sometimes I woke up in a motel bed in Sun Valley with a smiling, cross-eyed person staring back at me. It was a total crap shoot. In episode 4 of Go-Go Boy Interrupted, Danny tries to make a graceful exit from his freaky hookup, but it all goes horribly wrong.
WATCH:
For more on the series, you can check out gogoboyinterrupted.com.