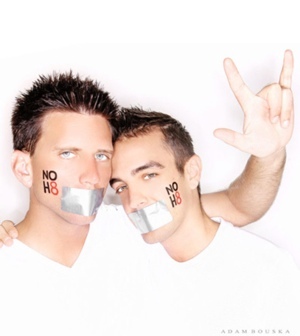 On December 15, 2013, the NOH8 Campaign celebrated its 5th anniversary with a special event at Avalon in Hollywood, California. Right before the event, I caught up with campaign co-founders Adam Bouska and Jeff Parshley.
Responding to the passage of Proposition 8 in California, Adam and Jeff launched NOH8 in 2008 as a photographic protest to call for marriage equality. With over 33,000 photos taken thus far and same-sex marriage rights restored in California, the campaign has evolved to become a platform against all forms of hate. Adam and Jeff talk about where the campaign is heading, their NOH8 mobile app, and how everyone can participate.
WATCH:
Speak Up With Jimmy, a Web series, is available at JimmyWin.com.