Netflix is jumping into the ring with a $100-million show to rival heavyweight champs HBO and Showtime, but who will become the prize fighters in the gay division?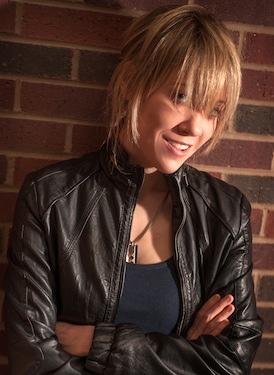 Well, if you love The L Word (the original, not the reality version), then you will definitely dig Girl/Girl Scene. Inspired by Queer as Folk, creator Tucky Williams set out to construct a fictional world of suburban lesbians where the characters seem like friends from down the block. The women in Girl/Girl Scene screw hard, laugh a lot and down 40s while playing video games. These gals aren't glamazons, but they are flawed in ways that make them interesting.
Full disclosure: My primary motivation for doing this interview was that I wanted to find out what it's like to write the sex scenes that you know you have to perform later. I knew we'd discuss her co-star, porn superpower Kayden Kross, but what I didn't expect was that Tucky would be such a delight; she's so smart and spirited.
Jincey Lumpkin: First things first: sex! Do you write your own sexual fantasies into the scripts?
Tucky Williams: I'm so glad we are talking about sex! I always want to talk about sex in interviews, but everyone's afraid to. There's a lot of sex in the show, so it's actually important to me. When I write, I write what the 18-year-old-who's-never-had-sex version of myself would want to see. Now I have a fantastic love life, but when I was younger, I watched a lot of porn, and I wanted to see more sex in TV shows. It's about building relationships between characters. I know what's hot and what works, so I write that into the show. I get off knowing that people are getting off while watching me pretend to get off.
Lumpkin: That's so interesting. I have to admit that when I'm directing, sometimes I do feel uncomfortable telling women how to have sex. I mean, it's necessary, of course, but it can be strange. What's it like for you to direct actors during a sex scene?
Williams: It's very awkward. I find it hard to even write those scenes, because I don't want to pressure the actors. When it comes to the writing, I take a less-is-more approach. When we film the scenes, I'll usually demonstrate the top's moves, so that she knows what to do.
Lumpkin: Kayden Kross plays a big role in Girl/Girl Scene. How did you happen to hire a porn star as one of your leading ladies? Were you just excited to sample what you'd seen in the XXX movies?
Williams: Not at all! I didn't even know who she was when I hired her! I knew her for a long time before I ever even realized she was a porn star. We met on the red carpet at Dinah Shore a few years ago. I saw her doing interviews, and I thought she was so beautiful. When I got to her, I said, "You're the ugliest girl I've ever seen. Why are you on TV?" She just leaned over and kissed me. I found out who she was much later, after I'd already asked her to be part of the show. I googled her one day, and I was so surprised. She just doesn't seem like a porn star at all. If I had known she was so famous, I probably would have been too embarrassed to ask her to be on my show.
Lumpkin: Give me the goods! What was it like to have a sex scene with Kayden?
Williams: Such a pleasure! I won't name names, but it's a horrible experience when you have a co-star that goes "starfish" on you and just lays there. I think, "Can you engage a little?!" Kayden gives back everything I give. She's so enthusiastic. In one scene I was pretending to finger her, and I accidentally grazed her privates. She wasn't bothered. We just kept shooting through the scene. It's so comfortable to work with her; she's not afraid. One day we just got naked on set and walked around the whole day like that.
Lumpkin: Well, I talked to Kayden, and she had quite a lot to say about you. She called you a "wizard," because you run your set so smoothly and with such ease. How did you get so good at producing? Did you study film?
Williams: I have an unusual story, because I finished high school at 15 and started going to college at the University of Kentucky. I was a college graduate by 20. I studied journalism and creative writing, and, funny enough, I also got a B.S. in meteorology. I was the weather girl for a local news station for a while.
Lumpkin: Really? That's hilarious! So how did you transition into creating Girl/Girl Scene?
Williams: I started making horror films. I did some zombie movies. I was always trying to turn those films into softcore porn! I watched a lot of porn when I was 16 and 17. I learned about sex from watching Janine Lindemulder. I was always interested in sex. I was also really influenced by Queer as Folk, especially by how unapologetically gay the characters were. They weren't watered down to make them more straight. They felt so real. I wanted to create a show about lesbians, so I wrote a pilot. I write every episode, and I feel very connected to the characters.
Lumpkin: Kayden also said something really interesting. She said, "Sex in porn is getting more unrealistic, while sex shot in mainstream productions is becoming more realistic. Mainstream scenes are becoming more racy, and porn seems to be running out of ideas." So why is there so much sex in your show?
Williams: There's not more sex in my show, really. I think what stands out about Girl/Girl Scene is that the portrayal of sex is very positive. It's about women who enjoy sex. That level of enthusiasm makes it more intense, I think. It's just sexier the way we do it!
* * * * *
New episodes of Girl/Girl Scene are released every month. The season 2 finale premieres in March. Watch episodes online at girlgirlscene.com.
As always, if you have questions to ask or stories to share, you can tweet me @juicyjincey or reach out to me at Facebook.com/JinceyLumpkin.