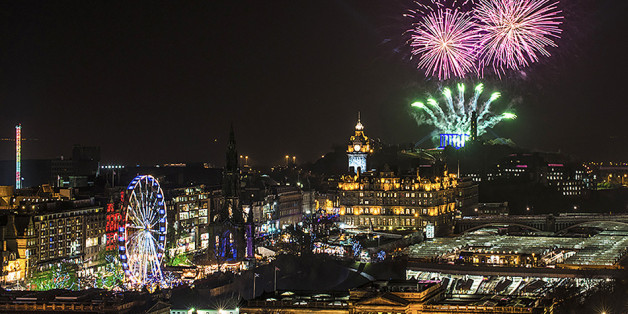 It's almost that time of year again - the holidays are quickly approaching and I'm getting the itch to take a quick trip for the winter -- still deciding whether to escape the cold weather or surround myself in the beauty of it. Maybe you guys can help me decide. Here are the five destinations that have topped my list so far.
1. New Year's at the Hogmanay Festival in Edinburgh, Scotland
There's no party like a New Year's party, and there's no New Year's party like the Hogmanay Festival in Edinburgh, Scotland. I found the tour on Contiki's site, and am seriously considering booking this with friends one year.
Known as one of the biggest street festivals in the world, the Hogmanay Festival comes complete with a live music festival, huge crowds, tons of cheer, torch-holding fire marches and of course, loads of unbelievable fireworks.
2. The quiet spiritual getaway in Ubud, Bali
Some winters are way too harsh to stay in the Northeast, and I'd love to escape the winter cold to Ubud - the cultural center of Bali. There are tons of museums, galleries, temples and other historical sites to explore, and the surrounding atmosphere is spiritual - the perfect place to truly getaway and spend quality time with your loved one(s).
Take a dip in the double infinity pool at the Hanging Gardens resort in Bali, one of the most beautiful pools I've ever seen.
Or do some shopping in the morning market.
3. Christmas in Santa Claus's hometown of Rovaniemi in Lapland, Finland
What better way is there to spend Christmas than in Santa Claus's hometown? In Santa's Village, you'll find tons of shops, cafes, museums and an underground park.
You can get cozy in the nearby Kakslauttanen Hotel & Igloo Village, with an awesome (and warm) view of the Northern Lights.
Or explore winter activities like reindeer sleigh rides in the Arctic Village.
4. The International Ice & Snow Sculpture Festival in Harbin, China
Every year in January, the city of Harbin hosts an ice and snow sculpture festival and it is one of the most magnificent things I've ever seen.
There are two main parts:
1) Sun Island - featuring towering snow sculptures like these:
2) Ice & Snow World - the area open at night with illuminated full size buildings sculpted entirely of, you guessed it - ice and snow.
5. Christmas in an intimate ski cabin in Jackson Hole, Wyoming.
Every year, my family would rent a cabin near a ski resort to spend the winter holiday. We'd cook dinner, eat as a family, sit by the fire and open presents on Christmas Eve. The next morning we'd wake up and go skiing all day until my a-s hurt from falling all the time.
We've never been to Wyoming, but Jackson Hole was dubbed home to the best ski resort in America by Forbes recently, and these photos have me itching to go see this beautiful place in person.
So you can rent a cabin with a group of friends or your beloved family and spend the winter holiday cozying by the fire.
What other destinations would you recommend visiting the winter holidays?
Thanks so much for reading this post. Follow along with my daily travels + inspirations on instagram: @greaseandglamour.
With love,
Jinna
This was originally published on GreaseandGlamour.com.