We recently released a report that investigates the relationship between remodeling activity and the movement of home prices and rents in San Francisco.
As expected, remodeling activity tended to increase more in San Francisco neighborhoods with greater increases in home values. On average, a 10% increase in home values was associated with a 4.3% increase in the number of homes undergoing improvement (2004-2013).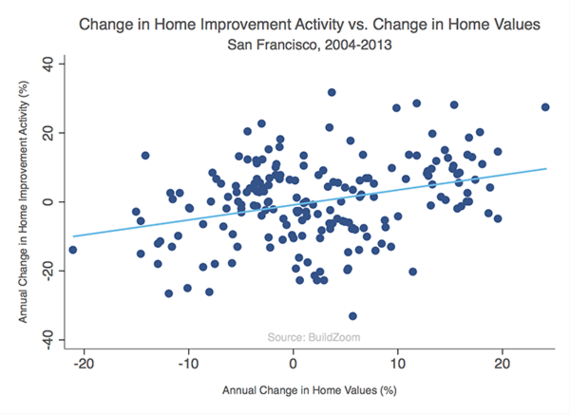 Surprisingly, remodeling activity tended to grow the least - and in some cases even decline - in areas with more sharply rising rents. On average, a 10% increase in rents was accompanied by a 9.7% decrease in the number of homes undergoing permitted improvement (2011 - 2013).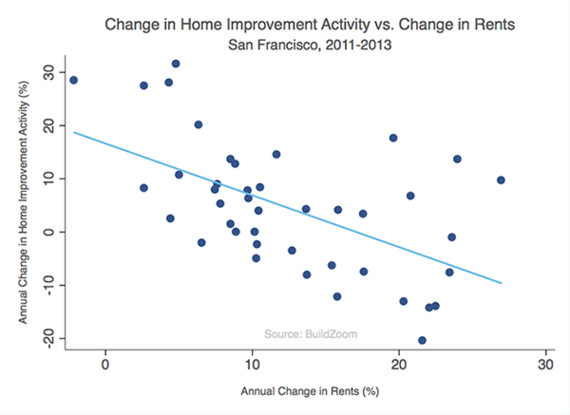 According to our Chief Economist, Issi Romem, "Rising rents are a reliable indication that competition among renters is intense, which enables landlords to minimize vacancy periods. Shorter vacancies reduce the odds that substantial home improvement projects will take place. Moreover, when eager renters are lining up at the door, landlords have less incentive to renovate."
Renters comprise the majority of the San Francisco's residents and form a far less affluent sector than the city's homeowners. They are increasingly priced out of buying a home, and the intense competition for rentals does not just raise the rent, it also prevents rental homes from being upgraded or even maintained as well as they would be otherwise.
"As a result," said Romem, "the disparity between San Francisco's homeowners and renters is spreading beyond the state of their financials and into the state of their homes."
The full report is publicly available on the BuildZoom Blog.