In our recent article covering the growth in solar installation projects, we were surprised at how quickly Vivint Solar had grown in just a short amount of time. Our data reveals that in just 18 months, they had become the second most active solar installation contractor in the nation.
We decided to take a closer look at the company and see how they stacked up to SolarCity.
Who is Vivint Solar?
Vivint is based out of Provo, Utah. According to VentureBeat, Vivint Solar is part of home automation company, Vivint and launched in 2012. Since then, it has raised over three-quarters of a billion dollars and operates in California, Hawaii, Maryland, Massachusetts, New Jersey, New York and Washington, D.C. A scan of our licensure database confirms current licenses in New York, New Jersey, California and Massachusetts. We also found licenses for Vivint in Utah and Pennsylvania.
How fast have they grown?
Focusing on the areas where Vivint actively operates, we were able to find a total of 1,173 permits, plotted here (by month):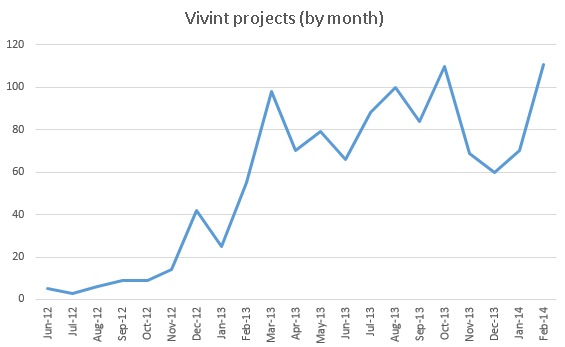 It should be noted that the data set includes permits for California, Maryland, Boston and New York City but does not access permits in Hawaii, New Jersey and non-metro New York and Massachusetts.
How does Vivint compare to SolarCity?
Over the past two years, Vivint has been the only solar installation company in the same ballpark as SolarCity. Here is a comparison of permits issued by month, for the two companies: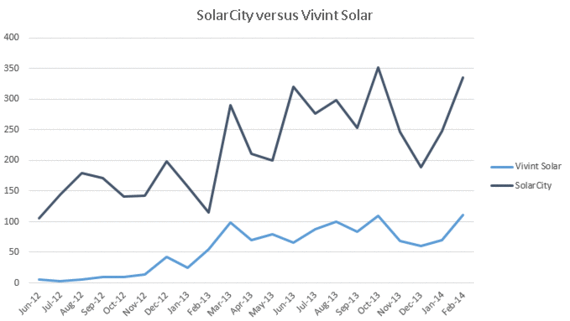 About 50 percent of the permits in the areas we analyzed include a project valuation. Here is a comparison of how Vivint compares to SolarCity in terms of average project valuation: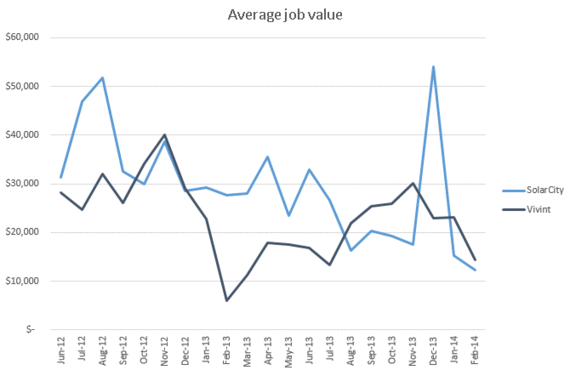 It should be noted that over the past six months, Vivint actually had a higher median project valuation than SolarCity.
For more analysis of the construction industry, visit the BuildZoom blog or to see current solar projects around the U.S., visit our construction map.