The national construction industry took a step forward in April 2014, growing 7.94 percent over the past month based on BuildZoom analysis of building permits issued across 90 US cities and counties. This figure represented the highest count in 2014 to date, a positive indicator for an industry that had been negatively impacted during the winter months by severe weather conditions in several regions.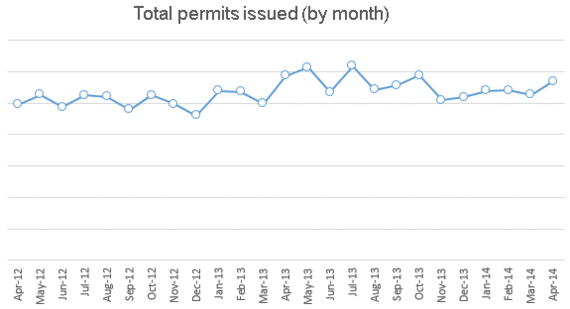 Month-over-month gains were most evident in the residential construction sector, which grew 8.94 percent in April 2014; compared to 5.31 percent growth in the commercial construction sector.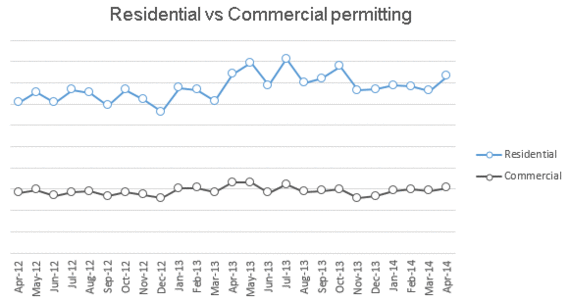 On a year-over-year basis, permitting actually declined by -2.91 percent in April 2014, which may be an indicator of growth deceleration that some (e.g. Joint Center for Housing Studies) are predicting for 2014.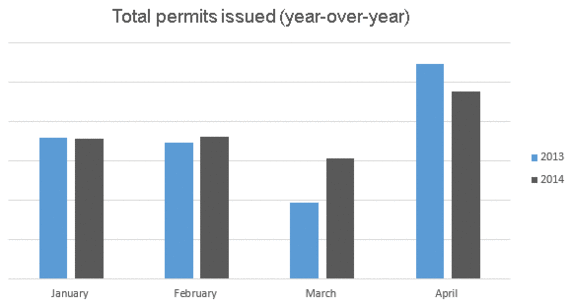 Methodology
To understand construction trends, building permits are collected from 157 cities and counties (sources) throughout the US. Each permit is tagged as "residential" or "commercial" using a Naive Bayes classifier. Sources are evaluated for quality based on several criteria including their relative standard deviation and length of time series. Sources with characteristics that suggest statistical abnormalities are filtered out and an adjusted subset of 90 sources is used to analyze national trends. Monthly counts are deseasonalized based on 10-years of historical activity.
This post was originally published on the BuildZoom blog, which contains news and insights on the construction and remodeling industry.