This week, the US Census will release their report on new housing units authorized by building permits. Tracking new housing starts, provides significant insight into the health of the construction sector. However, cities like New York are constrained in terms of how much new construction can take place and therefore it becomes increasingly important to track improvements to existing housing stock.
As our Chief Economist Issi Romem said, ""In a city like New York, for example, in which it is particularly hard to expand the housing stock with new construction, much of the action is in the upgrading and re-purposing of existing real estate."
To complement the Census report on permitted construction of housing, we developed an index to track the monthly rate of change in permits issued by the NYC Department of Buildings that refer specifically to residential improvements.
We observed that in September 2014, permitted residential remodeling work hit a 10-year high, exceeding the peak that preceded the housing market crisis by 11.81%, as shown in the figure below (where Jan 2007 = 100).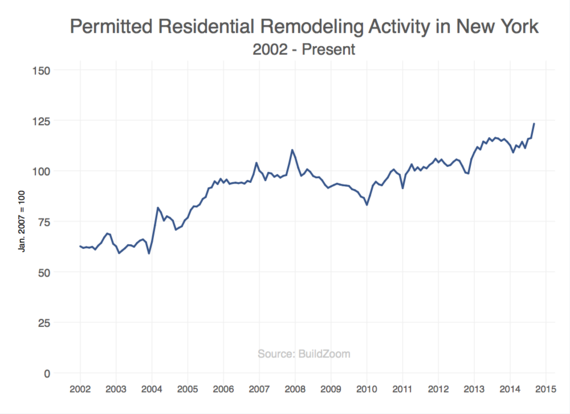 In the month, residential remodeling increased by 6.11% over August 2014, after adjusting for seasonality, and 6.32% year-over-year.
For the sake of comparison, we compared the rate-of-change in residential permitting in NYC versus Miami.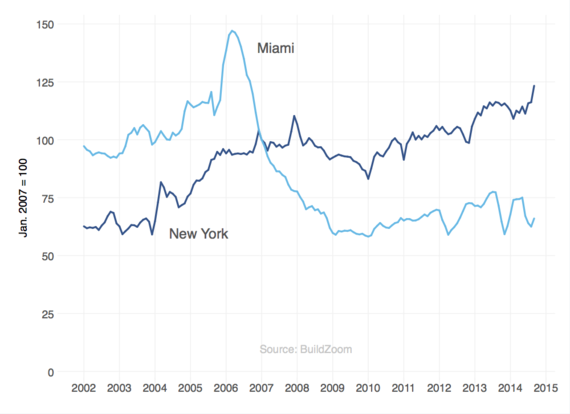 The comparison highlights the relative stability of growth in NYC (and subdued recovery in Miami).
The full September 2014 report is available on the BuildZoom Blog.