The City of San Francisco wants its residents to go solar. In 2008, they launched GoSolarSF, which offered powerful incentives for homeowners & businesses to install solar panels. There is a current proposal on the table, Solar Vision 2020, which would require all new commercial buildings to use solar power. The San Francisco Board of Supervisors is trying to pass legislation that would mandate solar panels be installed on every new building, as well as legislation requiring installation of enough panels each year on "tenant-occupied residences" to generate 2 megawatts of electricity.
Spurred on by government incentives and market demand, the San Francisco solar industry is growing rapidly. The city's solar contractors are poised to benefit, and none more so than Solar City.
To better understand the contractors doing the work, we took a look at four years of San Francisco building permits that reference solar projects.
From January 2011 to September 2014, there were 3,011 permitted solar projects in San Francisco. Here are the 10 most active solar contractors based on the number of permits granted.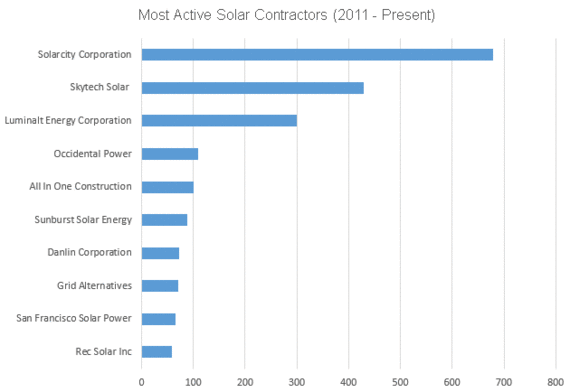 Over the past 3 years, a quarter of all solar permits were issued to SolarCity. Starting in 2012, however, Solar City emerged as a a dominant force. By Q3 of 2013, Solar City was doing as much solar work as their top 5 competitors combined.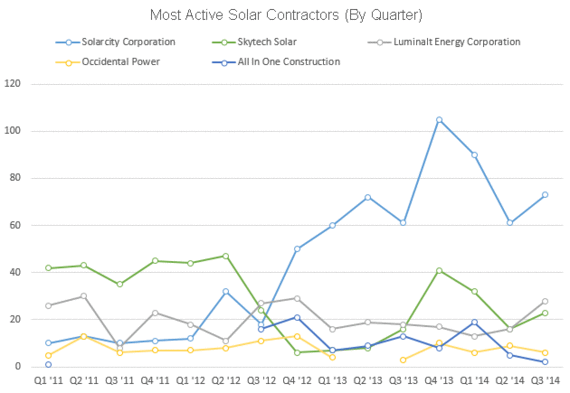 More information on San Francisco's solar industry is available on BuildZoom.