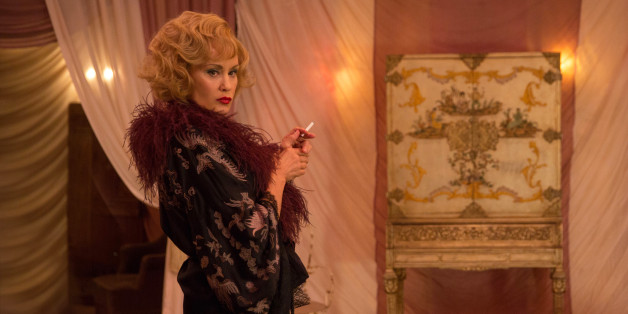 Caught a cold recently and stumbled upon American Horror Story on Netflix.
Began watching and didn't stop until the end of season 3 and then immediately went on On Demand to catch up on Season 4. In seven days, I watched all 49 episodes and honestly, this show is something special. Binge watching on Netflix is obviously awesome because there are no commercials.
Only one other show (The Walking Dead) has kept me as captivated as this brilliant and groundbreaking self-contained mini-series with its repertory cast. The writing is absolutely satisfying and completely realized in structure, plot and most of all, character. The characters are then brilliantly brought to life with some of the best acting ever seen on the small screen. This isn't even touching on the social science issues explored, tweaked out special effects, amazing settings and daring sexiness of this basic cable television show. American Horror Story isn't perfect, there are some minor redundancies in plot, setting and cinematography, but it's pretty damn near perfect.
Halfway through season 2, I felt really curious and looked up the show's creators, Ryan Murphy and Brad Falchuk. Upon realizing they were the same creative forces behind Glee, well, it makes you enjoy their show, brilliance and amazing range that much more. The following is a season by season reaction to American Horror Story.
Murder House
This is the only season of AHS that actually scared me.
It played horror genre stereotypes to a creeping, crawling, creaking, door-slamming tee. Growing up in the '80s, the Amityville Horror series and Poltergeist were the two movies that made me shudder. Murder House reminded me of those flicks and conjured up old dormant fears of the attics and basements. But it was definitely different and peppered with L.A. noir and a mixture of so many elements of character and homage the series sort of transcended its stereotypes into something original.
Ultimately, the season was basically an examination of fidelity.
The Harmon family (except for Violet) didn't necessarily do it for me, nor did their nosy neighbor Constance (although Jessica Lange's acting was amazing), but all the previous residents of 939 Berro Drive were filled with wonderful nuance and agonizing depth. Tate's character was amazing and Evan Peters played him like a delicately fragile sociopath, as if Kurt Cobain was trench-coat mafia, not to mention his sick sadomasochistic Rubber Man alter ego. Alexandra Breckenridge was really seductive as Moira, the housekeeper who appeared young and sexy to men, but old and matronly to women. There's just too much to get into. Each season of AHS is like a self-contained novel you could write 10,000 words about. It's challenging to conceive of another television show with such amazing depth of character and plot.
Asylum
This season was the best season of anything I've ever seen on television.
I've never seen a character transform through a season or series' narrative arc in a way like Jessica Lange's Sister Jude did in season 2 of AHS. Her fall from grace and descent into insanity into her ultimate redemption was absolutely amazing to witness.
You just seldom see character arc like that on film or television and the performance was worthy of every accolade Lange received.
That era, the early '60s, has been examined a lot lately, think Mad Men and Masters of Sex; such a delicate time for women's and civil rights and a highly transitional phase for psychology. It's a fascinating era to set a modern television series and an insane asylum is the perfect location.
One Flew Over the Cuckoo's Nest is one of the best novels of the 20th century.
Throw in Evan Peters' awesome performance as Kit Walker, the all-American boy involved in an interracial marriage only to be complicated by an alien abduction. Add to the mix James Cromwell's amazing Dr. Arthur Arden, a sick Dr. Frankenstein ex-Nazi in love with the devil. This isn't even mentioning Lily Rabe as Sister Eunice, the good girl corrupted by a demonic possession and Zachary Quinto as Dr. Oliver Thredson as the psychopathic killer Bloody Face.

In Asylum, the repertory cast concept felt groundbreaking.
In addition, the plot kept twisting, the secrets kept coming and the characters kept growing until the season completed itself leaving the audience satisfied.
I couldn't help but to start watching Season 3.
Coven
After binge watching the first two seasons of AHS, by the time season 3 arrived I no longer felt fear from this show -- it didn't scare me -- it captivated me -- its characters, acting, setting and story lines simply held me frozen. Coven was no exception -- from the very first scene with Kathy Bates set in a slave era New Orleans, until the very last scene with Sarah Paulson going public with the Academy, the whole season felt like a wild ride through mysticism, white magic, voodoo and witchcraft peppered with social sciences such as women's liberation and civil rights.
What a fun season.
A season set and shot on location in New Orleans is bound to be a fun season.
And Jessica Lange, again, is just amazing.
Lange's portrayal is half wicked-witch and half Dorian Gray, and even more sexy and deprived and wild, like a night out on the town with Jim Morrison.
Lily Rabe as Misty Day was so appealing.
Kathy Bates with her creepy bloodlust stole every scene.
Angela Basset with her voodoo power stole every scene.
Not to mention, again, Evan Peters' performance as the grotesque frat-boy, all cut-up and mashed up like a dub step song created by Frankenstein's witches.
And Danny Huston as the Axman came off as just too cool.
Freakshow
This show is not slowing down.
I recently caught Jessica Lange on Late Night with Seth Meyers and she called this season her favorite so far. Ms. Lange said it was her idea to set the show at a freak show but the creators were the ones with the foresight to set the show in 1952, towards the end of the roadside carnival era and the dawn of the "freak show" we call television. Ms. Lange went on to explain her interest with Elsa Mars's German background, in particular the time between the World Wars.
This season has not been disappointing but it's been my least favorite.
The first few episodes with Twisty the Clown were creepy, but it reminded me of Steven King's It and therefore felt a little forced. The song's this year have been enjoyable, especially Bowie's "Life on Mars" and Fiona Apple's "Criminal," but it also felt a little too Glee-ish, and even Evan Peters' rendition of Nirvana's "Come As You Are" was cool, but it also reminded me of his character Tate from Season One.
This is when binge watching feels redundant. This is why I couldn't finish binging Orange Is The New Black or Scandal -- it started to feel redundant. Ma Petit was awesome but her ill fate sort of reminded me of simply another baby in a bottle, a device also used in season 1. The Edward Mordrake ghost was cool, but it was also very similar to the Halloween storyline in Season One and not that different than the Papa Legba character from Season 3. Repetition is hard to eliminate. Still, Finn Wittrock as Dandy has been amazing this season. His spoiled Richie Rich American Psycho of a Dexter has stolen every scene, as well as the character he obsesses over, Sarah Paulson's farm girl innocent and sexy Siamese twin, Bette and Dot Tattler.

Season 4 is basically about family, home and fitting in.
AHS has long accomplished just that.
One can only try to surmise where they're taking us next...
War? Vampires? The Disco Era?
How about a combination of all three?
Who knows?
Do you have a guess about season 5?
What would you like to see?