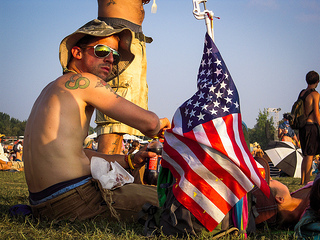 Bonnaroo continues to be the biggest and baddest music festival in the U.S. and remains what should be a mandatory rite-of-passage for all those coming-of-age. Recently concluding its twelfth edition, the producers of Bonnaroo (Superfly Productions) have managed to evolve, perfect and commodify the recipe for American summertime rock-n-roll spirit. Make no mistake, at its roots, Bonnaroo represents the counterculture; however, they have transcended their "underground" roots, branched-out, grown-up, yet still managed to maintain the spirit. This freewheeling festival spirit originated at Woodstock; was carried into the '70s and '80s with the likes of the Grateful Dead, and into the '90s with jam bands like Phish and Widespread Panic. Now the spirit has meshed, almost effortlessly, with mainstream culture, where acts like Paul McCartney, R.Kelly and Bjork can casually share top billing like they are of the same genre.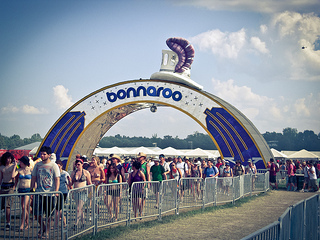 There are festivals in the U.S. that have captured this spirit; gatherings like Coachella, Lollapalooza, Wakarusa, All Good, Suwannee, Ultra, Camp Bisco, Electric Daisy, Austin City Limits, Outside Lands; but they all must kneel at the mighty altar of Roo for a few reasons.
Location: A four-day festival in the middle of Tennessee, one-hour outside of Nashville, three-hours away from Atlanta, creates the illusion that you are escaping society and reality. It takes that old Timothy Leary adage of turn on, tune in, drop out and plays it like a subtle lullaby at the silent disco. Traveling to a music festival also summons that Easy Rider, On The Road spirit that provokes the wanderlust of youthful spirits, either coming-of-age, or eternally young. Part of the music festival spirit and a hard-earned truth in its world is that the journey is the destination.

You won't find that journey at Lolla, Ultra, Outside Lands or even Coachella.
****
Music may surround the idea of Bonnaroo, but as you pull back the layers of the festival at its inner core you will find diverse culture, not just music. It's more than music but film, fashion, comedy, politics, food, the healing arts, the theater, all represented in a gonzo buffet to diversify a day. Whether catching a movie like 3 Men and a Baby at the Cinema Tent on Father's Day, laughing it up with Daniel Tosh in the Comedy Tent, rolling into Food Truck Ally and running into Man vs. Food Nation's Adam Richman kickin it at the gastroPod with Chef Jeremiah, doing yoga in the morning with some of the country's best instructors, grabbing a brew from the homebrew tent, shopping on Shakedown Street, or saving the world in Planet Roo.

There's so much to say about Bonnaroo. How they've perfected the recipe for modern music festivals. Made it safe, accessible and clean. Their organization, networks, partners, vendor policies, production staff, taxi cabs and shuttles, security and volunteer crew. Really. Tip of the iceberg. There's so much to explore psychologically in the spirit and youthful exuberance of being young in a modern, digital America, of rolling both abandonment and entitlement into one wandering soul. You could fill a novel with this scene. In fact, someone did. My first novel Headz is based on Bonnaroo experiences. That's one thing missing from Roo: a literary lounge, where writers and bibliophiles can gather, like a mini-book fair, but that's a huge digression.
Have to reign in the rhetoric; the spirit has a short attention span...