Rakontur is a Miami media group responsible for the documentaries Cocaine Cowboys, The Tanning of America, Limelight, Square Grouper, The U, Broke, and the recently released The U Part 2. They are also Executive Producing the recently green-lit drama based on Cocaine Cowboys to be aired on TNT and produced by Jerry Bruckheimer and Michael Bay. In a nutshell, these Miami boys are killing it.
Their voice is loud.
And people are listening.
Their lens is wide.
And people are watching.
Rakontur is a French word meaning a person who is skilled in relating stories. The rakontur Media Group has evolved to a point beyond relating stories, they have the platform to influence or even create stories. Coming of age during a time when print journalism is basically dead, or limited (subscription-wise) to our grandparents, these meta-millennials are perfectly positioned to digitally rise, whether through film or social media. And they are rising.

What makes rakontur so elite is their range. They're not limited to sports or politics or art or fashion; just the opposite, they encompass all of the above. What makes rakontur so awesome for Miami is that they are Miami. Born in Miami. Schooled in Miami. They are Miami. And they could've easily left Miami for the silicone hills of L.A., or the brick-house entitled intelligentsia of N.Y. but they didn't. They stayed. Granted, their muse is the city of Miami so it's easier for them to stay, but they didn't have to stay.
Another thing about rakontur is their freedom. Most members of the media, or cultural commentators, are somewhat fettered by a politically correct corporation or foundation, which kind of limits what they can say or do. Although rakontur has worked with ESPN and VH1, for the most part they've been free to say and do what they want, and there's a lot of power in that platform. You have to respect someone who has the guts and know-how to express what many are thinking yet few have the courage to say.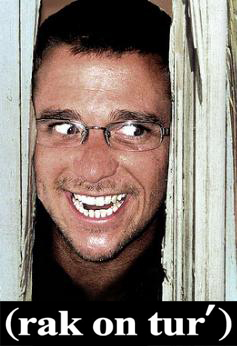 Billy Corben is the face and loudest voice of rakuntor and also the director of their films. Billy is a local through and through--he went to the New World School of the Arts, the University of Miami, ect. Billy's Twitter feed is EXTREMELY LOUD and INCREDIBLY CLOSE in Miami--there isn't a politician, police chief, arts editor, journalist (broadcast or print), hipster, reprobate, writer, artist, teacher, or ANYONE that Billy won't engage or wag his finger at. Without question, he's the king of Miami's Twitterverse, for what that's worth. I know Billy a little so I can report this: when a major local newspaper instructs their staff to disengage from Billy's twitter feed, that says something--in my opinion, it says they're afraid of him.
Here's the thing about Billy. On one hand, he's a little sh*t with a loud mouth A LOT bigger than his small frame. His head sometimes expands to the size of that movie UP, where the house just floats away with all the balloons tied to it. He's cocky and confident and in your face and quick to wag a finger -- but, man, if you know him a little, Billy Corben is highly redeemable. This guy is actually extremely easy to engage; he's as funny as any professional comedian; he's as self-deprecating as any sensitive artist; and he's actually very nice and respectful and he cares. Billy gives back when he can. He'll donate his time and platform to fight the good the fight, to spread the word and to tell the truth. And at the end of the day, isn't that the only thing that matters: the truth.
And that's exactly what rakontur excels at: telling the truth.
In a society that can't recognize or handle the truth, you have to commend those who seek, highlight and then amplify the truth--there's plenty of counterpoints to the truths they amplify so loudly--but the fact is that they seek and stay in these truths--and that's what makes these rakontur guys so good.