The glamorous world of burlesque is enjoying a revival in popularity -- and a new vanguard of contemporary performers are sashaying off the stage and into lane ways lit by video projectors accompanied by pulsing electro-swing beats. As an artist with a long-standing interest in performance, I'm really enjoying witnessing the cross over of neo-burlesque with art, fashion and various sub-cultures, that is currently taking place in Las Vegas.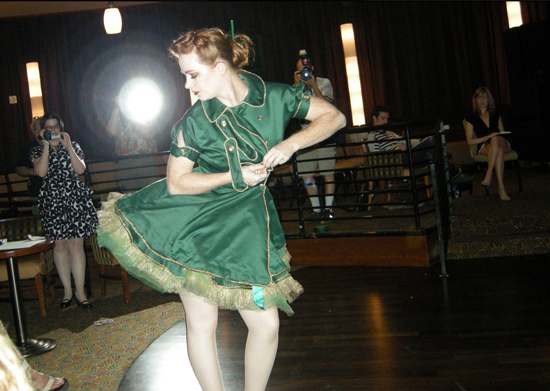 The international Dr Sketchy's sessions that bring together artists and 'glamorous underground performers', were introduced to Las Vegas in 2008 by burlesque performer Cha Cha Velour, and premiered at the Burlesque Hall of Fame Weekender at the Palms, where I documented Scarlett Letter's performance. Dr Sketchy's regular drawing sessions are now held at Artifice in Downtown Las Vegas, hosted by Michele Hengeveld.
The general perception of the context of burlesque is also changing. In her Huffington Post article "20 Burlesque Stars To Know And Their Wildest Signature Acts," Mallika Rao states "exponents of what is today called 'neo-burlesque' are essentially performance artists."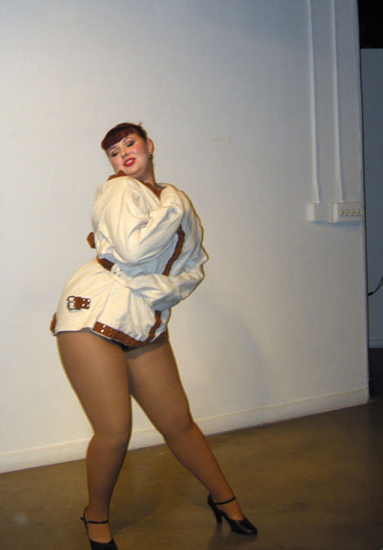 In 2012, I curated the Las Vegas Contemporary Art Center's third 'Off the Strip New Genres Festival' that has developed a reputation for showing works that "push the boundaries of traditional theater, performance and film." The line-up of local and international artists included Lou Lou Roxy, a founding member of Sin City Grind Kittens, Las Vegas' first modern burlesque troupe.
Also in 2012, I had the opportunity to collaborate with Las Vegas fashion designer Mina Kahn who incorporates a burlesque influence in her work. Together we created the multi-media 'Desert City Bird Life' for the 'London Biennale in Nevada' performance event at Pop Up Art House in Henderson. The work featured dancer Jesalyn Lethal performing in an alley way lit by a projection of Las Vegas city streets and desert fringe, and was documented by director Jakob McCarthy.
The first 'Traveling Miracle Show' performance and installation art event this year at Momas N Dadas New Genres Project House featured an outdoor fan dance performed by SFAI graduate and founding member of Black Kat Kabaret -- Ella Mental.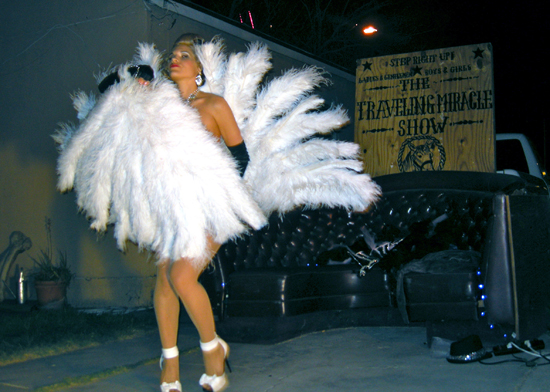 Then in June, Mina Kahn created the 'Pin Up Rendezvous' event at
Pin Up Pointe
-- a gallery that focuses on classic pin up and showgirl genres. Many of Mina Kahn's models are also popular local performers. Alongside fashion inspired by burlesque, fetish and 50s-era pin ups, were burlesque performances by Darby Fox, Ivana Blaize , Lou Lou Roxy, Ella Mental and Heather Hermann.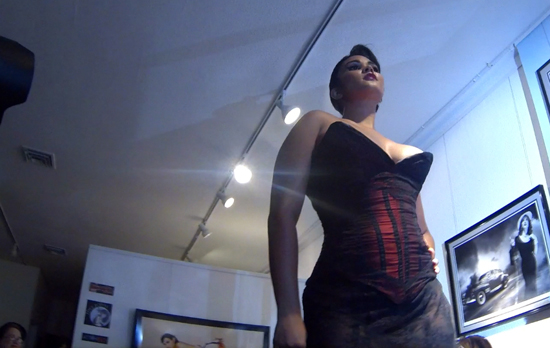 These practitioners of neo-burlesque are very aware of the stars of the genre who paved the way for the current popularity of burlesque and their contemporary acts often pay tribute to classic performances from the past. Keeping that history alive is The Burlesque Hall of Fame in the downtown Emergency Arts complex, displaying many items from the renowned collection of Las Vegas-based 'godmother of burlesque,' Dixie Evans. August 26 - September 1, 2013 has been declared 'Dixie Evans Week', to show support for this much-loved star who is now in her eighties and recuperating from a stroke.
Las Vegas has been billed as 'Live Entertainment Capital of the World' and is known for the vast array of spectacular shows on the Strip, but word is spreading about where to look for some fascinating alternative culture Downtown and across the Valley.