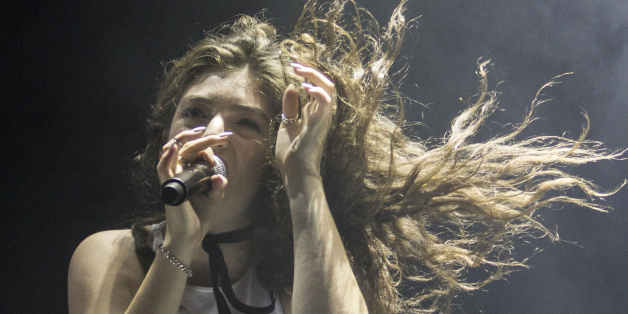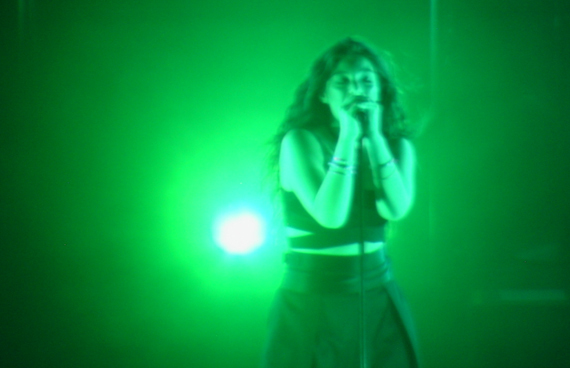 There is an air of palpable excitement in the 4,500-capacity performance venue The Joint at the Hard Rock Casino in Las Vegas. The large standing-room area is solid with people, and when the muted blue stage lights are sliced through with a single spotlight, the crowd erupts into screams.
This is Lorde's fourth visit to Las Vegas in the past year, and in keeping with her meteoric rise in popularity, the venues where she performs have been growing in scale. This Hard Rock concert is the 18th stop on her North American tour and coincides with the release of her theme song Yellow Flicker Beat for Hollywood feature The Hunger Games: Mockingjay Part 1.
Since moving to the U.S., I have found that the well-known cultural reference points for New Zealand are director Peter Jackson's Lord of the Rings and the musical/comedy HBO series Flight of the Conchords. Lorde (aka Ella Yelich-O'Connor) is now bringing a new dimension to the mix. Talented as both a singer and a songwriter, she has already developed a reputation for forging her own path and is not afraid to call herself a feminist. Confident and resourceful young women are not uncommon in New Zealand, but Lorde's unique talents have allowed her to impact a vast audience.
The audience at the Hard Rock concert is a mix of ethnicity and age, but has a strong contingent of young women and Lorde makes a point of connecting with the crowd. She voices her appreciation of the warm response she has received in Las Vegas and refers to her show at The Cosmopolitan earlier in the year:
Last time I played on a rooftop with a swimming pool. Were some of you there? It was the quintessential Las Vegas experience. I could see the Eiffel Tower and Brittany Spears on a large billboard.... There is something about Vegas which is cool to me. When I come here I feel kind of grown up. It feels like a very grown up city, maybe because you can order cocktails for breakfast! But seriously, it has made me realize how much I have grown up. You really make it feel like home for me.
Supported by a keyboardist and a drummer, Lorde performs the bulk of her 2013 Pure Heroine album with intense focus. Her eyes often closed, her luscious hair flying around her, she is a commanding figure on that large stage. For her final set, she emerges wearing a flowing red robe and a custom gold headpiece designed by New Zealand jewelers Meadlowlark. As she eases into the first verse of her popular hit Royals with her arms raised high in what could almost be a blessing, she embodies a timeless Greek goddess -- with a contemporary kiwi spirit.
When the house lights come on and the audience starts filing out, I chat about the show with a couple of young women nearby. Natalie and Nici are visiting from Frankfurt, Germany, and tell me they own Lorde's Pure Heroine cd and describe her as having a great voice and a great attitude. Natalie adds that she looks forward to Lorde's next album coming out, so there will be more material and longer shows. Then I catch up with a Las Vegas friend Elizabeth, who confesses that until tonight she had thought Lorde was British. I find I'm often mistaken for being British or Australian myself, so appreciate Lorde contributing to the growing cultural awareness of our very small -- but very cool -- homeland of New Zealand.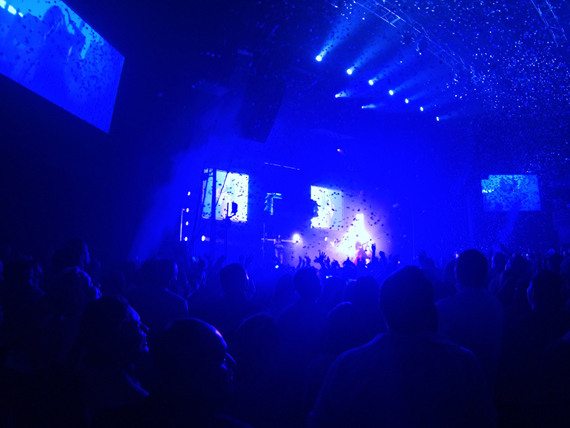 SET LIST
Glory and Gore
White Teeth Teens
Tennis Court
Buzzcut Season
No Better
400 Lux
Flashing Lights (Kanye West cover)
Biting Down
Heavenly Father (Bon Iver cover)
Still Sane
Ribs
Royals
Team
A World Alone