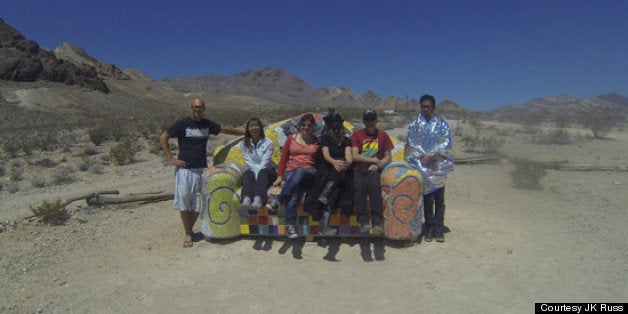 From its early days as entertainment hub for the workers constructing the nearby Hoover Dam, the city of Las Vegas has continued to offer spectacle and entertainment, and has miraculously transformed into a sprawling desert metropolis of nearly two million people. Not surprisingly, there is also a growing performance art scene, attracting graduates of the neighboring, renowned San Francisco Art Institute.
In January of this year, I found myself sitting around a barbeque grill with a handful of other artists, including two SFAI graduates, discussing ideas for new work. It seemed that the surreal context of our sprawling desert city environment had permeated our thinking, as the concept of the miraculous was a unifying theme.
We applied for funding assistance from the Nevada Arts Council, and in April were able to hold the first "Traveling Miracle Show" performance and installation event at the Momas N Dadas New Genres Project House in the Las Vegas Arts District. We then took an adapted version of the show on the road to Reno, Nevada -- 450 miles north across the arid Mojave Desert. Although we were following in the hoof prints of the traveling medicine shows of old, we had the benefits of bitumen and a hired Dodge Caravan, allowing us to make the trip in a day.
Our aim was to explore the broader arts and culture of Nevada and to forge personal connections with other artists to help bridge the gap between Southern and Northern Nevada that stems from more than just geographical distance. Competition for steadily decreasing state funding is one of the issues causing division, but we viewed this as even more of a reason for artists and organizations to work together to share knowledge and resources in order to realize projects.
Our first stop was Goldwell Open Air Museum, adjacent to the ghost town of Rhyolite, where we enjoyed responding to the sculptural installations, including German artist Sofie Siegmann's mosaic sculpture Sit Here!. The history of this 15-acre sculpture park dates back to 1984 when Belgian artist Albert Szukalski created his Last Supper installation. Goldwell also offers an artist residency program in the Museum's nearby Red Barn Art Center.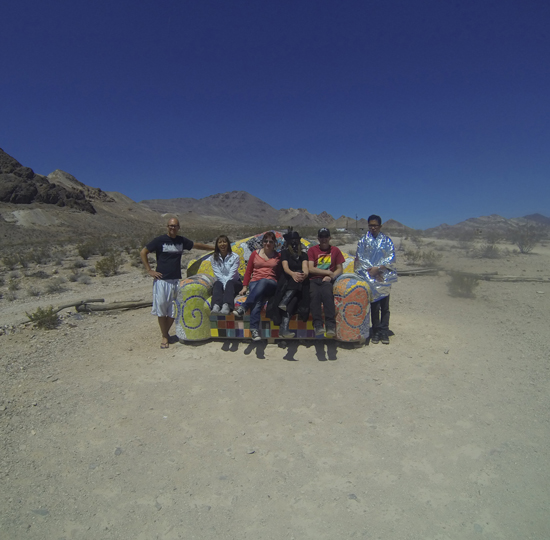 We also visited the historic Oats Park Art Center in the town of Fallon, 60 miles east of Reno. The former school building, built in 1914 has been beautifully restored and now comprises three galleries, a lounge bar and 350-seat theater. There were also interesting works on display by Michael Sarich, Joan Arrizabalga and Patrick Zentz among others, from the private, non-profit Churchill Art Council's regional art collection.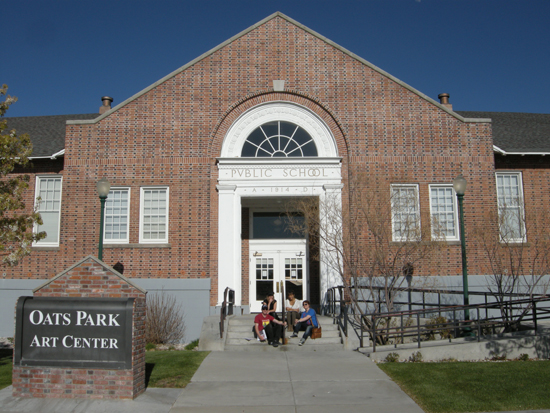 Having navigated the 'Great Divide' between Southern and Northern Nevada, we arrived in Reno just as the sun was setting over the snow-capped mountains and the famous neon lights were blinking on.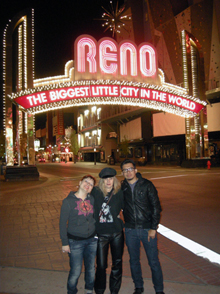 We headed straight to Reno Art Works based in the industrial Dickerson Road area that has become a hub for creative enterprises. Founded by Aric Shapiro and Pan Pantoja -- two artists sharing a strong social conscience -- Reno Art Works hosts regular exhibitions, open studios and multi-disciplinary events.
After a tour of the venue, we were back the next day to set up for the Reno version of The Traveling Miracle Show. By the time the sun was again setting, Mayra Padilla and I were positioned in the entrance way, as a pair of contemplative human cacti. Behind us, Matthew Couper's painting monkey worked on an animated version of Albrecht Dürer's Melancholia, and Artist Michael Barrett, in minimalist athletic attire, labored to deliver A Truckload of Paradise one shovel-load at a time. His growing trail of sand tracked past Nathan Coté's images of plants miraculously grown from vacuumed dust and Jenessa Kenway's endlessly flowing High Life video installation. Later, 'Ginger Healer' Jevijoe Vitug concocted a restorative, magical brew to share with audience participants.
The short video The Traveling Miracle Show @ Reno Art Works gives a little taste of the event. We met some great people, discovered some Nevada cultural treasures, and enjoyed sharing a few miracles along the way. Future Traveling Miracle Shows will be posted on our Facebook page.