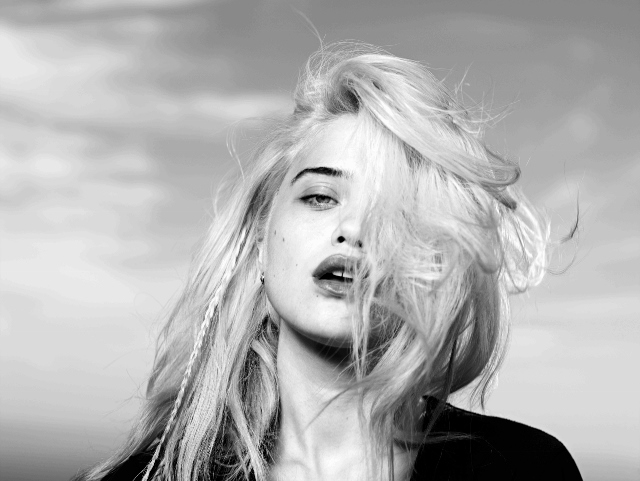 (Photo courtesy of Hedi Slimane)
Watching Sky Ferreira in her video for the track "Everything is Embarrassing" conjures memories of Madonna in the '80s, a time when playful sensuality was captured in a single glance and a slight smile breathed effortless flirtation. In the video, Ferreira can be found in various locations including a train, a playground, and a rooftop -- the simplicity of it all bringing focus to Ferreira's beautiful vocals.
Ferreira's EP, Ghost, was released this past fall and in tracks like "Sad Dream" a fragile and lingering moodiness can be found alongside the synth pop beats of "Lost in My Bedroom" and "Red Lips." Working with numerous talents including Jon Brion and Shirley Manson, Ghost displays Ferreira's passion to explore whatever melodic wavelength she chooses.
This week, Ferriera embarks on her first cross country U.S. tour with R&B/pop artist How to Dress Well. Having recently performed a few London shows in advance of her U.S. tour, she took a bit of a breather to answer a few questions.
J.L. Sirisuk: You're playing a few shows in London before returning stateside, so with all the flying and rehearsals, how do you relax?
Sky Ferreira: Not having any time to relax at the moment.

Sirisuk: You've mentioned in previous interviews that you really like to watch television. Is there anything you're currently addicted to watching?
Ferreira: Law & Order SVU and My Strange Addiction.

Sirisuk: Your hair is truly amazing! Do people try to touch it without your permission?
Ferreira: Someone is touching it right now as we speak.

Sirisuk: Ghost has a very eclectic sound. Who are some of your influences?
Ferreira: Paris, Texas (the film), Cass McCombs, and Madonna.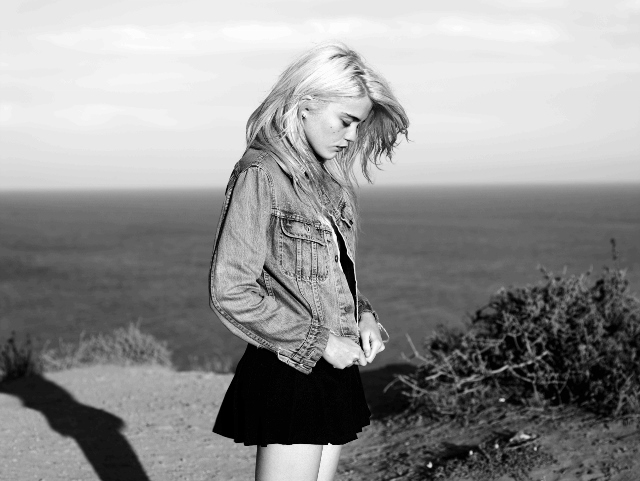 (Photo courtesy of Hedi Slimane)

Sirisuk: The video for "Everything is Embarrassing" is so simple yet I can't take my eyes away. Can you tell me about how this video came to be?
Ferreira: Grant Singer and I had to make it last minute and it cost $5, and we just went with the moment and made it up as we went.

Sirisuk: What's one of the most memorable live shows you've ever attended?
Ferreira: Jon Brion at Largo.

Sirisuk: Having acted before, would you say that acting has in any way influenced your performance on stage?
Ferreira: No, not really. When I'm on stage I just focus on the songs and it's quite natural.

Sirisuk: Will you be sharing any new tracks on this tour?
Ferreira: I'm sharing four new tracks on the tour and am very excited for everyone to hear them.

Sirisuk: What do you hope people take from your live shows?
Ferreira: Epilepsy.
TOUR DATES:
3/7 - San Francisco, CA - Popscene at The Rickshaw Stop !
3/9 - Monterrey, MX - Festival NRMAL !
3/19 - Washington, DC - U Street Music Hall *
3/20 - NYC - Bowery Ballroom *
3/21 - Brooklyn, NY - Music Hall of Williamsburg *
3/23 - Philadelphia, PA - Johnny Brenda's *
3/24 - Boston, MA (Fenway Presents) - Brighton Music Hall *
3/25 - Montreal, QC - Salla Rossa *
3/27 - Toronto, ON - Wrong Bar *
3/29 - Columbus, OH - Basement *
3/30 - Chicago, IL - Schubas *
3/31 - Madison, WI - The Frequency *
4/1 - Minneapolis, MN - Triple Rock Social Club *
4/3 - Denver, CO - Larimer Lounge *
4/5 - Vancouver, BC - Biltmore Cabaret *
4/6 - Seattle, WA - Barboza *
4/7 - Portland, OR - Mississippi Studios *
4/10 - Silverlake, CA - Bootleg Theatre *
! Sky Ferreira only
*Sky Ferreira and How To Dress Well co-headline
For further information, please visit:
http://skyferreira.com
http://facebook.com/skyferreira
http://twitter.com/skyferreira