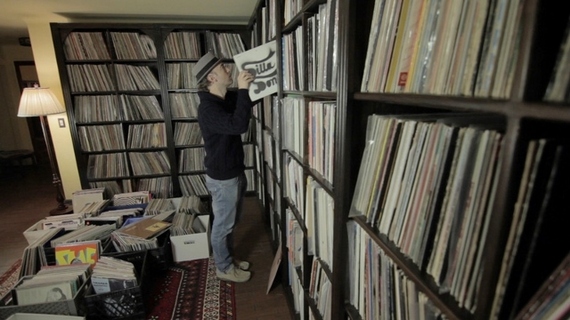 (Image Courtesy of Gatling Pictures)
For over 15 years now, Los Angeles-based Stones Throw Records has been home to some of the most varied and inventive musical artists. Innovation, hints of madness and genius, and authenticity are just a few common ingredients shared by the artists on Stones Throw's roster, an impressive list of talent which has included Madlib, J Dilla, and Madvillian (MF Doom and Madlib collaboration). The label's genesis is detailed in the documentary Our Vinyl Weighs a Ton, with the tale of the label's conception beginning with label founder Peanut Butter Wolf's (Chris Manak) friendship and early collaboration with Charizma. We follow Manak's musical and personal journey from San Jose, California to Los Angeles where the roots of Stones Throw were established.
The documentary features interviews with various artists including Questlove, Mike D, Ariel Pink, Gaslamp Killer, Kanye West, and Dam-Funk. Through concert footage, archival material and interviews, the film is a testament to Manak's dedication to uninhibited creativity.

J.L. Sirisuk: What can you tell me about the Peanut Butter Wolf Monster?
Chris Manak: He's overrated.

Sirisuk: You were raised Catholic. Did you ever get in trouble for listening to certain kinds of music?
Manak: I mainly got in trouble for listening to Prince and Rick James because I'd write the lyrics to songs down and one of my parents found the papers. With Rick James having songs like "69 Times" and Prince with "Jack U Off" it was easy to get in trouble. And when I started listening to hardcore rap like Schoolly D and Just Ice, that didn't help any. I actually got kicked out of school for wearing a Beastie Boys t-shirt with "Get Off My Dick" on the back. Only time I got in trouble at school.

Sirisuk: How were you approached regarding the making of this documentary?
Manak: A couple guys from France were interested in doing a one-hour doc for French National TV and they came out and filmed me and my crew for a month and put together a rough cut of what they did. In the middle of this, a two-man crew from L.A. approached me about doing a full length feature and it seemed like quite the dilemma because I didn't want two documentaries made. Then the opportunity from the TV network fell through so the L.A. guys went full speed ahead and worked something out with the French guys to use some of their footage as well.
Sirisuk: How long was the process of making Our Vinyl Weighs a Ton?
Manak: It was a few years but I have no idea in terms of hours. I know it was a lot though. Jeff and Rob worked their butt off in the edit. The rough cut looked nothing like the final version.

Sirisuk: There is an owl figurine that Earl Sweatshirt holds at one point in the documentary and I love owls - is it yours and do you still have it?
Manak: Naw, I had nothing to do with that one. I think that was shot at the director's spot. I never even noticed it until I watched the film at the theater and everyone laughed at that spot and even then, I couldn't figure out what they were laughing at. Figured it out later.
Sirisuk: I was watching a Connan Mockasin video yesterday which made me think of Folerio. Will Folerio ever make a revival?
Manak: Folerio loves Connan. At least I know he loves his music, but I think he's in love with him too. I haven't heard from Folerio since the film was made. He saw it and hasn't talked to us since.

Sirisuk: As years pass, what are some records - they don't necessarily have to be ones made by Stones Throw - that you find yourself re-visiting year after year?
Manak: There's some like PIL- Second Edition that I liked when I was younger that I still like now. There's stuff like Electric Prunes and Velvet Underground and Ariel Pink and Arthur Russell. BDP's first album was great. Sly's Riot Goin On, Kraftwerk's Computer World. Prince has a few, The Moments have some, Roy Ayers, Stark Reality, Main Source, Silver Apples, Joy Division, Gangstarr, Planet Savauge soundtrack, Ralph Lundsten, FREE DESIGN got me through 1993, Gary Wilson, Bruce Haack, Ganjasufi, Jonathan Brown

Sirisuk: How did it feel the first time you viewed Our Vinyl Weighs a Ton?
Manak: The first time I viewed it was before it had a name and I hated it and had a panic attack because I didn't want it to come out at all. That was the rough cut. I thought, "what did I get myself into here?" Then the guys did a lot more work on it and brought it to it's current state.

Sirisuk: What are three records that reflect the musical journey of Stones Throw so far?
Manak: Quasimoto- The Unseen, Bruce Haack- Farad, Dam-Funk- Adolescent Funk.

Sirisuk: You have managed to bring together an assortment of various talents. Who is someone that you would want to work with?
Manak: I got a good crew already. Would rather focus on their careers.

Sirisuk: What is the last track you listened to today?
Manak: "Shadows on Behalf" - Stepkids. But I was just singing it in my head. Does that still count?

Sirisuk: Anyone in particular you've worked with who has greatly changed the way you think about music?
Manak: Koushik has that thing. Dilla had it. James Pants has it. Madlib. Gary Wilson. Vex Ruffin. Geoff Barrow. On & On. I work with an elite crew of geniuses.

Sirisuk: What's the future of Stones Throw?
Manak: Ask God.
Our Vinyl Weighs a Ton is available for purchase at http://www.stonesthrow.com/