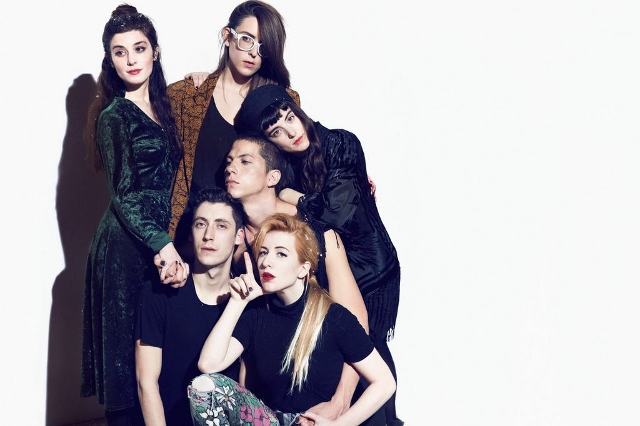 (Photo by Norman Wong)
A classically trained singer with influences ranging from Puccini to Nine Inch Nails, Austra's Katie Stelmanis is a frontwoman whose stage presence and melody carry operatic elements. With a voice that surges with yearning, emotion, and release, Stelmanis is able to combine gothic tinged drama with synth beats that inevitably instigate the need to dance. While Austra's first album Feel It Break, was more of a solitary affair, the group's latest LP Olympia is more of a collaborative effort, fusing the creative tendencies and ideas of the entire group. The result is a sometimes dark and moody, yet also honest and pulsating creation.
I recently spoke to Stelmanis about Nine Inch Nail, taco trucks, and dancing.
J.L. Sirisuk: Were you just in Europe?
Katie Stelmanis: Yeah, I just flew back from Europe last night, actually.
Sirisuk: Are you jet-lagged?
Stelmanis: I feel alright to be honest. I woke up at around 7, which I kind of liked.
Sirisuk: With this leg of the tour that you just returned from in Europe, was it the first time you started taking material from Olympia on the road?
Stelmanis: We started playing some of the songs and we did some support tours earlier in the year.
Sirisuk: You've previously said this record was a bit more collaborative. Do you feel like that process in any way had an impact on how you've performed live together this time around?
Stelmanis: I think that it was kind of the opposite. I think that our live show had a huge impact on the record more so than anything. Feel It Break was essentially a solo record. Maya and Dorian did a little bit of work on it, but the live show has become something completely different than that record was. The live show has become this kind of celebratory dance party. We really wanted to bring that energy into the new recording so we kind of shaped the recordings around that.
Sirisuk: Between the previous record and this one, it's been a few years. What can you tell me about the process of collaboration in terms of writing and recording with the other members?
Stelmanis: For me collaboration was probably the most creatively liberating thing I'd ever done. Normally I would write a song and flesh it out myself on my computer at home, but with this record I left the songs really bare and brought in the band; we all filled it together and that kind of yielded songs that I never would have written by myself and it ended up yielding some of my favorite songs on the record, actually.
Sirisuk: So when you would sit there and write, did you ever get to a point where you would think "okay, this is an idea I had and now I want Maya to run with it." Did you ever have different people in mind who you thought could fill in the next parts of what you had started?
Stelmanis: We kind of treated every song as an open canvas, essentially, and anybody was allowed to play whatever we wanted and if it worked, then great, and if it didn't work then it didn't get on the record. I think that if anybody had an idea then the idea could be heard, absolutely.
Sirisuk: Do you have creative influences, even aside from musical ones?
Stelmanis: I recently saw that Marina Abramović documentary The Artist Is Present and I really enjoyed that because I feel that our culture in some ways has become this very apathetic thing where people tend towards surrealism and obscurity over just directive and honesty, and the concept of that whole idea was very influential on this record and how I chose to present the music and the lyrics and everything. This whole record has been more about honesty and direct more so than anything else.
Sirisuk: What did you listen to while growing?
Stelmanis: When I was growing up, when I was a kid?
Sirisuk [laughs]: Yes, when you were a kid.
Stelmanis: When I was a kid, I was just obsessed with classical music. I didn't really know why because my parents weren't into it but I loved it and that was pretty much all I was into. Until I was 18 years old, I didn't start getting into bands; I feel like I was a very later bloomer in that sense.
Sirisuk: Was there a particular group that made you think "I want to start a band. I want to do this" ?
Stelmanis: Yeah, for me the biggest crossover band was Nine Inch Nails. I loved Nine Inch Nails and I was living with a friend at the time who was trying to get me to like them for a long time. She was like "you know he's a classical piano player, you would really like him" and I just kind of ignored it for a long time and then one day, I don't know what happened. It just clicked and I listened to his music and became obsessed with it and he influenced a ton of my early stuff.
Sirisuk: With Olympia, what do you feel are some of the biggest sonic differences between this album and Feel It Break?
Stelmanis: Sonically Feel It Break was written entirely on a computer. It was like a bedroom project, it's a very digital album. With Olympia we played everything, we used real instruments and we paid more attention to sound. The sound quality, every single note was played with great care where with Feel It Break we didn't have that much detail.
Sirisuk: You were a bit more isolated when you made the last record. Did you feel more free recording this one?
Stelmanis: I felt more liberated just working creatively because there's more ideas to go around. When you're working on the computer it's so easy to layer up 35 to 100 tracks because you can pull up a track and a new instrument within seconds and just pile them on top of each other to create a certain aesthetic, whereas with this record we didn't want it to be about piling 50 sounds on top of each other. We wanted to have one sound that was the exact sound that we wanted, and work with that.
Sirisuk: You'll be in L.A. on Sunday. Anything about L.A. you're looking forward to?
Stelmanis: Sunshine, and palm trees, and beaches. I love L.A., and tacos. I love the taco trucks.
Sirisuk: So many fish tacos over here.
Stelmanis: Yes, those are my number one favorite things about L.A. I love that L.A. is just basically in some ways Mexico, or that it used to be Mexico so it kind of looks like it a little bit.
Sirisuk: What songs make you want to dance?
Stelmanis: From my record or from anywhere in the world?
Sirisuk: From your record and also anywhere in the world.
Stelmanis: I think "Home" is pretty dancy. Maybe its just the danciest for me when I play it. Rhythmically it's a little hard but I kind of bounce around when I play it, so it feel danciest. Other songs in the world...there's like 500 million that are like ultimate dance songs [laughs].
Sirisuk: A memorable one that just comes on, and you can't prevent yourself from dancing.
Stelmanis [laughs]: We collaborated with an artist from the 80s called Gina X who I love and who has a track called "No G.D.M." and that's our walk on song, and that's the song that we use to get really pumped up and excited, so I guess I'd say that one.
Sirisuk: Do you remember that moment in life when you realized that music was so fundamental to you and that you couldn't do anything other than music.
Stelmanis: I don't rememember because it's always been a part of my life. I've been consumed with music since I was like 8 or 9 or 10 years old and I always imagined that I would somehow be pursuing a career in music, I didn't realize it would be this.
Sirisuk: What do you hope people get from your live shows?
Stelmanis: I guess I just hope they like them. It's been really nice to play the new songs for people because even though you might think they're dancier, they actually feel a lot more chilled out. Our sets right now feel a lot more like performance, whereas in the past it kind of felt like a dance party. We were so obsessed with keeping the energy up to a certain level and now there's a real amount of time in our live shows where the songs are just much more intimate and they move a lot slower. I feel like we've been able to engage people thorugh all of these different elements .
Olympia is now out. Austra will be performing this Sunday at the Troubador in Los Angeles. For more information, visit: http://www.austramusic.com/
Upcoming Tour Dates:
06-23 Los Angeles, CA - Troubadour
06-26 San Francisco, CA - The Independent
08-30 Detroit, MI - Crofoot Ballroom *
08-31 Chicago, IL - Lincoln Hall *
09-01 Minneapolis, MN - Triple Rock *
09-04 Seattle, WA - Neumos *
09-05 Portland, OR - MusicFest NW
09-10 Phoenix, AZ - Crescent Ballroom *
09-12 Dallas, TX - Trees *
09-13 Austin, TX - Mohawk *
09-14 Houston, TX - Fitzgeralds *
09-15 New Orleans, LA - One Eyed Jacks *
09-17 Atlanta, GA - The Earl *
09-18 Carrboro, NC - Cat's Cradle *
09-19 Washington, DC - Black Cat *
09-20 Philadelphia, PA - Union Transfer *
09-22 New York, NY - Webster Hall *