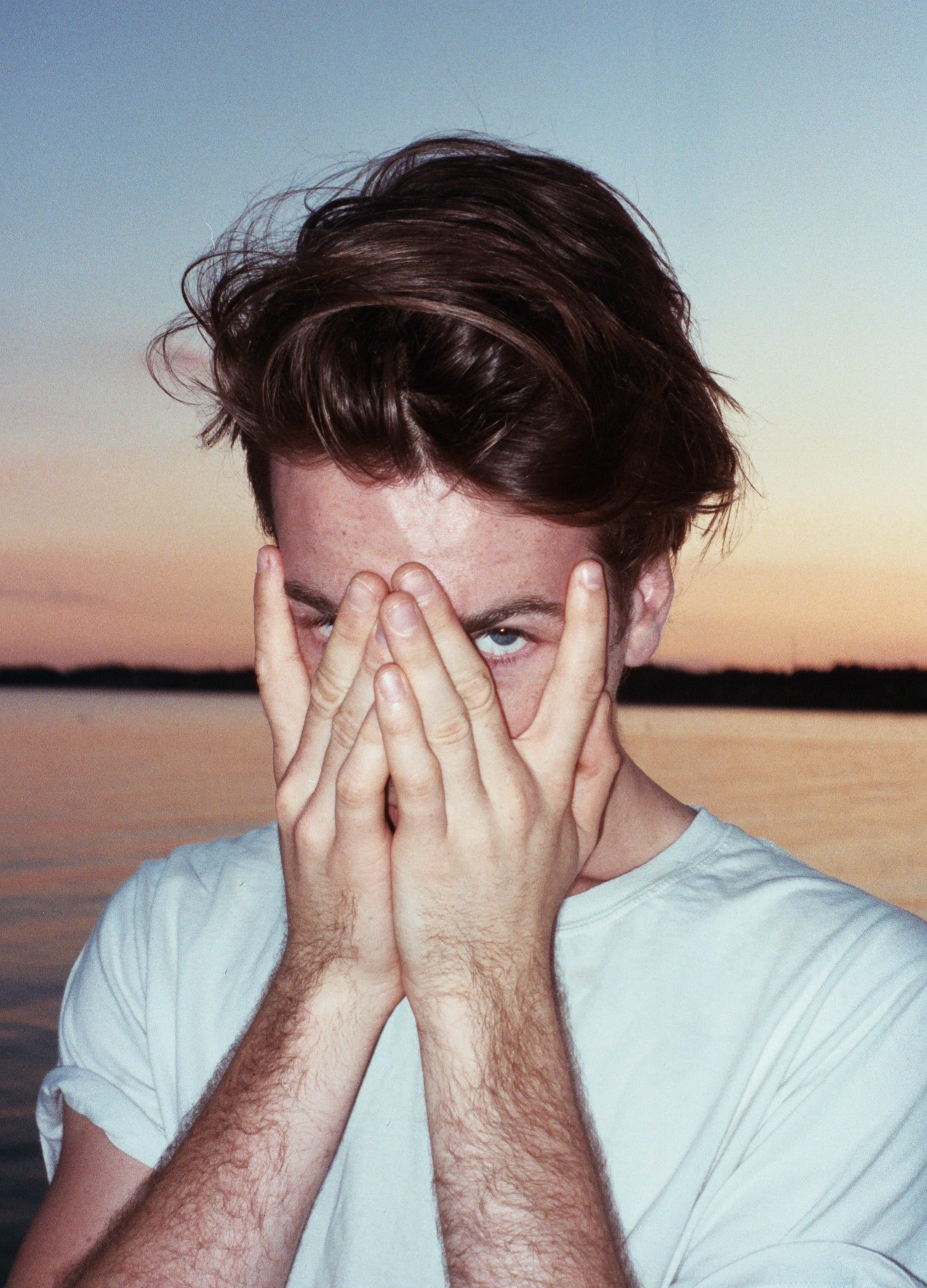 (Photo by Kristie Muller)
With a soundscape consisting of subtle fragility and delicious sensuality, Trust (alter ego of Robert Alfons) has created one of the most darkly beautiful and atmospheric albums of 2012. Alfons' debut 'TRST' was released this past February and since then, he has taken his provocative sound to clubs across the globe. Dramatic landscapes take us from sonic and sexy to heavy and moody with Alfons' deep laments and moans guiding us through mazes of synth beats and pulsating rhythm. In a world of self-conscious gazes, inhibited desire and overwhelming attraction, the album is saturated in a plethora of sounds that take us on an epic trip from places cold and distant to sexy and flirtatious, with rhythm that will incite both lust and the need to dance. I recently caught up with Alfons via telephone ahead of a few East Coast shows.
J.L. Sirisuk: Hi. Are you in D.C. right now?
Robert Alfons: Yeah I'm across the water, in Virginia but basically yeah.
You once mentioned that you dream about food. So far have you eaten anything worthy of dreams?
There's lots of good food in the city. Every small town we've gone to makes their own kombucha which is really exciting to try.
The first cassettes I bought were by En Vogue and Ace of Base and I know you're a big Ace of Base fan. Do you have a favorite Ace of Base song that you dance to?
'Young and Proud' is my favorite. I think that's my favorite song on the record. Young and Proud. Even just the structure of the song doesn't fit a normal pop sort of formula but it's a really cool sound, so yeah that's a fun one.
What is one of the most heartbreaking songs you've ever heard?
There's a song by Nick Drake called 'Fly' -- I just feel like that's the most heartbreaking song I've ever heard. I wanna do a cover of it at some point maybe -- it's just like the most pretty song ever.

The process of writing can be quite solitary sometimes so how does it feel to finally present your songs and perform for people?
It's like a different thing playing a song live. It's kind of an extension of yourself and an extension of the song. But definitely still rooted in sort of the core and where it started.
Your album has a very epic soundscape and I feel that there is a story there with a beginning and an end. What is the essence of the story you're telling?
I guess there's lots of key moments in there. I wrote the songs -- a lot of the songs are pep talks and like pick-me-ups for myself. I don't know if has a huge over arcing linear story but definitely for me it's like each of the songs had to become what it became or else it wouldn't have been fulfilling for me. And yeah I think I had to kind of make it big and make it sort of what I would consider to feel kind of epic in order to carry out the song's full potential.
What's the last book you read?
I just finished up a book of short stories by Flannery O'Connor and it was really intense and I kind of read it over a few at a time because you'd get so invested in these characters, and then something awful would happen to them at the end of the story after ten pages and it was so taxing.
You're based in Toronto but grew up in Winnipeg -- is there anything in particular about growing up there that has had an influence on your writing and sound?
Winnipeg especially in the winter can be pretty desolate and I feel like that's my experience of growing up. I mean, I remember just being really solitary and I kind of kept to myself and I think that for the most part is kind of how Toronto is for me as well, and I think that's how the record was made and how the new stuff is being made. Yeah, Winnipeg has a good core but everybody has their space there.
In the record you talk about lust and repression and I find the music is highly sensual. What kinds of things around you in the world do you find to be sensual?
I mean I think having time in nature and being around things, like spending time in nature is really sort of the best fuel to make music with. But I mean I guess anything, to be honest. It's kind of like, if you can step back for a minute and kind of realize your surroundings, then having that sort of awareness really helps with focusing on the song that you're so excited to write.
You don't like to listen to music while you're writing new material so while you were making the record were there any visuals that inspired you? I know you are also a photographer, so were you influenced by any photographs or paintings?
I think that in terms of subjects of my own, the people around me were extremely fascinating and inspiring. I guess the journeys to and from in my every day life, that kind of stuff. The mundane sort of view, like this street and how it changes over a season. I think I'm extremely nostalgic so seeing things like that change and that sort of thing. Being stuck in a space and then living in it for a while is a good thing.
How has progress been on making the new album? Have you been writing it on tour?
Yeah, definitely. Hopefully I get some time off in the spring to really indulge myself in it a little bit more but I am definitely getting a lot of pieces done and it's exciting. It's kind of like me happiest is having time to make new stuff.
When you're recording, are there certain places you prefer to go? Some people like to go to a cabin in the woods or be in the city -- is there a certain place you go to?
I don't have a spot. I'm not sure what the spot will be for this next one but definitely having some sort of consistency helps and definitely for me having some level of solitude is the best place to be making music. I'm not sure where that place will be, but something will come about.
How would you describe the new album so far?
It feels like a second part of the first album but it's definitely changing and it's definitely different in a lot of ways.

Trust will perform Friday December 7, 2012 with The Faint at Terminal 5 in Brooklyn. Please find details here: Terminal 5
Upcoming dates include:
Paradise Rock Club in Boston, MA (12/08/12)
Club Soda in Montreal QC (12/09/12)
Sound Academy in Toronto, ON (12/11/12)
Metro in Chicago, IL (12/12/12)
For more information, visit: www.ttrustt.com.