"A sister is a little bit of childhood that can never be lost."
--Marion C. Garretty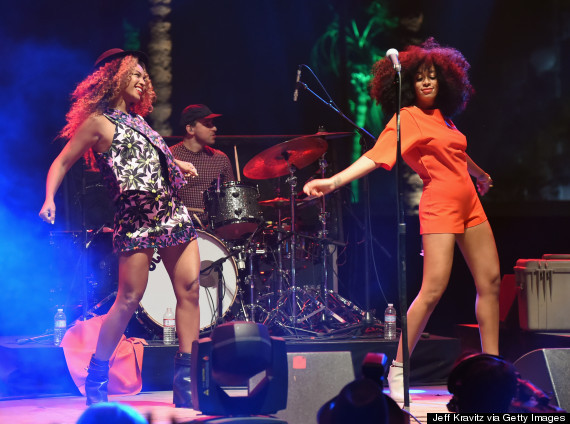 Sunday morning I woke up to a video of sisters Solange and Beyoncé dancing joyfully together on stage at Coachella. The night before, Beyoncé had made an unannounced appearance toward the end of her little sister's set, and the sibling duo performed a choreographed dance number to Solange's "Losing You." The routine was followed by an affectionate embrace in which the two smiled and giggled playfully.
I smiled along with them as I watched the performance -- from the body rolls and two-steps to the hugs and laughter. In the words of Twitter user @DanceYrslfClean, "Solange and Beyoncé looked so genuinely happy performing together, like, it made me kinda wish I had a sister." Fortunately, I have a sister, and I was nostalgically taken back to childhood days of dancing and singing along to the radio with my older sister, Danielle. Though I've always had a little more rhythm than she has (you can even ask our mother), there is -- and always will be -- something magical about sharing the dance floor with the person who has been able to finish your sentences and indulge in "sweet, crazy conversations full of half sentences" since you've been able to talk. It's kind of like looking at your own reflection.
A few days ago my Facebook wall and Twitter timeline were covered in pictures of my friends with their siblings in honor of #NationalSiblingsDay. I must admit that I initially thought this was a social media-induced "holiday." However, after doing a bit of research (OK, Google search), I learned that the day has been recognized as an annual event in various countries for thousands of years, and recognized in the U.S. as of 2008 thanks to the efforts of the Siblings Day Foundation. Claudia Evart, president and founder of the foundation, proclaimed April 10 -- the date of her late sister's birthday -- National Siblings Day after losing both her sister and her brother, who died in separate accidents at young ages. Evart hoped to create a holiday to celebrate brothers and sisters in the same way that Mother's Day and Father's Day celebrate parents. She has said:
Siblings Day is a day where brothers and sisters reflect upon each other, enjoy time together or a phone call; in some cases, a day of truce and more understanding; for others, a day of love and appreciation; for some, a day when those departed are remembered; and in all cases, a day when attention is paid to that unequivocal bond like no other.
Too often I have taken for granted this truth. Sibling relationships are the longest relationships that most of us -- 80 percent of Americans have at least one sibling -- will ever have, often outlasting marriages and our parents' lives. So although National Siblings Day has passed and there have been plenty of days that have made me wish I was an only child, I would like to thank my sister and brother for being my best friends, my teachers, my therapists, my alibis, and my partners in crime. While my sister may never forgive me for something I did when I was 4, and while my brother may hold a grudge because this essay focuses mostly on sisterhood, I know that no matter what happens, our relationships will endure and thrive amidst a lifetime of quarrels and reconciliations, tears and laughter, confusion and clarity. To siblings, both by blood and by choice.