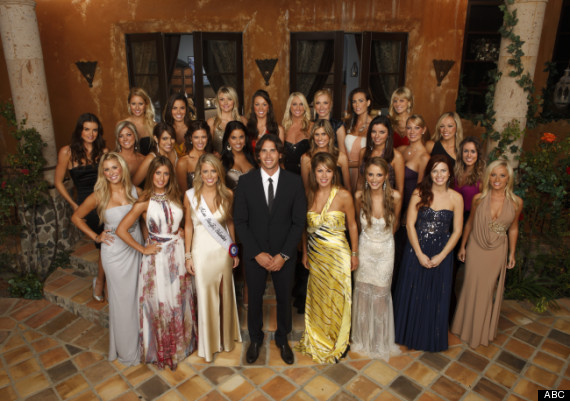 Desperate contestants are fairly common on ABC's "The Bachelor," but after this week's episode, some of the women competing for Ben Flajnik's affection took it to a whole new level.
Just as the dating competition prepared to narrow to a field of just six lucky ladies, audiences had to brace themselves for the cringe-worthy displays from women terrified of rejection -- but their desperate acts may be backed by scientific reasoning.
Note: The following contains spoilers if you have not seen Season 16, Episode 6 of ABC's "The Bachelor."
A quick recap of this week's episode: Blakeley presented Ben with a scrapbook of the several hours they've spent together. Courtney, once again, took off all her clothes and then stayed up all night waiting for her Prince Charming to arrive for an illicit visit to her room, though he never showed up. Kacie B. brought a stuffed monkey on a date and revealed she once had an eating disorder.
But the cherry on top of the pathological pudding was when the admittedly prude Jamie got up and literally straddled Ben in the garden -- in a skirt, no less -- before conducting a class called "Kissing for Dummies." To sum it up: Things got weird.
In the end, Jamie and Blakeley were sent home without a rose Monday evening.
For 16 seasons, we've seen women compete to win the "Bachelor's" heart, but many of the ladies on this season seem to be a bit more unhinged than before. However, it might not be their fault. Biological anthropologist Helen Fisher, Ph.D., Chief Scientific advisor for the dating website Chemistry.com, explained that there is science behind some these ladies' actions.
"The brain circuitry for romantic love can be triggered in two dates or two hours," Fisher said. "When a person feels rejected, the brain regions linked with obsession become active. It's a powerful human experience, no matter when it happens."
So why do they act this way -- especially on national television?
"When those feelings are triggered, you can't stop thinking about a person," she said. "You become obsessed. Someone is camping in your head and you can't get them out."
The pain of rejection is the very core of the "Bachelor" franchise. In the course of two months, the season's bachelor (or bachelorette) will reject more than 20 potential suitors. It is a marathon of pre-coital carnage, and that very premise drives these men and women to giant lengths that may seem to border on insanity for viewers -- and it's all because of their brain chemistry.
"You feel elation when things are going well and despair when things are going poorly," Fisher said. "You have intense energy and deep craving, the same kind of craving like when you crave cocaine or cigarettes, but it lasts much longer. ... Anytime there is a real barrier in the relationship and you are not sure if you can win the relationship, it heightens the craving. The less you think you can win the person, the hotter the craving."
The crazy train does not stop there. Things will likely get worse due to the fact that the women who choose to seek love on reality dating programs aren't just riding an obsessive fear of rejection. More often than not, they are also looking to become stars themselves. That means at least some of this madness may be less love science and more cold calculation.
"I've often wondered whether these outrageous women on 'The Bachelor' are motivated by desperation for love or by desperation for fame and attention," dating and relationship coach Tracey Steinberg told The Huffington Post. "It's naive to think they don't know what all reality show viewers know -- that it's the outrageous, crazy, and memorable characters who graduate to TV fame and fortune. ... The more memorable women on 'The Bachelor' have ended up as the lead on a future season of 'The Bachelorette,' or have become staples in celebrity magazines."
We're looking at you Vienna Girardi, not to mention your ex-fiance and former "Bachelor" Jake Pavelka, who reportedly just landed a deal at Chippendales in Las Vegas. Because, after all, it's all about fame, and not so much love for many of the contestants on dating shows.
Steinberg summed it up saying, "I think that for a lot of women on 'The Bachelor,' getting a fiance would be nice -- but getting their own reality show would be even better."