New York Fashion Week wrapped just weeks ago, and the fashion industry's top 1 percent have already turned their attention to some of the most expensive and luxurious cities in Europe. Meanwhile, most Americans have a different focus with a presidential election just weeks away and school now in session in every city and state in America, Chicago too.
In 2008, right around the time Chicago's own Barack Obama was getting America's full attention, designers Dao-Yi Chow and Maxwell Osborne were starting to turn heads in New York with their menswear label, Public School.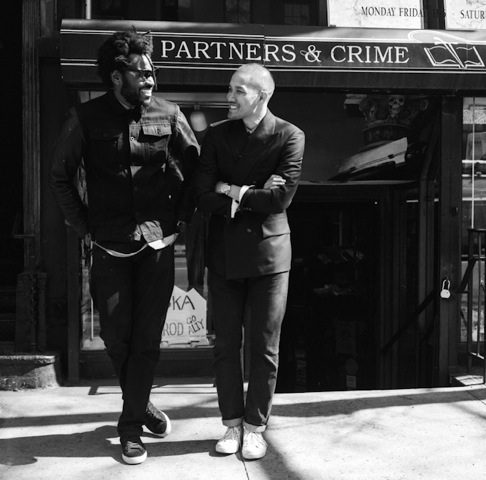 New York Public School products Dao-Yi Chow and Maxwell Osborne. [Credit: Dario Calmese]
In the four years since, Obama's political fortunes have experienced many ups-and-downs; just as the fashion industry has, with the recession lingering on much longer than projected.
Meanwhile, Chow and Osborne, former colleagues at Sean John where Chow was creative director, have harnessed their talents and ridden the democratization of American menswear to experience a rise eerily similar to the one that took Obama from a state senator's gig in Illinois to a U.S. Senator's seat in Washington, D.C. No, they're not running for office... they're just getting ready for their close-up.
Is that a lofty comparison? Perhaps. But when you look around at some of the country's best-known menswear brands -- many of them producing denim overseas (Public School still manufactures in New York), many of them going mainstream too soon, and many others failing as quickly as they succeed -- it's not a stretch to view Public School as a viable candidate for the future title as America's Most Democratic Menswear Brand.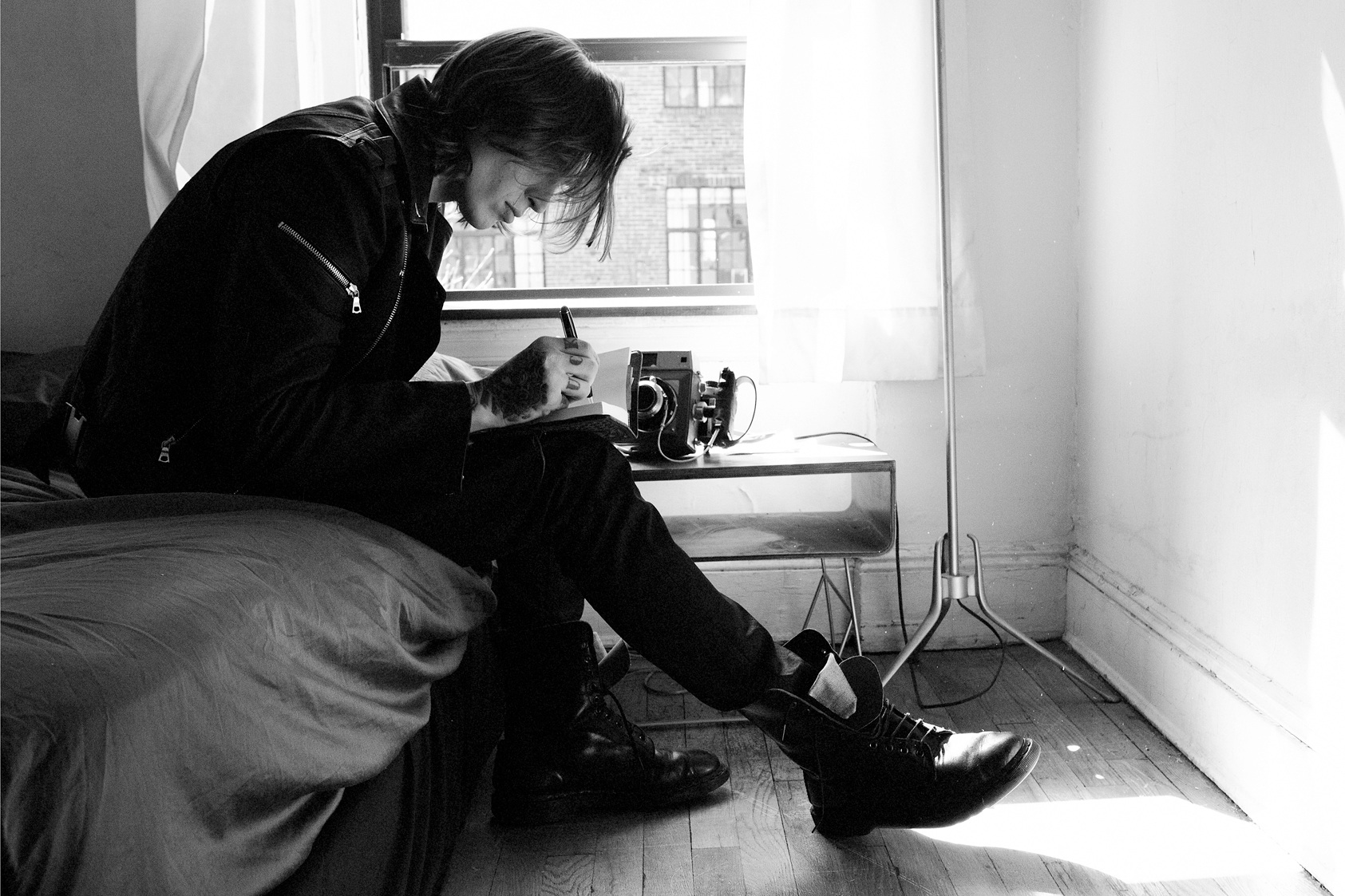 Launched in 2008, Public School has graduated to a higher class of American menswear. [Credit: Dario Calmese]
Chow and Osborne said they planned to vote in support of Obama this November, but they didn't seem to have much time to focus on presidential politics. They're too busy maximizing the exposure and lessons they learned while being members of CFDA's inaugural Fashion Incubator program where they received counsel from the who's who of New York's elite fashion community including Diane Von Furstenberg, Nick Wooster, and Joe Ferrara.
Osborne recently compared the Incubator program to graduate school or MTV's The Real World. While graduate school is for the academically inclined, and the MTV program now seems to be for the fame inclined, Public School has become a brand for the quality inclined. In announcing their Spring/Summer 2013 collection, Public School stated, "we were very interested how a delicate balance and network of relationships helped to form structure and provide a base in which all law and order was supported."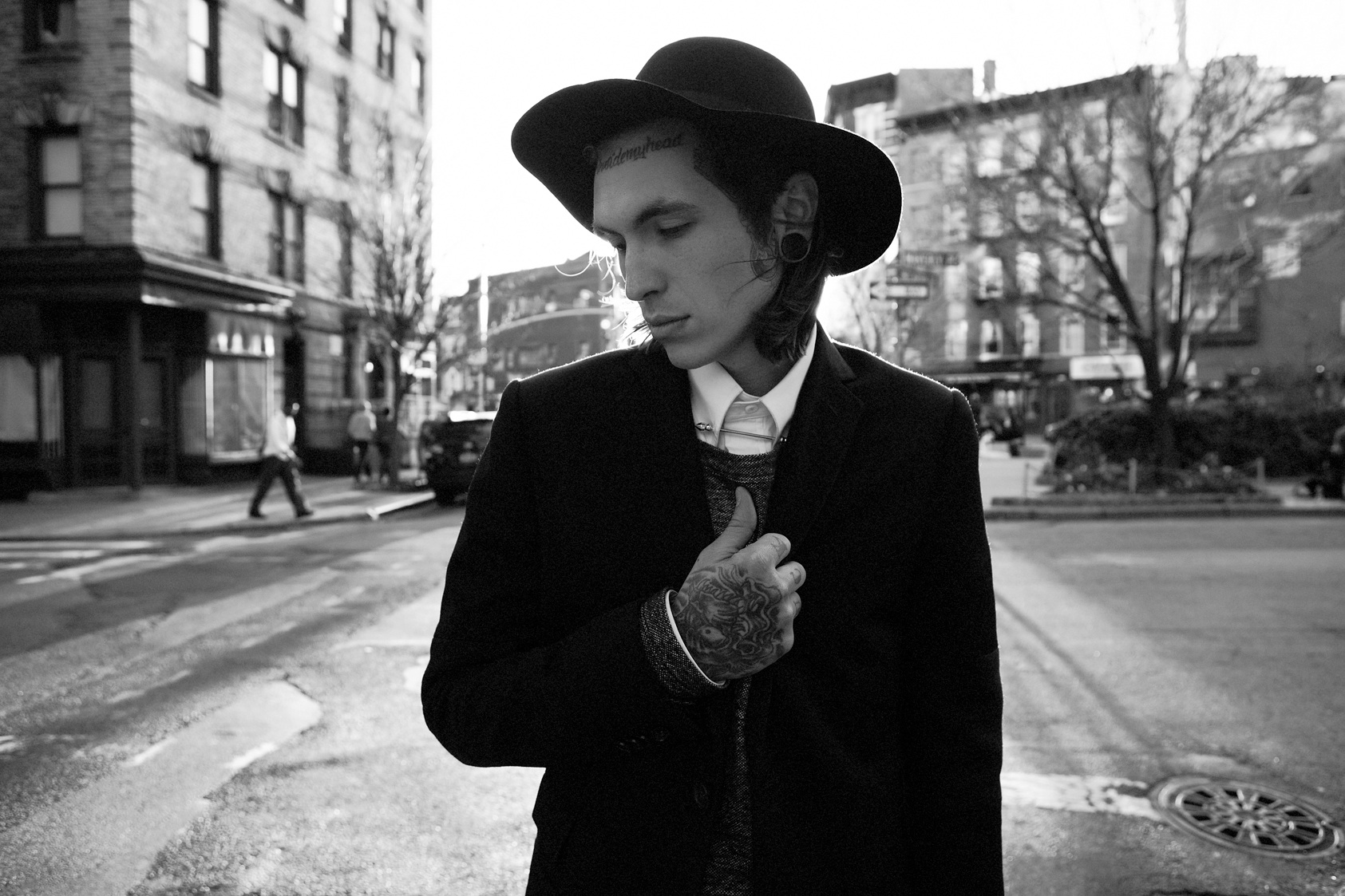 Public School maintains much of the New York hustler spirit that Chow and Osborne learned while working for Diddy's line Sean John. [Credit: Dario Calmese]
I'm not sure how many designers you've heard speak of "law and order," but it sounds like one strong political pitch if I've ever heard one in a fashion brand press release. What's next for Public School after launching a collection that prominent menswear blogger Marcus Troy said was "really emerging into something special"?
I'd recommend following the rise of Obama himself. Obama cut his teeth as a community activist in Chicago, and often speaks of how that time fueled his desire to serve his country. The guys from Public School put their work in the city streets of New York, where they grew up. Their price points may not be well-suited for Americans of all income levels, nor are those designer dresses first lady Michelle Obama wears, but the street-sophisticate design aesthetic and commitment to premium (and American-born) design quality are the type of ideals that should make up yet-to-be-written American menswear constitution.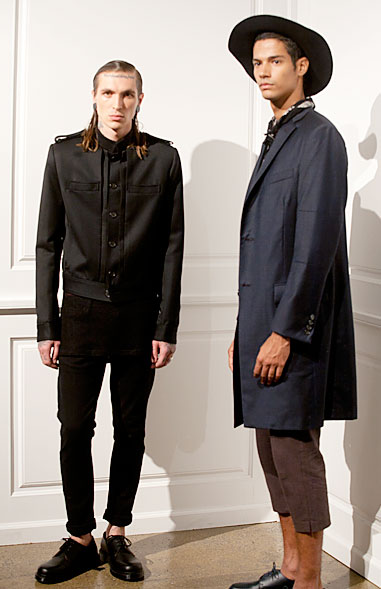 Public School's Spring/Summer 2013 collection did not disappoint. [Credit: Jon Pattillo, AvecMode]
One of the tenets in that constitution has to be that you have to make it in New York, before you go national, right?
Chow grew up in a Queens neighborhood with a section known as "Little India," another with Colombian immigrants and another with a strong transgender community. Osborne grew up in a part of Brooklyn he described as "desolate" and "fun" where the primary activity was "all streets, all the time." Needless to say, both men had a street education to fuel their careers long before they received a CFDA backing.
"There was a sense of unity and everyone on the block knew each other. It was more outdoors than inside...it was lawless and really free and open," said Chow of his upbringing, who attended public schools throughout his childhood and learned about merchandising as a teen when he became a Ralph Lauren Polo brand collector.
Osborne's interest in fashion seems to have come a bit later, unlike Chow he had no '88 Holiday collection Polo or '92 Olympics Polo to speak of, but he too grew up in an era when American designers like Lauren, Tommy Hilfiger, Calvin Klein and Donna Karan (the Mount Rushmore of American menswear) proliferated runways and malls with their eponymous labels.
After Osborne's brief stints at Tommy Hilfiger and Sean John, where Chow eventually left to run his own boutique in Miami, the two were soon putting their shared experiences growing up in New York to work for Public School, launching a 2008 Spring/Summer collection.
As the years go by, the silhouettes for men still offer fewer variations than there exist for womenswear, while the rules seem to be less heavily enforced than during the '90s, the main goal of the menswear game is still to stand out and be unique. Fittingly, Chow compared the increased interest and widespread knowledge of menswear to the increased political activism Obama spurred in younger and minority voters. Menswear, for years, has been a minority voice in New York's fashion industry, but not anymore. Not with so much CFDA-backed youth leading the way.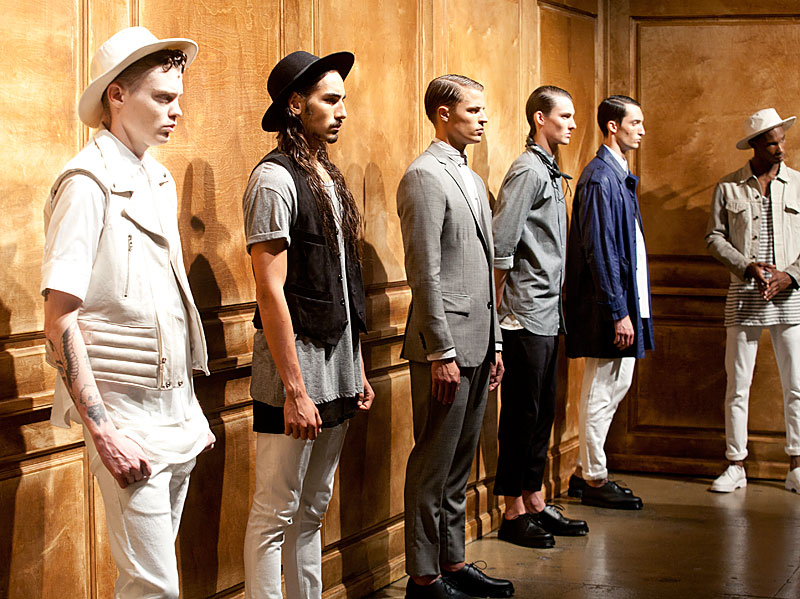 Public School's New York story, like Obama's Chicago story, will help them tremendously as they expand their brand nationally. [Credit: Jon Pattillo, AvecMode]
Now, with New York behind them more than ever, this duo of emerging designers are ready to open up their own Public School to the world. Their site says they're planning to launch e-commerce soon. So move over Mr. President, Dao-Yi Chow and Maxwell Osborne are campaigning for a spotlight of their own.