 My experience at Wanderlust, the yoga and music festival, which took place in late July near Lake Tahoe, was unlike any other I've had in my travels over the past few years. Let me put that into some context.
In the past year, I've visited seven countries and nearly 45 cities, seen more than 170 live musicians, DJs and bands including having attended five live music festivals which goes along with New York Fashion Week and countless other fashion-related events, seven MLB and NBA games between Atlanta, Chicago, New York and San Antonio, and technology conferences in Austin, London, Philadelphia and Miami.
So when I say Wanderlust was a unique experience, take my word for it. From the location to the general mood at the festival, I could tell very quickly that this wasn't going to be a place for street style coverage or fashion blogging. Wanderlust was more about the "life" part in lifestyle.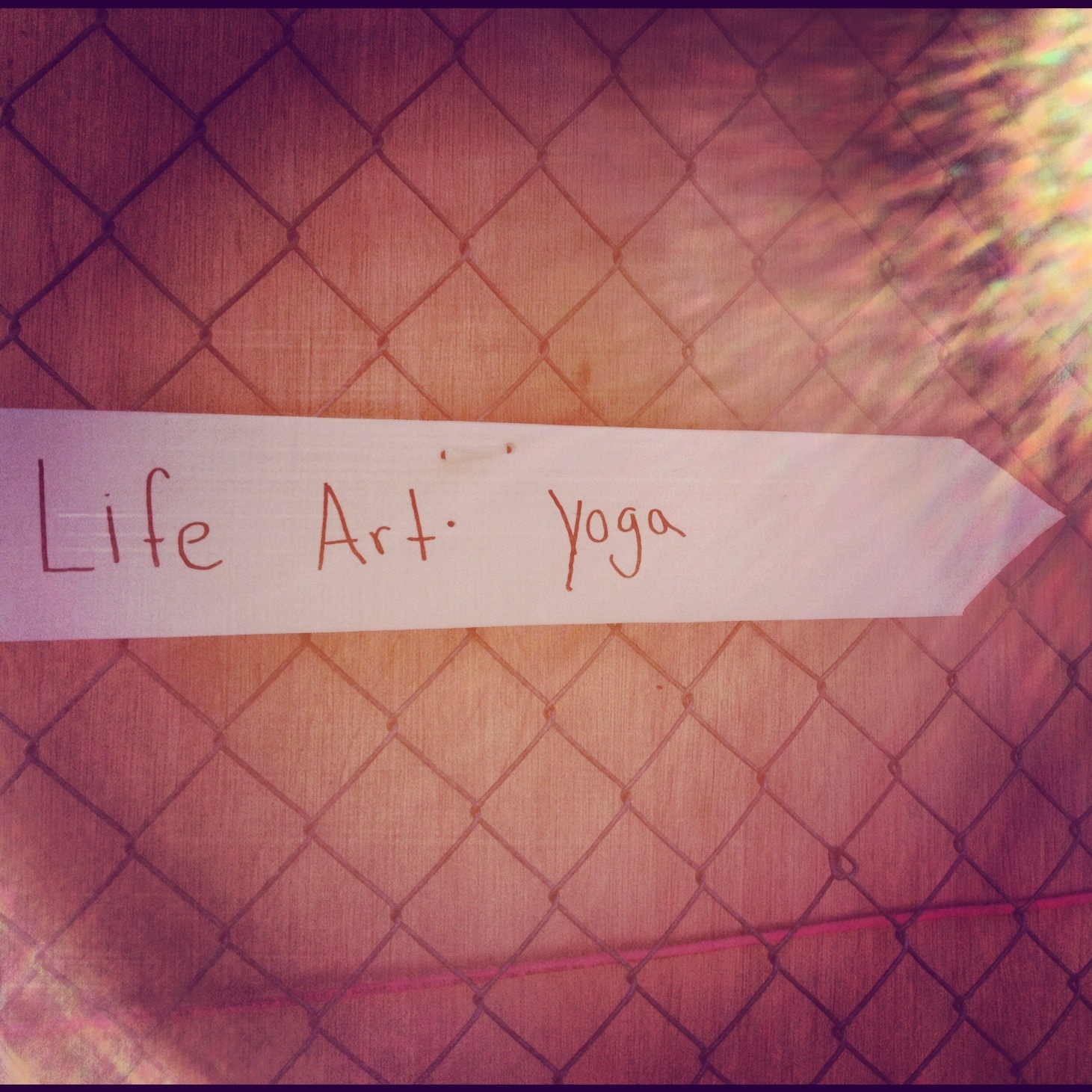 Not sure if this was the official mantra of Wanderlust, but it sure made a lot of sense.
That being said, here are the five key things that stood out to me from Wanderlust in Tahoe:
I love Austin (ACL Fest, South by Southwest, Fun Fun Fun Fest) and Chicago (Lollapalooza, Pitchfork) and I still have festivals to see in New Orleans (Jazz Fest, Voodoo) or San Francisco (Outside Lands), but can any festival site top Tahoe for scenery?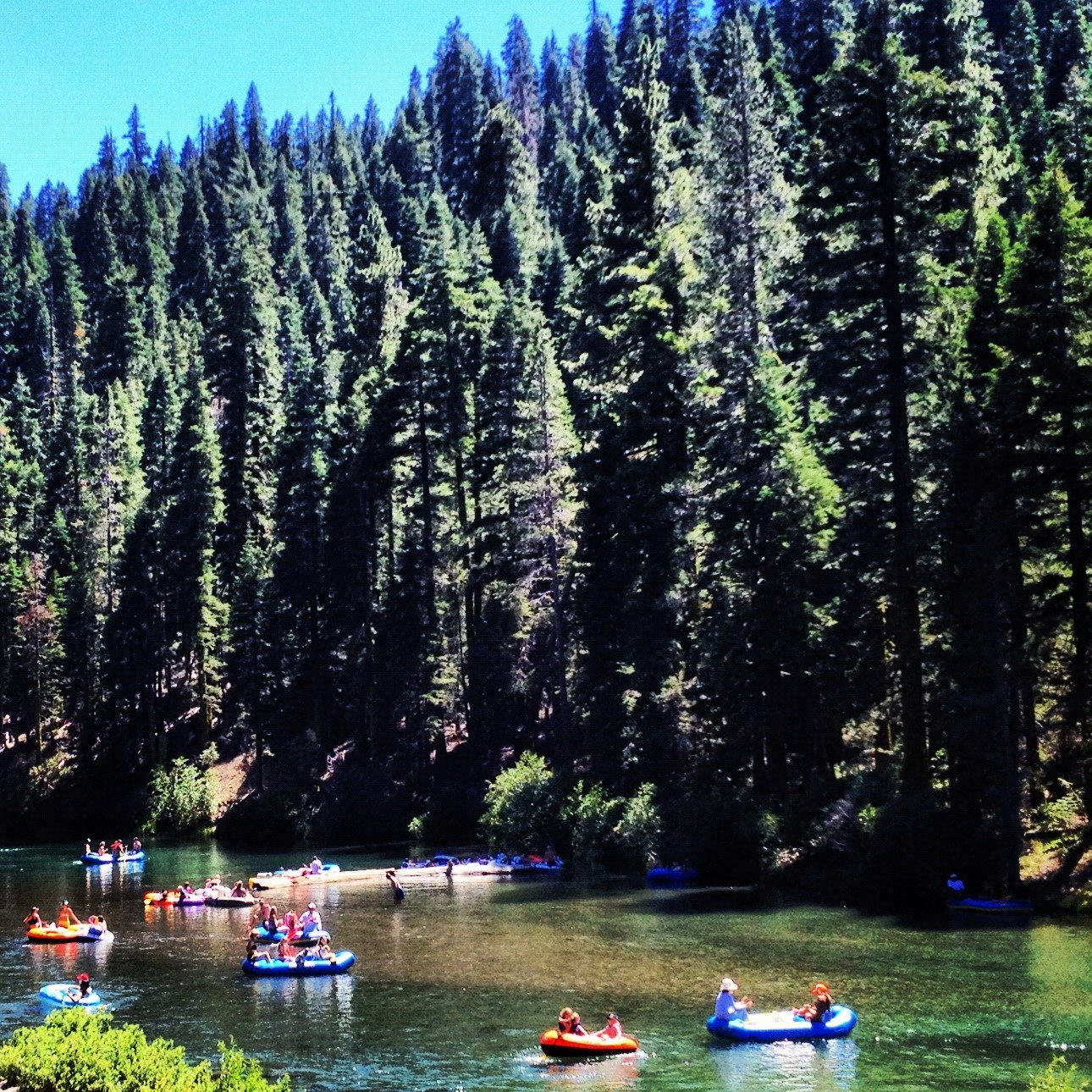 Who needs Palm Springs hotel pools when you have nature?

Between those gorgeous morning runs along Squaw Creek and the breath-taking views (Wanderlust treated the media to a lovely dinner atop the mountain), it's pretty easy to see why so many people find themselves flying into the Reno, Nevada, airport every summer. It's damn sure not for the casinos -- at least not the Wanderlust crowd.
As for the weather, I'm not sure if anything other than perfect weather comes to Tahoe in late July. Austin's festivals have had their share of rain and heat stroke temperatures and Chicago's have experienced rain in previous years. San Francisco always gets painfully cold at night and New Orleans defines humidity during the afternoon. Tahoe? Oh, just 80s and sunny during the day and 50s and breezy at night. Even Coachella, where the Friday weather was not exactly camp-friendly, can't claim temperatures that close to perfection.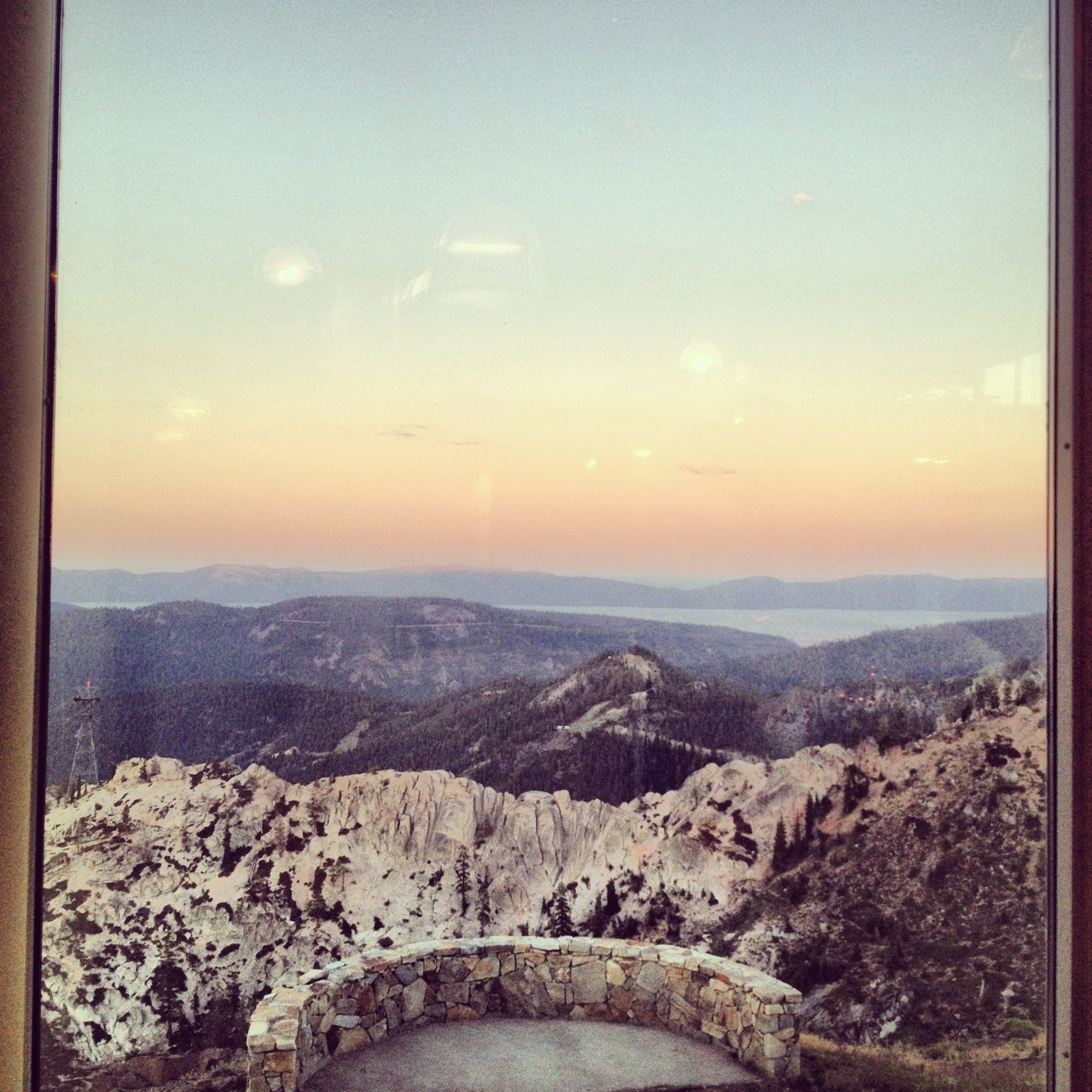 Instagram can only help so much. This was my view from dinner sponsored by The Naked Grape wine.
There are some really smart guys making some great Mobile apps on both iPhone and Android for travel companies, major events and festivals. The ESPN X Games app was a perfect way for me to stay informed on the athletes and scores. The Coachella and ACL Fest apps help me plan what my festival schedule ends up looking like.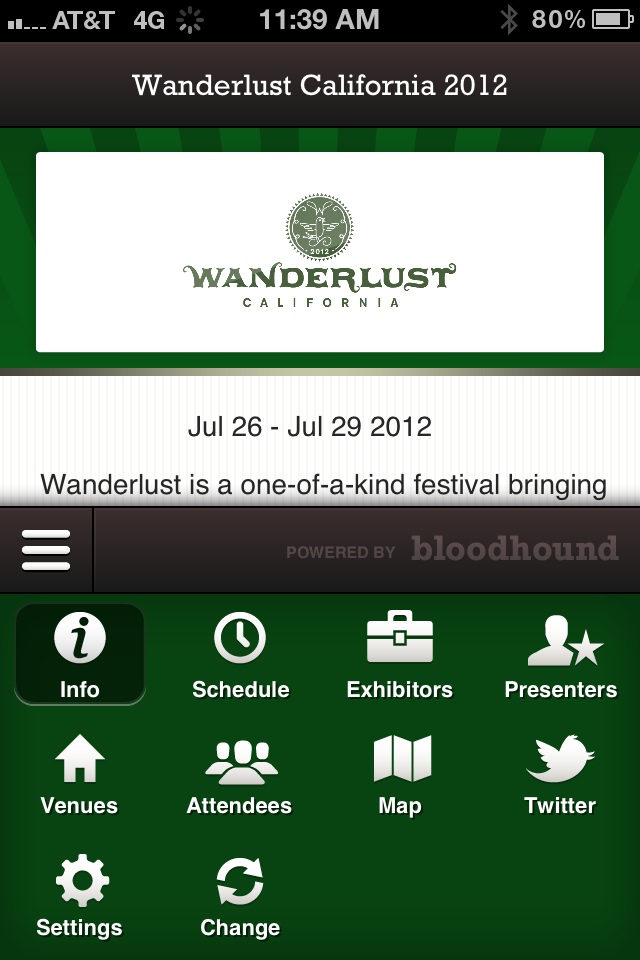 This iPhone app was a gift that kept giving throughout the festival.

But the Wanderlust app gets an A and stands out above all the others for two reasons: 1) the menu navigation is perfect. With icons for the Schedule, Exhibitors, Presenters, Venues, Attendees and, of course, a Map, I was never lacking for information at my fingertips. 2) The app was responsive and accessible. Often times, one of the issues with using iPhone apps at major events is that either the functionality is not intuitive enough which means you stop using it or the Wi-Fi connection isn't strong enough to meet the demands of the app itself. On both fronts, the Wanderlust iPhone app passed with flying colors.
No, seriously... I mean thousands of women from California with well-toned and tanned bodies wearing tightly-fitted clothes from Nike and Lululemon... No, I don't mean it like that. But if any of you are into that type of thing, then Wanderlust had that going for it.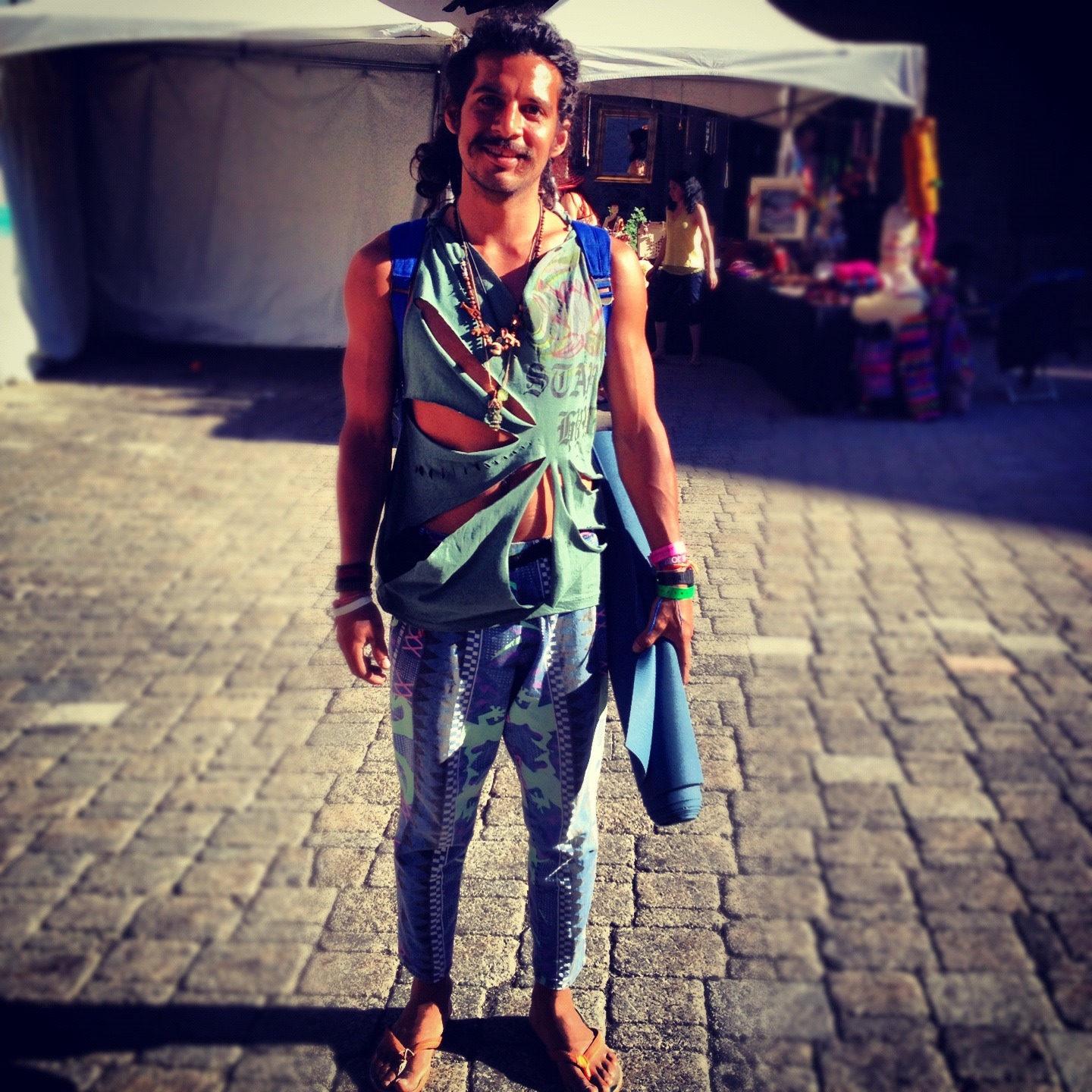 One of the few guys I saw at Wanderlust. No, really.

However, I'm referring to the sensibility of the festival itself. All the staffers and volunteers I ran into or spoke with were women. I went to a yoga session called "Yoga for Dudes" and I'm pretty sure I was one of only 50 males at the entire festival. What that meant on the grounds was that there wasn't as much rah-rah and bro-in' out going on as normal festivals.
It wasn't just a laid-back spirit, it was a comforting "we're all in this together" vibe that seemed to be in the air throughout the weekend. This was the weekend when female friends could get together to take care of themselves. This was a rare occasion in a world where men are often in charge and often seem to leave all that "caring" stuff to women regardless of the consequences on our bodies and minds.
Wanderlust is part owned by C3 Presents, the company best known for putting on both Lollapalooza and Austin City Limits Music Festival. While those festivals are remarkable productions in the middle of two of America's most interesting cities, Wanderlust is most impressive in how the experience is more about what a participant takes away than what they saw on stage.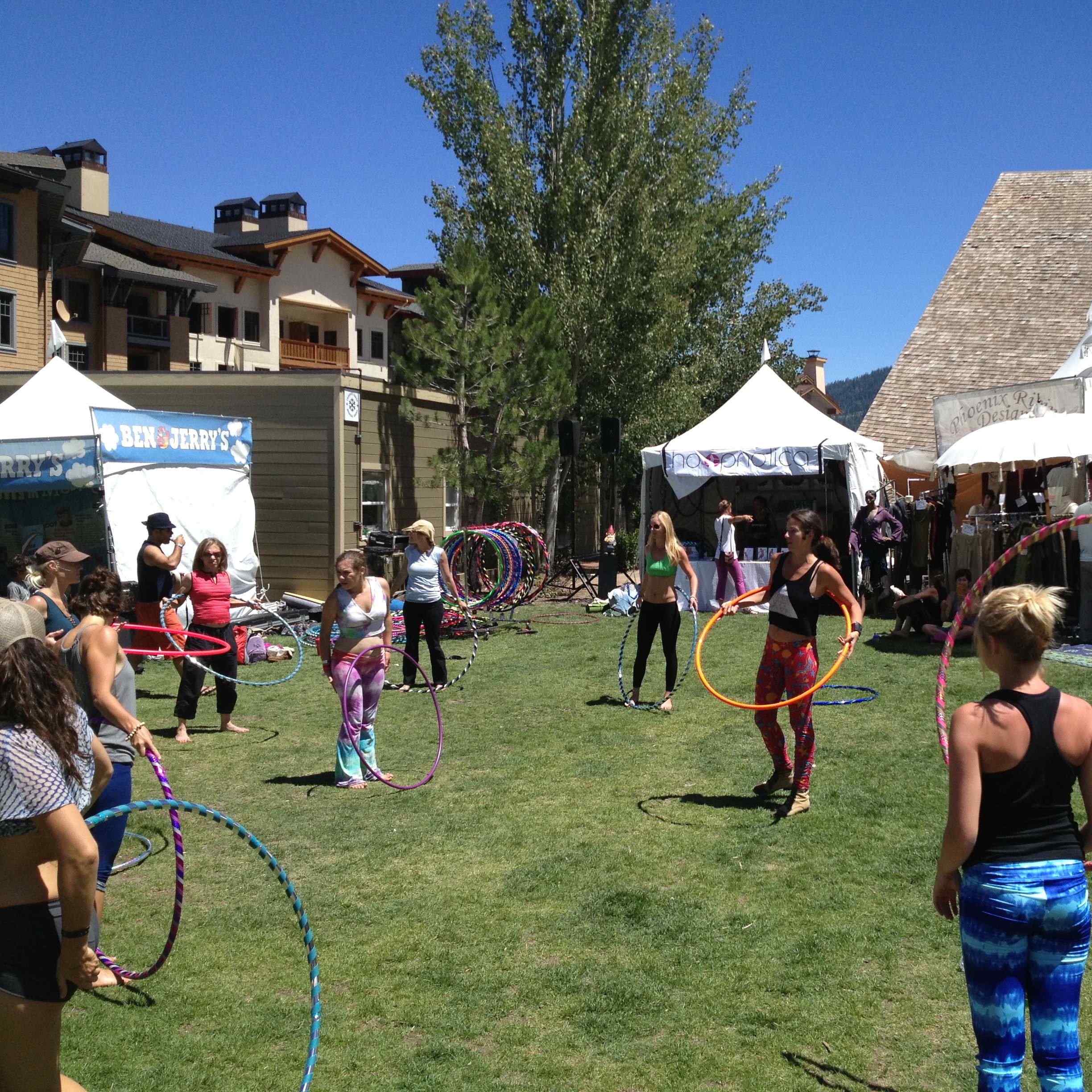 Wanderlust went light on laser shows and heavy on hula hoops.

The way Wanderlust is able to captivate a community of people for a unified purpose -- personal well being primarily unless you got into yoga for some other reason -- is truly special. Somehow the people associated with two of the world's music festivals managed to put their fingerprints on something that isn't about headlining acts, mega-DJ sets or a highly anticipated gathering of tens of thousands of 20-somethings.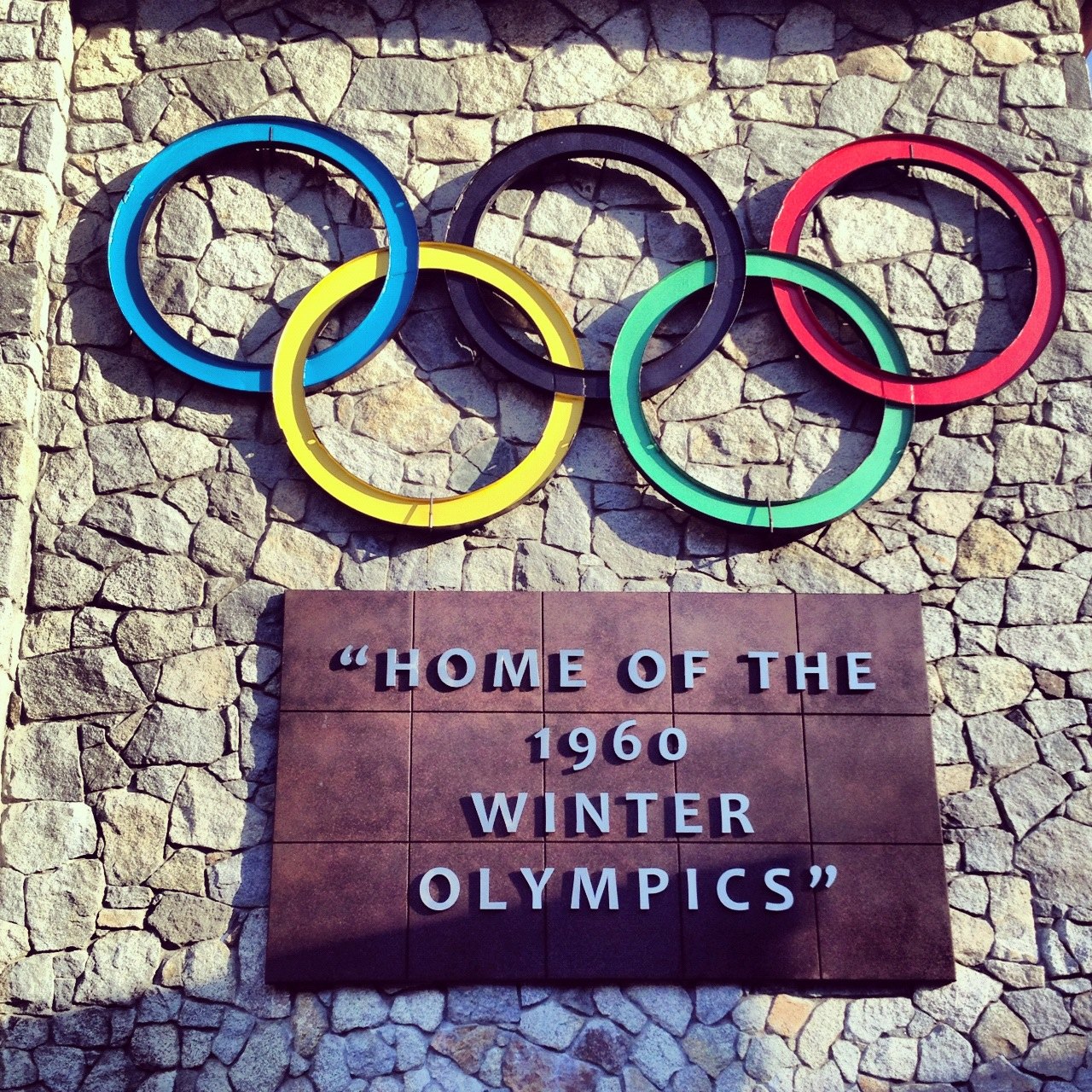 Perhaps the Olympic spirit made Wanderlust all the more special.

If there's an easy answer to explain why the sense of purpose seems to be at a high during Wanderlust, it may have something to do with the fact that this year's Tahoe site was Olympic Village at Squaw Valley, home of the 1960 Winter Olympics. By now, we've heard about the camaraderie that fills Olympic villages every four years. Perhaps there's still some lingering energy even after 50-plus years.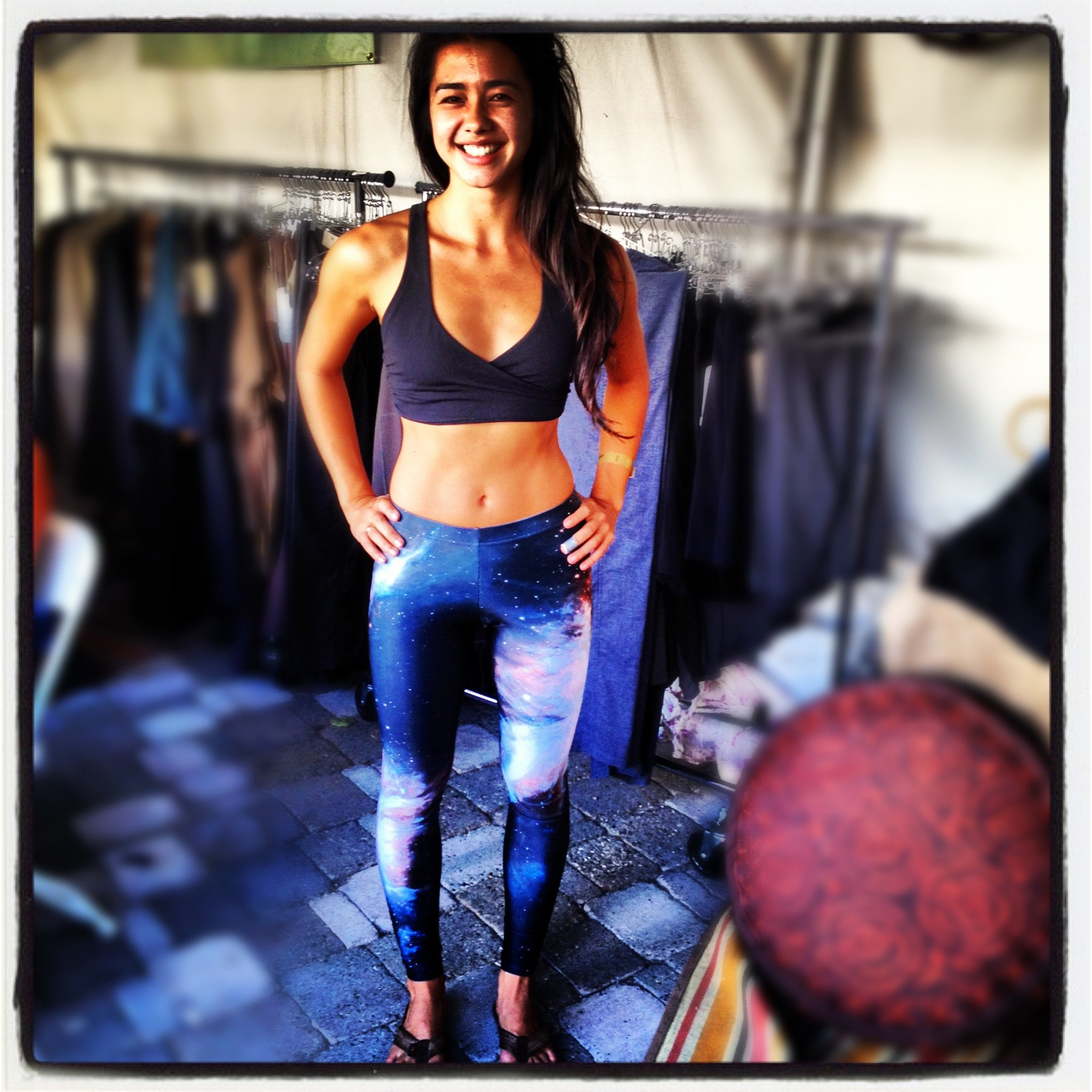 Don't be fooled by my poor Instagram skills, this young woman's leggings by Black Milk were the peak of the street style scene at Wanderlust.
So why does this make sense to someone interested in style or fashion? Easy, style is all about confidence and feelings. Whenever I ask people what their style is, they say it's based on how they feel when they wake up in the morning. So imagine waking up and doing a 90-minute Vinyasa flow session or starting your day with some chants with Krishna Das? If that isn't inspiration for an enhanced sense of style, I don't know what is.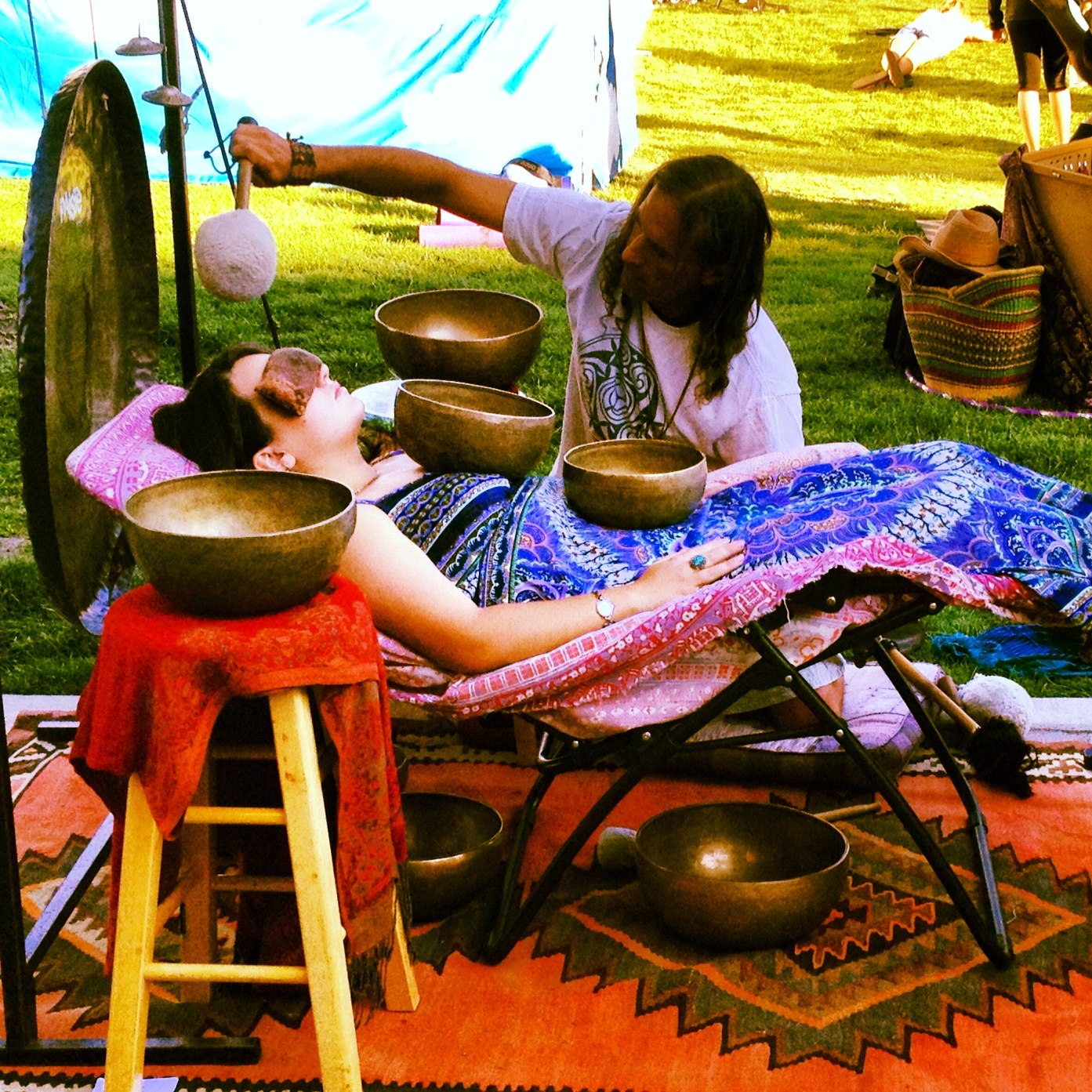 Who wears all black everything when your spirit is far more colorful?

So many fashion gurus wear nothing but black and white. Why? Because their lives consist of constructs that, too often, go unchecked and out of balance. A pissed off boss. An unhappy relationship. Too little time spent outdoors. Countless nights spent worrying about money or bills or things.
The style of Wanderlust is based on feelings too. It's just that the feelings are more deeply rooted inwardly than what's going on externally. This goes to show that the style is not at all about clothes, but it's about a lifestyle.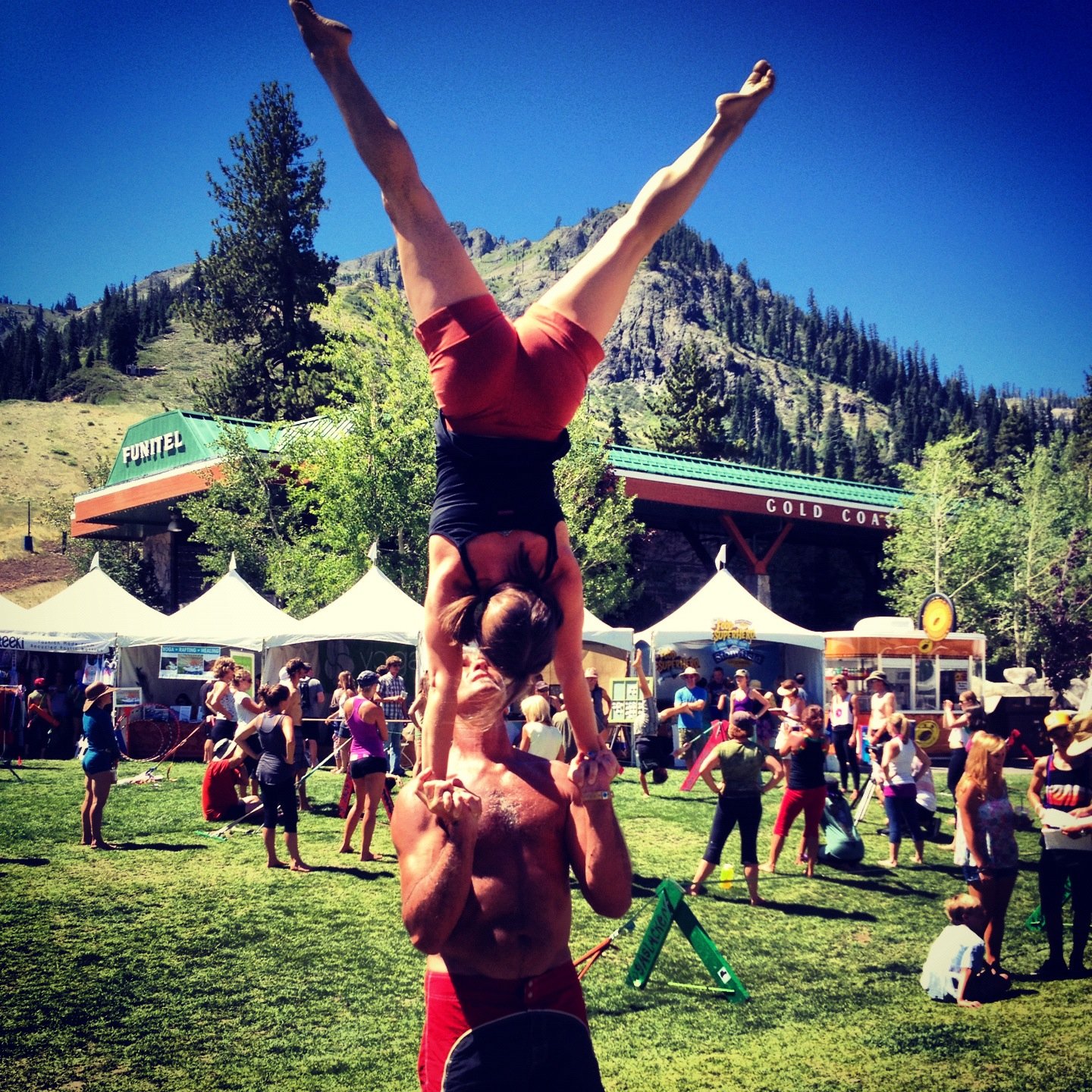 These Wanderlust-ers took "getting high" at a festival to a different level.

One final note: Wanderlust isn't an inexpensive experience, per se. The hotels in resort towns aren't cheap. Yoga maps and other gear can hit your bank account pretty hard if you're in a hurry to make purchases (as I was). And flights to Tahoe from San Francisco and L.A. may be cheap, but think twice before booking that trip from Atlanta, Miami, New York or D.C.
Lucky for those East Coasters, Wanderlust takes place in the quiet confines of Vermont each summer as well. Maybe I'll see you there next year.