This weekend, Steely Dan, that indefinable and technically sophisticated bundle of rock, jazz, and whatever else strikes the fancy of principals Walter Becker and Donald Fagen, kicked off the "Shuffle Diplomacy" tour, their seventh U.S. tour since 2000, with a group of band veterans who are as well known to the group's obsessive fan base as the Becker and Fagen themselves.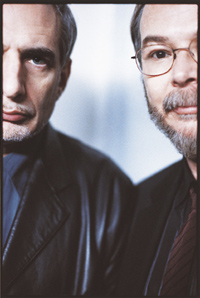 To the uninitiated, a discussion of Steely Dan's touring band as a long-time coherent performance unit may seem oxymoronic, considering their reputation for using a highly-tooled panoply of session musicians on any given album (Aja, which had 7 tracks, featured three dozen musicians in addition to Becker and Fagen, and that's only counting those who made the final cut; the story of the many guitarists who attempted an acceptable solo on "Peg," which Jay Graydon eventually nailed, has become something of a musical urban legend). Their notoriety for studio perfection has spread so far that it's been referenced not only in the music world, but throughout pop culture, ranging from The Onion to the internet series "Yacht Rock."

Indeed, it is ironic that the quintessential studio act -- one that shunned live performances from 1974 to 1993 -- would revive itself, in the 21st century, as a seasoned touring band with a consistent roster of musicians. Yet here you have it: The current ensemble -- dubbed "The Miles High Band [instrumentals] with the Embassy Brats [backup vocals]" for this tour -- are not only top-notch professionals, but veterans of Steely Dan touring and recording. Nobody on the band has played less than three tours with Steely Dan; some have had a much longer connection, such as siblings Michael Leonhart (trumpet) and Carolyn Leonhart-Escoffery (vocals), who have been with Steely Dan since their 1996 tour, and Catherine Russell (vocals), who was part of Donald Fagen's early 90s "New York Rock and Soul Revue."
To shed some light on dynamics of the current Steely Dan band, I spoke to three of these veterans just before the current tour: drummer Keith Carlock (began touring with Steely Dan in 2003), guitarist Jon Herington (since 2000), and saxophonist Walt Weiskopf (since 2003). Each is charged with playing parts that, on the original recordings from the 70s and 80s, were played by a wide variety of legendary -- and highly distinct -- musicians, meaning each are called upon for a high degree of versatility, sensitivity to precedent, and, above all, virtuosity. All three have also played on Steely Dan recordings, including Becker and Fagen solo outings, since 2000.
They all agree that, with the current band, Becker and Fagen have a tight collection of musicians who, as Weiskopf relates, "don' t have to be taught to perform." To a person, every musician in the band has their own solo career; many are also composers, educators, or even authors (Weiskopf has written five highly regarded books on advanced topics in improvisation).
Contrary to what one might expect -- that Becker and Fagen would be rigid taskmasters -- Weiskopf relates that, while musically demanding, they are "supportive and thoughtful, regular guys;" Herington says that over 11 years there has been only one occasion where he's received a specific direction on how to play a solo. Herington also notes that if Becker and Fagen aren't keen on a particular treatment, instead of making negative comments they'll offer positive reinforcement about aspects they like.

Herington elaborates that although the original recordings certainly inform his work with Steely Dan, Becker and Fagen give him "complete freedom... they encourage me to do it anyway I feel like," which he credits to the fact that they are both steeped in the jazz tradition -- a tradition, of course, that is built upon individual player improvisation. Rather than follow a strict script, "I give the music what it asks for," he says.

Weiskopf, who remains strictly a jazz player in his solo career, also cites the jazz background of Becker and Fagen as influencing the band's dynamic.
This isn't to say the performances are a free-for-all. Carlock, in comparing Steely Dan gigs with other acts he has played with (an array that includes Sting and James Taylor), feels there is a higher level of mental focus required, which he credits with making him "a more thoughtful player and better musician overall." He continues, "What's different is how specific the parts are and how important those details are to the performance and song... it's challenging to channel the original recording and then make it one's own. The band tries to make those details come together without thinking about it too much."

"It sounds corny," says Carlock, "but the band has kind of become a family."
The tour began in Seattle on July 2 and continues into the fall, when Steely Dan will be playing several dates in New Zealand and Australia. As with the2009 Rent Party tour, there will be dates that play entire albums from beginning to end, as well as internet request nights, where the program will be directed by popular online vote -- a combination of total control and moderated chance, which seems befitting for the 21st century incarnation of Becker and Fagen.
Photo credit: Danny Clinch