I spotted the large Obama sign in front of the confederate flag on my way to U.S. Representative Rick Boucher's luncheon in Pearisburg, Virginia, Saturday. As a longtime resident of Giles County, I am accustomed to seeing confederate signs dotting the countryside. One store has confederate flag pillows prominently displayed outside every summer. But, I must admit I was surprised to see the Obama sign with a confederate flag behind it so I stopped to ask about it.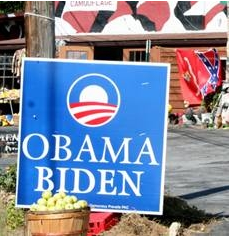 Obama/Biden sign with Confederate flag behind it.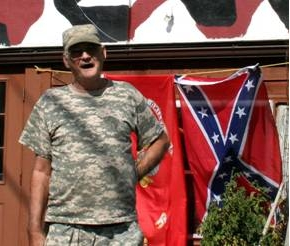 Pete Martin, Obama Supporter

"Well, it's about time for a change, don't you think?" asked Pete Martin, the owner of the store where the sign was prominently displayed. Pete sells produce, camouflage clothing, and of course, confederate flags. I answered "Yes, it is" while I inquired about the apples for sale, $7 for a bushel! I purchased my apples and drove into Pearisburg for the luncheon.

When I arrived, I encountered Willi Dean, a local African-American, who asked if I could get more large Obama/Biden signs. I have been ferrying carloads of these signs, just like the one in front of Pete's store, for several weeks for people to put up all around the county. Willi had been delivering them to African-American families but some were afraid to put up the large signs. "We don't want no trouble" Willi said. But, now, it seemed it was alright since many large signs were sprouting up all over the county.

Unfortunately, not enough African-Americans live here to make a difference in the election. Unlike the state which is 20% African-American, Giles County has only 2% African-Americans. The rest of Giles County's population is white, mostly older and the majority Republican. But, that's not stopping the local Democrats from canvassing and phoning for Obama.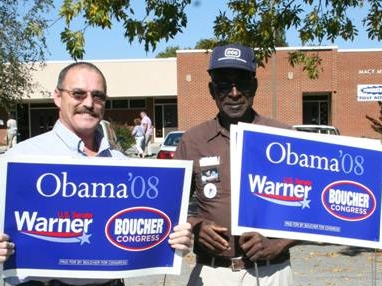 Willi Dean (on right) and Allen Smith with new yard signs at Boucher luncheon

Willi and others were happy to get some of the new yard signs that the Boucher campaign distributed at the luncheon. With all the Democratic candidates on one sign, Obama can benefit by being grouped with Warner and Boucher. Mark Warner is running well ahead of his Republican opponent in the race for the Senate (60%-30% in most polls) while Rick Boucher, running unopposed for the U.S. House, is very popular here. But Obama still lags behind McCain. So, these yard signs may help Obama by linking him with these popular Democrats in voters' minds­at least that's the strategy we have been using in this part of Virginia.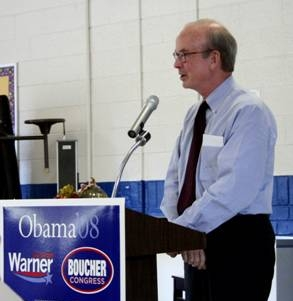 U.S. Rep. Rick Boucher, October 11, 2008 in Pearisburg, Virginia

Rick Boucher said about the same thing at the luncheon. Most of his 20 minute speech was devoted to persuading the audience to vote for Obama and to get their friends and relatives to do so too. The reason is clear. Boucher reported that polls indicate that Obama is leading in all of the Virginia congressional districts except in the ninth district he represents.

Voters here do not have a problem splitting their votes. In 2004, Giles County voters overwhelmingly voted for Bush (58%) over Kerry (41%). In the rest of the state, the margin for the presidential election was smaller (54% Bush to 45% for Kerry). Rick Boucher, the Democratic nominee for U.S. Representative, took over 60% of the vote against a well-financed Republican challenger to be re-elected.

If this same pattern holds for this election, Obama could lose Virginia if he does not do better in this district. The campaign has noticed. Obama has visited this district twice since the Democratic Convention. Boucher remarked that the last time a presidential candidate came to this area was in 1960 when Senator Kennedy made a brief stop at the Roanoke Airport.

Boucher commented that the crowd was larger than those he had seen at previous luncheons. Many of the new people were young and wearing Obama gear. Most of the older folks wore the Boucher stickers only. But, they were listening intently to Boucher. And, there seemed to be a general sense of excitement about Virginia being a battleground state for the first time.

On my way home from the luncheon, I wondered whether there were enough of these new young voters to give Obama the margin he needs here to win the state. Or, would it be voters like Pete Martin, the Obama sign/confederate flag guy more typical of this county, who holds the key to Obama's success in this region. The demographics tell me the latter and the Obama campaign needs to work hard to get their votes.