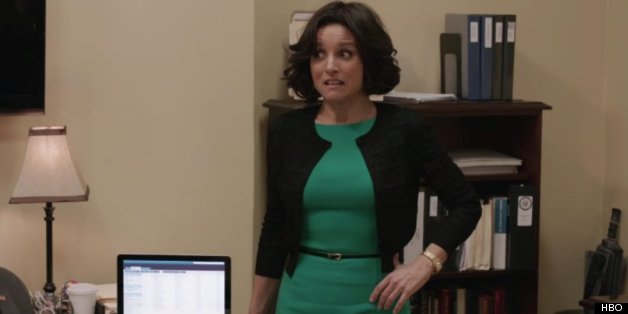 Note: Do not read on if you have not yet seen Season 2, Episode 4 of HBO's "Veep," titled "The Vic Allen Dinner."
In its tenure, "Veep" episodes have reliably centered on a single event or problem to be solved, with a few character-based B-plots scattered throughout the 30 minutes for good measure. The result has been a fast-paced show that always left us wanting more from the situations it presented. While the title of the most recent episode, "The Vic Allen Dinner," would have viewers believe that we would get to watch the perils of preparing for a roast-like dinner in the spirit of the White House Correspondents Dinner, we actually got something quite different: an episode that was unfocused, scattered, and lacked that key issue at stake which usually propels the action forward.
The episode opened on Dan and Mike walking to the office -- Mike writes a parody song for the upcoming dinner, brainstorming lame rhyme after lame rhyme. They spot Jonah, who jangles his car keys at them, taunting the staffers because he has somehow gotten parking in West Exec, the most enviable lot. The move seems an unearned show of Jonah's connectedness, but then again, when has Jonah ever needed justification for bragging?
Meanwhile, in the veep's office, Selina's major role in the liberation of U.S. hostages is recalled as Amy and Selina look through shots of officials monitoring the action, what is a nice, if obvious, call back to the famous photo of President Obama, Sec. Clinton and others nervously awaiting news from the bin Laden mission. We learn that Sue is interviewing for other jobs, prompting consideration amongst viewers: Is Selina's saccharine bitchosity having repercussions in terms of her staff's happiness? In a neat but unsatisfying resolution 15 minutes later, we learn that Sue can easily be retained with a raise.
But it turns out that Gary isn't happy either, reports Amy, meaning that while Selina prepares for her bit at the Vic Allen Dinner (it's decided rather unceremoniously that she'll sing a song mocking Kent), she must also take Gary and, at Gary's ardent request, his recent girlfriend Dana, to a meal. While at lunch with Gary and Dana, played by the hilarious but underutilized Jessica St. Clair (also alum of my alma mater ... hey girl!), Selina learns that the photo that has been chosen to immortalize her hostage mission features her checking her phone while the president and his cohorts look on attentively. The reason for this horrible choice? The president looked too "jowely" in the other options.
The photo soon becomes a meme, prompting Jonah's sage wisdom -- until it goes on Reddit or Tumblr, there is still hope that the meme won't go too too viral. Sure, the way Jonah talks about the two with such mastery and the way Selina can't quite grasp the concepts ("Tumble," she calls the micro-blogging site) is a little overwrought. It's like, we get it, the Internet exists in the show too. The reference has to be some kind of product placement as its clumsiness catapulted me out of the reality of the show and onto my boyfriend's leather couch.
Selina eventually sings her song mocking Kent, which is superbly received at the dinner by all, save, of course, its subject. But idiot Jonah has to screw up once again: In an effort at proactivity, he actually posts the video of her über-theatrical vocal performance to "Reddit and Tumblr" (as if no other social sharing site exists) causing some bad backlash, especially from European leaders who Selina is scheduled to meet ... in the next episode. Jonah is kicked out of Air Force 2 (and has his parking privileges relinquished), prompting his sad, but deserved walk of shame down a runway.
Maybe it is the half-hour format that makes it so hard for "Veep" to achieve any satisfying progress or resolution within an episode. Moreover, the writers attempt to pack so much into each week that it's hard to build upon characters and things we know after time has been allotted for all the jokes. So, what's the solution? Dive deeper into fewer plot lines? Of course, that risks the loss of some of the sharp speed that makes the show great, but a little experimentation is much needed to avoid packing so much into a single episode that the result is meaningless.
Other takeaways:
Jonah's newest nickname: Jolly Green Jiz Face
'Cherry on top of the turd cake'
Governor Chung beat boxes
Mike's boat gets the job done, as would a cast iron skillet, or Kevin Bacon
Ben's coffee mug