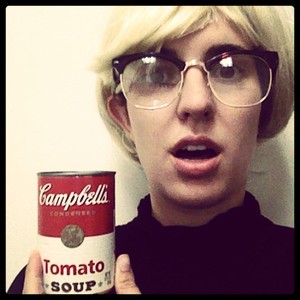 It's been an Andy Warhol-centric time for me: two weeks of mastering dead-in-the-eye stares, sporting a black turtleneck and inviting external chaos into my life. Plus, I have worn my pinned-up blonde wig to filth -- like, actual filth. I had to set it on a paper towel holder and brush out the tangles before putting it back into its protective netting.
I first dressed as the infamous pop artist for my office Halloween party, which led to a gig impersonating him at a local art show called Warhol Wall. I got paid to float by people and blandly ask them to be in one of my 18-hour-long movies. I told people to give me words to describe how I felt about my own work. I licked a grape at the snack table because, well, how often do you get a free pass to be bizarre in public?
Now Warhol is in the news. His work set a new record in the auction world on Nov. 13. A 1963 piece depicting the horrendous result of a car crash sold for $105 million at Sotheby's. "Silver Car Crash (Double Disaster)" had only been publicly seen once in 26 years. The previous Warhol auction record was $71.7 million for "Green Car Crash (Green Burning Car I)" in 2007.
You can see my Warhol impersonation below, and a shorter version in The Charlotte Observer.