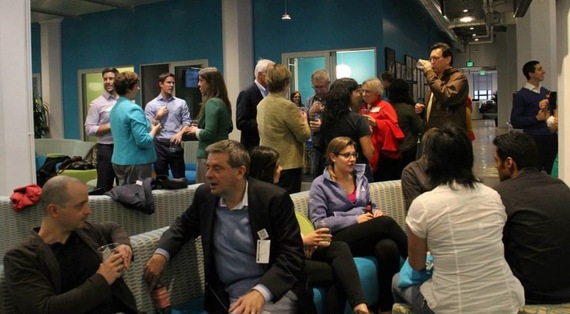 Companies have made amazing strides over the past decade to ensure that lesbian, gay, bisexual and transgender workers are protected from discrimination at work. Over 300 businesses achieved 100 percent on the Human Rights Campaign's 2014 Corporate Equality Index, which measures LGBT-inclusive workplace policy, up from just 13 in 2002. But what does that mean for the everyday work environment? Do LGBT employees feel safe to "bring their whole selves to work" because a company has a non-discrimination policy? Policy is a powerful first step, but policy alone doesn't change the culture. According to HRC, up to 53 percent of LGBT professionals are still closeted at work.
Eight pioneering companies are working to change that. They've committed to taking action to improve their company culture from the top down and the bottom up. The key to their strategies is activating allies: people who take action to enhance the equality and inclusion of their coworkers, regardless of their own sexual orientation or gender identity. Allies represent a huge undercapitalized opportunity for employee engagement: over 75 percent of straight Americans support LGBT equality, but less than 15 percent have ever taken action on their values (Center for Talent Innovation). By activating these passive supporters, these companies can enlist a critical mass of their talent in creating a more inclusive, and thus more productive, workforce.
These companies are doing it by participating in a new program called the Workplace Ally Challenge, a friendly competition among businesses to activate as many employees as possible in creating LGBT-inclusive workplace culture. The participants -- including giants like Pfizer, Bank of America, ConAgra Foods, Pacific Gas & Electric Company, and Southern California Edison -- collectively employ over 500,000 people. They do business in industries from financial services to manufacturing, and geographies from Los Angeles to Omaha. All but one have perfect 100s on the Corporate Equality Index, but they know they can do even better.
So how are they activating allies to change corporate culture? There are four key components to the Challenge:
Goal-setting. Each company creates an action plan with goals for the percentage of their workforce they will activate, number of activities they will execute, and culture change they will generate over the course of the Challenge.
Continuous engagement. Would-be allies often require some "hand-holding" to get inspired and motivated to take action -- speaking up at that company meeting or starting that conversation with a conservative colleague takes more courage than we think. On average, companies execute at least one activity per month (ranging from happy hours to trainings) to give allies ideas of how to speak up and show them they're part of a like-minded community.
Accountability. Company representatives attend a peer check-in call once every two months to share updates and hear how the other firms are doing.
Measurement. Companies execute an LGBT culture and awareness survey at the beginning and end of the Challenge to measure the change they've created. They're often amazed with how quickly their corporate culture can change -- on average by 25 percent over just a few months.
The Workplace Ally Challenge participants have gotten remarkably creative in their activities to engage and activate allies. PG&E, for example, went straight to the top and enlisted senior company leaders in their innovative "3 Things You Didn't Know About Me" campaign. Executives submitted photos and three personal fun facts about themselves, which were displayed on office posters identifying each participant as an ally to the company's PrideNetwork employee resource group. Another firm based in Minneapolis has taken a grassroots approach, hosting a reverse pronoun activity where participants were asked to share their weekend plans by switching the pronouns they would usually use to describe their partners. They quickly learned how exhausting it would be to have to modify their language if they were closeted at work. Other participants have launched monthly newsletters, hosted Ask Me Anything panels, and built bridges with other affinity groups to strengthen the size and quality of their ally engagement efforts.
The first-ever Workplace Ally Challenge, launched by LGBT ally nonprofit Friendfactor, will wrap up at the end of June and the winners will be announced in July. Companies and individuals interested in learning more about activating allies in the own workplaces can attend the Ally Challenge Awards Dinner on July 26th in San Francisco or pre-register for the next Challenge, which will launch in January 2015. Follow the latest updates on the Workplace Ally Challenge at www.friendfactor.org/workplace-ally-challenge.