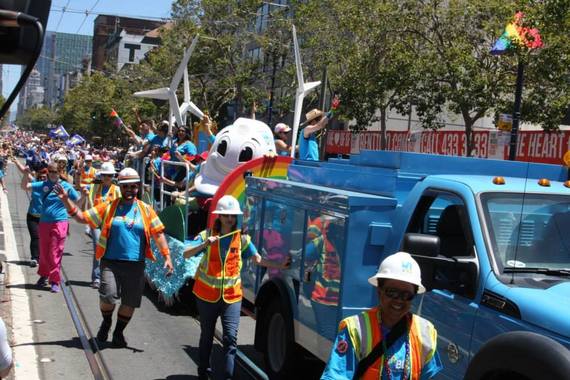 Around the world, major companies are waking up to the fact that creating a diverse and inclusive workplace requires more than policy change.
For LGBT inclusion in particular, policy alone doesn't drive culture: 91 percent of Fortune 500 companies prohibit discrimination based on sexual orientation, yet 53 percent of LGBT workers remain closeted at work. Deloitte has documented the detrimental effects of this form of "covering" in the workplace, including negative impacts on sense of self, sense of opportunities available and commitment to the organization. Thus, companies that fail to create environments that enable employees to bring their full selves to work are inhibited in their ability to attract, retain and get the most out of their diverse employee pools.
The modern workplace environment
What makes these work environments so inhospitable for LGBT workers? By and large it's not overt homophobia and disrespect; it's more of a subtle feeling that they'll be misunderstood. In a recent Human Rights Campaign survey, the top 3 reasons LGBT people state for not being out at work are fears of making people uncomfortable (38 percent), being stereotyped (36 percent) and losing connections with coworkers (31 percent). Conversations about social and dating relationships come up all the time (80 percent say on a daily to weekly basis), so an LGBT employee's only choice is often to withdraw from their coworker community or search for new employment.
This uninclusive culture is not the result of active anti-LGBT sentiment. In fact, approximately 77 percent of Americans consider themselves LGBT allies, and nearly 90 percent believe people should not be discriminated against for employment based on their sexual orientation or gender identity. Modern societal inequality is perpetuated less by a conscious effort to discriminate, and more by a lack of awareness among fair-minded people about the small, unconscious biases and stereotypes that affect those who are different from them, and which they may be inadvertently perpetuating. Workplace environments reflect societal culture, so without explicit efforts to raise awareness and create the conditions for employees to change their behavior, it is only natural for these subtle biases to persist and play out in everyday workplace conversation.
How can companies create an environment where LGBT employees feel comfortable enough to come out at work, enabling them to thrive and produce better business results? The solution lies in the non-LGBT employees: educating and activating them to proactively and consistently show their support for their LGBT colleagues, through everyday behaviors: language, conversations, items they display on their desks, activities they participate in at work. By tweaking these small behaviors -- asking a new employee if she has a significant other rather than a boyfriend, or bringing up the latest LGBT news story at lunch instead of the latest celebrity gossip -- and doing it consistently over time, LGBT-inclusive behaviors become the default rather than the exception. And this creates results: in the same HRC study, one in four LGBT workers said they have stayed at a job specifically because the environment was accepting.
Professionals lead busy lives. For non-LGBT people who are not directly affected by LGBT bias every day, it is easy to forget or deprioritize the trainings, email updates and events that maintain momentum and behavior change over time. To address this problem and create the motivation for employees to prioritize inclusiveness, at Friendfactor we launched the first-ever Workplace Ally Challenge earlier this year. The Challenge, a friendly competition among businesses to activate as many employees as possible as allies, utilizes competition and intrinsic motivation to encourage employees to take action to address LGBT bias in their workplaces by tracking their participation and measuring their impact against peer companies.
The results so far have shown that critical mass and consistency lead to results. Within just six months, participating companies activated between 5 and 20 percent of their workforces, and an average of 58 percent more employees reported hearing colleagues speak up about LGBT issues at work as a result.
The future of workplace culture
Imagine what this buzz could turn into if companies kept up the momentum. To give a view of what's possible, we've also been running an MBA Ally Challenge in business schools since 2012, which has doubled year over year and is now in 23 schools across the country. In the most recent school year, participating schools activated an average of 40 percent of their student bodies, and up to 67 percent at the top performing schools. This participation not only got people talking, but improved campus culture such that nearly 50 percent more LGBT students were comfortable being out to everyone on campus by the end of the school year -- an increase from 42 percent to 62 percent. As a result, those students are able to be themselves on campus, know they are welcome and concentrate on being the most productive they can as they prepare to re-enter the workforce as managers.
By committing to continuous ally engagement over time, companies can achieve similar results in share of employees engaged and impact on workplace culture. When companies invest in engaging their employees to take action on their values, the sky is the limit on employee engagement, inclusive workplace culture and maximizing employee potential.
Photo: PG&E at San Francisco Pride 2014