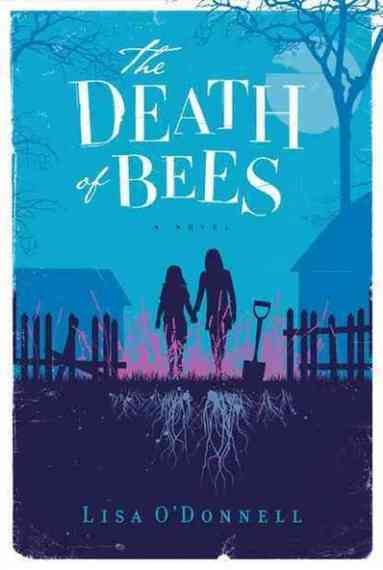 After receiving rave reviews from the New York Times, Booklist and Publishers Weekly to name a few, Lisa O'Donnell's debut novel The Death of Bees is now out in paperback. This gripping tale explores the lives of two sisters coming of age while facing the mysterious deaths of their parents. O'Donnell answered a few questions about her writing process, her inspiration and the best piece of writing advice she ever received.
Tell us the story behind the story. How did The Death of Bees come to be?
There are a lot of kids out there raising themselves. It's not a nice reality, but it is a reality. In movies we see welfare officers sweeping in and protecting children from abusive parents, in real life it doesn't happen that way. Drug addicts and abusers still have children and while there are visibly neglectful parents, there are also those abusive parents who are invisible to authorities and their children are out there fending for themselves. It's frightening if you dare to think about it but if you're paying attention to the world you live in you'll see that it's all around you. I wrote The Death of Bees for all those children forced into adulthood before their time, children denied childhoods and forced to take care of themselves, but I empowered my characters by creating a dark fairy tale.
My main characters Marnie and Nelly find their parents dead in their home. Both girls fear foster care and so they decide to bury their parents in the back yard and stay together. My girls are educated and street wise, but I always remind the reader they are children. They're fighters and definitely older than their young years, but as they fend off social workers, school authorities, nosey neighbors and drug lords I am able to tell a story of survival in the worst of circumstances.
What was the most challenging aspect of writing The Death of Bees?
The Death of Bees is told from three alternating points of view. Marnie, Nelly and Lennie, but when I first started writing the book I had only one POV and it was Marnie's, but she was too hard to write on her own. I was becoming very close to her and as a result I was too protective over her as a character and it was really affecting the writing. There was obviously jeopardy in her life, but I found I was shielding her from it and myself, which wasn't the point of the book I wanted to write and so I decided to start again, this time with other voices.
I had written about 10,000 words at the time and I had to lose most of them. It was heartbreaking but at the end of the day I had to choose between protecting the story or protecting a character who was actually threatening the authenticity of the story. By creating Lennie and giving Nelly a voice it turned out I could stay faithful to the tale I wanted to tell while at the same take care of the character I feared for the most. The other challenge was keeping the readers attentions. I didn't want the reader to feel lectured and so I told a story employing as much humor as I could get away with.
What is the message you want readers to take away from your book?
I've had readers come to book signings and I've also had reviewers say: "Could this really happen?" Obviously burying your parents in the garden is far fetched but the story of neglect and abandonment is not. I've embroidered a very dark fairy tale amidst a sad reality for many children, some readers might not like that, but it's how it is all over the world.
Describe your writing schedule. Do you outline? Any habits?
I don't really have a schedule. I wake up, fetch coffee, sit at my desk, mess around with Facebook and then I aim to write 1000 words a day. If I write more then great, but if I write less then at least I can say I've written something. Chances are everything I wrote that day will get edited down to nothing anyway. I can play with a 1000 words for up to a week and end up with 500 that I'm satisfied with. Of course I can't tell a lie there are some days I don't feel like writing at all and on those days I always make sure I'm reading. Reading to me is as important as writing and as long as you're doing both you're on the right track.
What books are on your nightstand? What are you currently reading?
I have too many books on my nightstand. Hit and Run by Doug Johnston. Letters from Skye by Jessica Brockmole. Lamb by Bonnie Nadzam and Enon by Paul Harding.
Which authors inspire you?
I love great dialogue and Richard Kramer's These Things Happen was pretty inspiring. I'm also mad for Scottish stories and Scottish writers. Kerry Hudson's Tony Hogan Bought Me an Ice Cream Float Before He Stole My Ma is coming to the U.S. via Penguin and it's a fantastic book. Helen Fitzgerald who wrote The Cry, Dead Lovely and a catalogue of other great works. I've also just discovered Doug Johnston who writes superb dialogue. I can't wait to read his new book Gone Again.
What have you learned from this experience?
I gained a lot of confidence in my writing and as an author. I won the Commonwealth Book Prize this year and that was an incredible boost for me. I don't know how seriously I was actually taking myself as a writer until that moment. Even when I was doing book signings and readers where asking, "What's it like to be an author?" I'd always stumble over the answer mostly because I didn't have one. I think the closest I got to the realization that I am in fact a novelist was when my nine-year-old son first saw my book in Barnes and Nobles and he was like "Wow mommy, you're a writer."
What is your advice for aspiring writers?
Stop your moaning and get on with it.
What is the best piece of advice you have ever been given?
It was from John Le Carre at The Commonwealth Book Award Ceremony. He said: "Don't be a writer. Write."
What are you working on now?
My new book Closed Doors is released in the U.S. May 2014. I'm very excited.
The Death of Bees is out now in paperback and would make an excellent gift this holiday season. Check out Lisa O'Donnell's website for more information on this talented new writer.