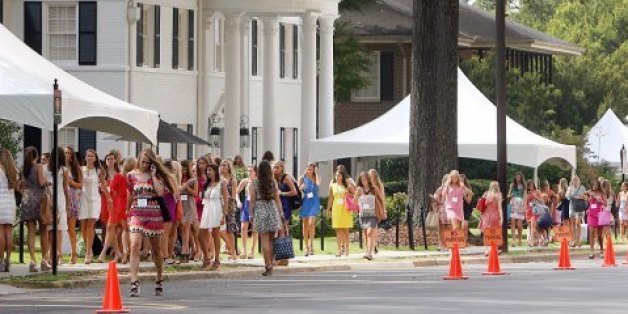 As someone who tepidly entered the Greek system at Brown University, I was concerned that my membership would mean being supportive of a network of organizations with dated and judgmental values. However, many of the positives of sorority membership, including friendship, community, new people, fun activities, and female empowerment, ultimately allowed me to feel morally sound with my decision to join Kappa Delta.
What I could not have accepted, and did not even have on my radar when entering into this national organization, was the possibility of supporting a pillar of institutionalized racism, as is clearly evident in the Greek system at the University of Alabama. ("How Alabama Sororities Kept Black Women From Joining," HuffPost 8/7/14.) The exclusion of African-American women is so pervasive at the school that they comprise only .4% of the entire Panhellenic population -- and it's not for lack of trying. Over the years, they have been systematically and overtly discouraged from joining ... not to mention even ridiculed for being naive enough just to try.
In the Theta Gamma chapter of Kappa Delta at Brown University, rushees and sisters are constantly reminded that diversity is a key component of what makes sorority life interesting and a worthwhile extracurricular activity. And it has indeed been the case. Through my involvement with my sorority, I have met and bonded with people of many different backgrounds, from several places around the country and world, and with a diverse range of interests and hobbies. This experience has helped me to expand and grow.
Nevertheless, after now becoming more acquainted with the Greek system throughout America, I have come to the conclusion that my experience is not necessarily the norm, and that in many places, racism is simply accepted as "business as usual."
And I was shocked to hear that some of the worst offenders in the UA scandal were the Kappa Deltas -- young women who are technically my "sisters." This discrepancy in values truly shows how some Greek systems are still living in the Dark Ages, trying to uphold traditions that leave the system looking incredibly cruel and embarrassingly out of date.
In order to combat this enormously entrenched problem, sororities and fraternities must stop being institutions used to insulate people from other types, thus perpetuating racism and other forms of intolerance. The college experience should be one that expands the worlds of young men and women, not restricts them. Sororities and fraternities can actually be wonderful conduits to help people open up their minds, as I have learned firsthand. But, in my opinion, for this to become the norm, there must be a change in the expectations perpetuated by the national organizations, as well as hands-on follow through by their leadership. Let's hope they are up to the task and remain vigilant in their efforts.