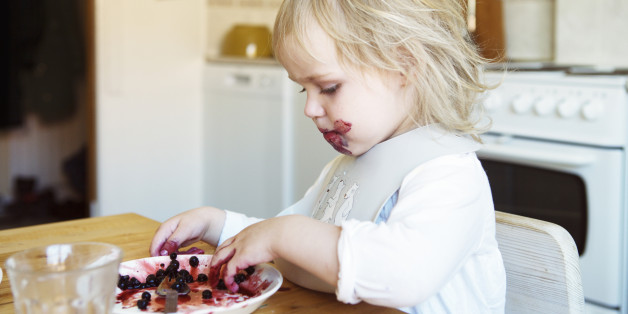 'Tis the season moms consider candy canes a viable breakfast option. Empty calories are no longer on our naughty list. Kids enjoy a prolonged sugar high, knowing we're feeling pretty damn good, too. Our oversized sweaters give us away. They realize we loosen up a little bit when we break them out of storage (or a lot of spiked egg nog is involved).
I am no mommy downer. I am all for cuddling up with some hot chocolate and fresh-baked cookies on a cold night... but they can't interfere with my bedtime mojo. There's a delicate balance between being festive and being stupid. Incorporating nutritious, temper-tantrum-fighting foods is a must to neutralize kids' sugar buzz during this time of year. We want them to go the f*ck to sleep, right?
Here are the top five healthy hacks to try on your unsuspecting children this holiday season. (You can thank me later ... when you can focus your attention on your crazy uncle because your kids are under control.)
1. Make healthy snacks easy to grab and eat. Deborah Yaffe, M. Ed., CPT, and mom of three recommends having fruit washed and ready for kids when they return home from school or activities. "This way, the fruit will be the first thing they see when they come home hungry," said Yaffe. "If you're at work when your kids get home, prepare the fruit the night before and put it at their eye level in the fridge. It really works."
The tried-and-true celery logs filled with peanut butter (or any nut or soy butter) are also great grab-and-go snacks. The key is to have them ready. And hide the Christmas cookies as needed.
2. Sneak nutrients into their favorite foods. "Organic baby food is a great trick to add nutrients to baked goods and sauces," said Yaffe. "Kids don't have a sophisticated enough palate to notice subtle changes."
Yaffe uses coconut and whole wheat flour in her chocolate chip cookies (instead of white flour). Granulated sugar is replaced with honey. Protein powder is also added to the mix. "My kids and their friends devour chocolate chip cookies with these substitutions," said Yaffe. "They see a cookie and don't analyze it, especially if it tastes good and is hot from the oven."
Other ideas: Whip an avocado into store-bought chocolate pudding; it will be creamier and healthier... and they won't notice a thing. Sneak cauliflower in mashed potatoes, butternut squash or sweet potato in macaroni and cheese, and zucchini in baked goods. You just have make the commitment to incorporate healthy additions into your food preparation.
3. Get Kids Involved. Kids are inquisitive, curious little creatures who are always looking for new things to pique their interests. Teach them about food from the ground up. If they plant seeds that turn into vegetables, they're more inclined to eat them. Same holds true if they hand-pick items from the grocery store or farmer's market. Involve them in food preparation (give them a kid-friendly knife to cut cucumbers or mushrooms, for example) to get them excited about eating colorfully.
Another trick: Stage healthy foods to make them irresistible. Make a smiley face out of raspberries in their morning pancakes. Serve fruit on a skewer at your holiday parties. Create a scene on their plates: Broccoli can be a Christmas tree; blueberries can be a menorah. Use your imagination and your kids are more inclined to eat up.
4. Be Patient and Persistent. Research indicates that it can take kids a dozen tries or more to embrace a new food. So, make sure you don't give up too soon. Some parents swear by the one-bite rule... kids take one taste and spit it out if they don't like it. If they take enough bites, they will get ultimately get used to the flavor.
5. Make it Fun. Lay out a bunch of vegetables and encourage your kids to have a crunching contest. Table manners can slide in the interest of getting them to try red peppers, carrots, celery and cucumbers (really, someone in your family is going to be rude during your holiday meal, anyway). Kids love variety, so accompany the vegetables with healthy dipping choices: hummus, yogurt-based dressing, cottage cheese. Natural food dyes can make the dips more festive. You may be surprised by how many nutrients you can sneak in when kids are laughing between bites.
What are your tricks to help your kids eat healthy foods? Remember, this is all about saving your sanity this holiday season.