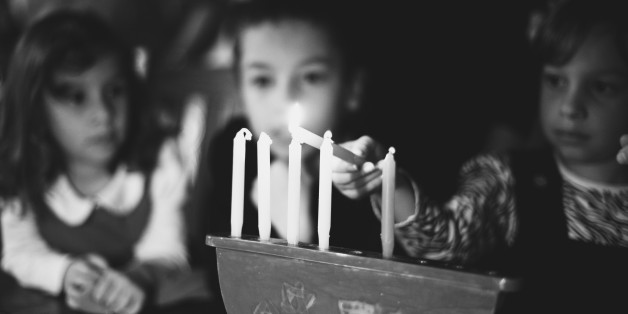 Sometimes it's not easy being a Jew during Christmastime. There, I said it. But a kid I know came up with a brilliant idea to start to level the playing field. It's all about Hanukkah Eve, baby.
Yes! Hanukkah Eve. Music to this Hebrew school dropout's ears. You see, sometimes the festival of lights sneak up on me. One year, I missed the memo from the tribe that it began right after Thanksgiving (it happened to be my baby's first Hanukkah so I felt extra guilty). The first night was a blur of presents I lovingly selected as my prescriptions were filled at CVS. Not my finest mommy moment.
In my defense, I was functioning on three hours of sleep. And there's only one Hanukkah song in rotation on the radio to jog my mommy brain. (Adam Sandler, you're my Jew Juke Box Hero). As Jews, we have to be on alert for subtle cues. I mean, we get a little giddy in stores that feature more than a token shelf of Hanukkah items. One of my Facebook friends recently posted a photo of a display -- a whole wall! -- with pride. It was the blue-and-white mecca of Hanukkah. Like!
Even with Adam Sandler in our corner, there's always a flurry of texts with my friends to figure out when Hanukkah starts every year. If there was some build up to a rockin' Hanukkah Eve, I would be all set. If I flaked, I would have a whole day to act like I have it all together (really, that's all I need to fake everyone out, no last-minute run to CVS required). And the kids would rejoice in the splendor of opening a bonus gift without reciting the Hanukkah prayer in front of Aunt Mildred. Why didn't someone think of this sooner?
I will admit I have never felt the real sting of going out for Chinese on Christmas. You see, I am Jewish but I was raised celebrating both Hanukkah and Christmas (my mom converted to Judiasm and my Jewish dad didn't mind dressing up like Santa Claus). We had a menorah in the midst of our suburban North Pole, complete with a decked out tree, festive stockings, dancing reindeer, and jingle bells on the door. It looked like Santa regurgitated his workshop and threw in some Hanukkah gelt for good measure. My mom made delectable golden brown latkes on one night and gingerbread the next. I was spoiled with double gifts. That's just how we rolled.
Still, I get it. I've been stung by a surprise Hanukkah. I talk to my long-distance friends enroute to the movies on Christmas because they have nowhere else to go. My son begs me over and over and over to begin Hanukkah ASAP (all the holiday hoopla begins before Halloween and toddlers aren't known for their patience). Hanukkah Eve is the answer to all of our issues. And it's tonight!
Happy Hanukkah Eve! (And thanks to Hanukkah Harry for the idea)!