On September 3rd, 2008 Medea Benjamin and I stood trembling at the side of the stage at the Republican National Convention in Minneapolis, waiting to speak out during Sarah Palin's convention speech on behalf of peace and the environment. When Sarah Palin intoned her infamous "Drill Baby Drill" slogan, we were horrified by the stamping of feet and the hollering of the crowd. I think we were more frightened by that chant than by the seven Secret Service agents surrounding us.

Today, Monday May 24, joined by dozens of activists from 8 Texas cities and 7 states, we exposed the Naked Truth of Drill Baby Drill.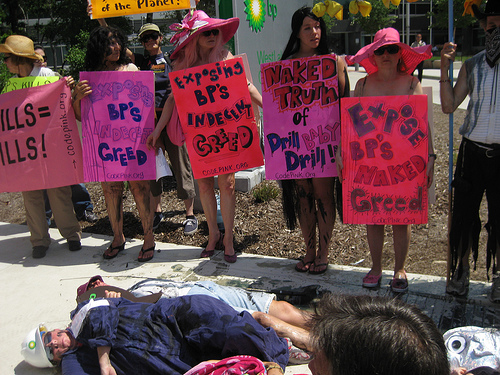 We exposed ourselves to bring attention to the devastation caused by the greed of British Petroleum and our nation's addiction to oil.
We are horrified that Congress has maintained a $75 million cap on BP's liability when the cost of the cleanup is already estimated at $16 Billion.
I was amazed that with a few days notice, Texans and others came pouring from all directions to join the protest. There were passionate shrimpers, fisherwomen, businesswomen, and members of the clergy among others. Their fury was inspiring. Each has shed tears at how this disaster will be affecting their lives, the lives of their children and their communities. All agreed that we can't leave the solution to the government, that we--the people--must step forward to demand not only a total cleanup, but a real commitment and investments in a clean energy system that respects the lives of the workers and the planet we all share.