This past spring weekend my husband and I celebrated Valentine's Day -- belatedly. On February 14th, we had planned a romantic evening at a nice restaurant where we would also celebrate our 30th wedding anniversary. Instead we ended up in a snow bank.
For those of us living in the Northeast, we survived a modern day ice age. And for those living in Boston, snow is really a four letter word. The weekend of February 14th was a rock bottom of sorts for me and my husband. It started out Friday (the 13th) when we needed repairs on our heater which was behaving erratically. Four hours, two workmen and $750 later, we had a diagnosis. You need a new thing a-ma-bob which will cost another $500 (not including labor). That night as we went to sleep, I noticed the toilet wouldn't flush. And there was no water coming from the spigot to brush my teeth. In fact, there was no water at all, anywhere in the house. Our pipes were completely frozen. The next day, we woke up to several inches of water in our kitchen. It was raining. Inside. Gross brown, smelly yucky water was running from our roof right into our house -- through windows and light fixtures and pouring into our foyer. It was a "Calgon -- take me away" moment.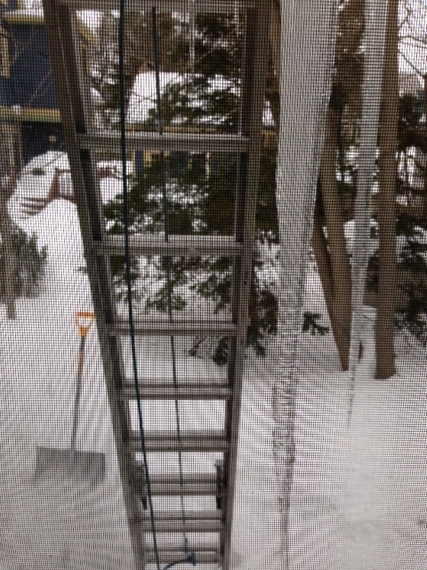 That evening, we hoped for a reprieve from ice dams and frozen pipes. We had worked for hours, boiling hot water and throwing it over the roof to melt the ice. We needed a break, but instead were faced with yet another test of our endurance and fortitude. After having swerved off the road into the aforementioned snow bank, we tried to dislodge the car with our brute strength. That resulted in wet feet, cold hands and heightened irritability. Waiting for AAA to arrive, I pulled up the 36 questions my kids told me supposedly accelerates the process of falling in love. I wondered whether there were any hidden tidbits of self-disclosure my husband and I had not yet explored after 30 years of marriage -- and if so, would the questions uncover them? And we had nothing better to do. We got as far as question four, "What would constitute a "perfect" day for you?" and had an argument. Our perfect days were in fact quite similar. Both of us pictured ourselves at the ocean. After a nice morning jog however, our narratives departed. My husband, an avid sailor, spends his perfect day, like Vasco da Gama, exploring uncharted shores on his catamaran. (OK, so he corrects me -- it's a trimaran. Really... that's such a big difference?) I, on the other hand, perch myself at the beach with a good book, plenty of sun block and a mojito. So what's the problem? My husband wanted us to have the same perfect day -- he wanted me to want to sail with him. "It's my perfect day!" I shouted. "I can medicate you," says my doctor husband. "So on my perfect day I have to be medicated so I won't hurl so you can have fun sailing? I don't think so." At that point AAA arrived and winched us out of the snow bank.
As my millennial children flail in and out of relationships, I try to find some pearls of wisdom to help them navigate the vagaries of love. To determine whether they are truly compatible with another human being after the initial burst of hormonal excitement fades, I suggest the snow bank test. Could you spend two hours in a car -- wet, cold, hungry and tired -- and not kill each other?
And while my husband and I may have flunked the 36 questions, we passed the snow bank test. As I tell my children, love comes with adversity. You may fight over money, children, religion, and in-laws. Your roof will leak, your car will break down and your knees will eventually start to creak. But will you be able to handle, as we did, all the little things that go wrong -- the basement sewage flood, the endless scourge of head lice (until we finally shaved heads), and the $10,000 bill for a Rolex bought by some dude who stole our identity? The real test of love is not just enjoying the good times, but weathering the bad. And not just the big bad things like death and taxes -- but the little annoying things that can suck the life out of you. If you're going to sweat the small stuff (which we all do), sweat them together. So after an hour and a half in that snow bank, my husband and I may not have agreed on our perfect day. But we did agree that we wanted to spend it together.
As we celebrated our recently rescheduled Valentine's Day dinner, I made a toast to our 30 plus years of togetherness and said to my husband: "I am glad you feel so strongly about including me, whether I like it or not, in your perfect day. And although I may never be the best first mate on your intrepid sailing adventures, I hope to be your best first mate on this crazy adventure we call life -- for as long as there is wind in both our sails."