Frank Meeink is not normal. I got my first clue in 2004, a couple hours after meeting him. The shadows of the restaurant parking lot obscured the more ominous details of his full-sleeve tattoos as he leaned in close to my ear and asked, "Youse ever smelled a dead body?" Before I could answer, or run, he popped the trunk.
There is a stench worse than death: Frank Meeink's hockey gear, unwashed for good luck during an entire season, cooking in a trunk on a hot summer night. I gagged, but didn't faint. Frank laughed, then drove away. The next morning, he asked me to help him write his memoir, Autobiography of a Recovering Skinhead.
The Trunk Test, as I've come to call it, isn't a "normal" interview tactic in any realm, certainly not in the academic world I've inhabited for more than 20 years. But, like I said, Frank Meeink is not normal.
Frank is an ex-convict former skinhead who suburban parents now trust to coach pee-wee hockey. As a kid, he honed his own slapshot by aiming at stolen grocery carts; as an adult, he founded a program called Harmony Through Hockey that has been sponsored by both NHL and AHL teams. A child of addicts, Frank vowed to break the family tradition only to become so horribly addicted to heroin himself that a group of crackheads once staged an intervention on him. He's a ninth-grade dropout who's been lecturing on college campuses for more than a decade.
He's the ninth-grade dropout who taught this college professor to question the validity of "normal."
Frank and I worked on the book for five years; I spent the first three, at least, struggling to grasp his worldview.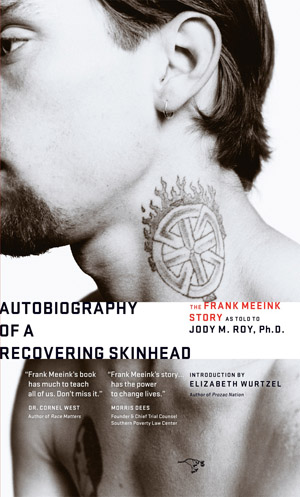 "You're making too big a deal out of it," he said often in response to early drafts. "It" ranged from his witnessing a murder as a grade schooler, to being homeless at fourteen, to escaping from a mental institution. No amount of injected South Philly dialect could camouflage my middle-class shock. To bring Frank's authentic voice to the page, I needed a crash-course in his version of "normal." So we set off on a field trip.
As our plane made its descent, I gazed out the window at Philadelphia's Center City. Frank must have sensed the years of history lectures flooding my mind. "Youse ain't gonna see no Ben Franklin shit on this trip," he warned.
Instead, I saw Philly as Frank saw it, as he had lived it as a boy skateboarding along the filthy concrete beneath 1-95, as a teenager hanging out in an alley off South Street with the skinheads who gave him food, shelter and the love he so desperately needed, and later as an addict shooting up in an abandoned train trestle near Kensington Avenue. It was there, in The Badlands, as the heroin district is known, surrounded by drug dealers and needle peddlers and prostitutes, that all those history lessons boiled up inside me and erupted in a spontaneous mini-lecture about the 1844 Kensington anti-Catholic riots, which I wrote about in my doctoral dissertation.
I stopped spouting only when I noticed Frank staring at me, grinning.
"Do you feel better now?" he asked.
"Yes." I felt like I was back inside my own skin. For the first time in nearly a week, I felt "normal," which meant I was missing the point, his point of view.
At the time, a bag of heroin cost $10 in the Badlands. A needle $1. For $2, a resident junkie would shoot up a first-timer too scared to fly solo. Parked beneath the trestle where Frank once had spent $13, I said, "Tell me what it feels like."
"Nirvana."
There are places I will not go in the name of research. Nirvana is one of them. Yet it was at that moment, as the sound of that beautiful word lingered between us, as we sat in the middle of the hell that is the Badlands, that I finally understood: as I looked into the faces of the addicts nodding out along the sidewalk, I realized, this is normal for them. This is normal for him.
Frank Meeink is a former skinhead. There is no such thing as being a former addict. Frank is an addict. He is also an alcoholic. He is in recovery. Today he is clean and sober. A brutal history of relapses, of near-death crash landings on rock bottom, have taught him not to think ahead to tomorrow on this issue.
Perhaps the most "abnormal" thing about Frank Meeink is that he never gave up hope. As a child, he couldn't afford tickets to cheer on his idols, the Philadelphia Flyers. But he could build a fort with stolen lumber on a hill near Walt Whitman bridge, a fort tall enough that from its peak he could stare at the Flyers' arena and fantasize about what it would be like to go inside. He never dreamed the Flyers one day would sponsor his idea for a youth hockey league that would bring children together across Philly's racial divides. But they did.
The Anti-Defamation League, a group that works to prevent hatred, also supported Harmony Through Hockey. They gave Frank his start as a speaker, trusting his amazing story had the potential to help people. They are sponsoring the 21-city book tour he's undertaking over the next few months. As a teenager, Frank never dreamed he'd work with the ADL. That would have been his worst nightmare: the ADL was his enemy. And surely the ADL never imagined they'd work with Frank, who was seventeen when they profiled him as a dangerously violent skinhead leader whose influence was on the rise.
Frank was still seventeen when he was charged with aggravated unlawful restraint and assault with a deadly weapon. He served maximum-security time. Not once during his stint did he imagine he'd someday voluntarily walk back into a cell, but in 2009 he did. Frank plays a role in the film, The Experiment, starring Adrian Brody and Forrest Whitaker, which debuts nationwide this summer. "I heard they were looking for guys who looked like they'd be in prison," Frank recalls. "I ain't ever had acting classes, but I knew I was getting that part."
It's not "normal" for a former skinhead, ex-convict, recovering heroin addict from South Philly to end up working with professional hockey teams, jetting across the country for speaking engagements and hanging out with Academy Award winners between takes. But, like I said, Frank Meeink isn't normal. He beat the odds.
Too many kids don't. Too many kids, just like Frank, get lost in the system, on the streets, inside addiction. The problems they face are so vast, so complex, so chronic, that it's tempting to resign ourselves to believing those problems are an inevitable part of life in the twenty-first century. It's easier for us to look the other way, having convinced ourselves those problems are "normal."
They aren't normal. They are hell. I know, because I've been there. I had my own personal tour guide and I didn't see no Ben Franklin shit.