"Joe hates the holidays."
I overheard my wife say it to her parents last year, no doubt an explanation of my perpetual grumpiness. But while it didn't surprise me, it broke my heart nonetheless. Because I didn't always project an intense dislike for the season of Christmas and everything that comes along with it. I used to shake with glee as a child on Christmas Eve, nestled next to my grandmother's refrigerator, watching family members from the window sill, roll up one by one. I believed in Santa, I believed my family would live forever, and I believed wholeheartedly in the magic of Christmas. It was a time of pure childhood euphoria.
Time pressed on. As a young adult, I would still take my seat next to that same refrigerator, a steadfast traditionalist even as a teenager, as the remaining family members were viewable rolling up to the front of the house, one by one. I didn't believe in Santa anymore, I was painfully aware that my family was mortal, and a bit of that Christmas magic was fading.
As a full-blown grown-up, it became increasingly more difficult to get into the spirit of the season. Christmas became less about togetherness and giving and became tainted with the stresses of bills, shopping, and keeping up familial appearances. Long gone were the days of sitting perched upon that high-boy chair next to grandma's refrigerator, eagerly anticipating a visit from the mysterious man in red. However, as I gathered with my wife, mother, and family around the table, there was still that moment of serenity, of profound love, that the Christmas season was always marked by, no matter what my age.
In 2009, my wife, Sonia, gave birth to our first child, Antonio. Several months later, as his stocking was being hung near the chimney, it became clear: I had a brand new role to play at Christmastime. I was now my parents and Sonia and I would be grooming Antonio (and two years later, his brother Nate) to be that elated child next to grandma's refrigerator. It was an exciting, yet daunting task. We were the gatekeepers of the biggest day of the kid calendar, for better or worse.
But something changed in 2012. My mother suddenly passed away. As far as I was concerned, Christmas died with her. The joyous memories ingrained in my mind of Christmas Eve and morning were plastered with her face. Her beaming smile and bubbling pot of gravy, her insistence on a hugging sibling picture in front of the tree before a single piece of wrapping paper was touched. She was Christmas. And even though I was taking over her old job, I didn't think I had it in me to perform the role with the disposition that it demanded. So for Christmas 2012 and 2013, I morphed into that guy who hates the holidays. Changing the radio station with fury after a single note from Johnny Mathis and grunting through the transport of gifts. I still wore the Santa hat; I still smiled like my life depended on it for family photos in front of the tree. But I didn't feel it. I simply wanted it to be over, like a television series you once adored but had stayed long past its welcome.
This year, I feared that I'd feel the same. At times, I do. But last week, I witnessed something that sparked a glimmer of hope, and it opened my eyes to the idea that Christmas could still be joyous for me, despite the loss of its gatekeeper. My sister had invited us over on a Thursday night to receive a special visit from Santa himself, who was apparently doing house calls. I had never considered that this visit could mean more to me than it would for my kids.
As we all collectively waited for his arrival, my sons, along with my nephew and niece, hopped up and down repeatedly. Their enthusiasm was downright infectious. They giggled like, well, school boys, as Santa pounded on the front door before poking his head inside with a thunderous "ho ho ho!" Each of the four children were thrilled to discover they were all on the "nice list" and even received certificates. It was pure jubilation as they gripped their papers and candy canes, the older boys speculating if this Santa was legit. After declaring this Santa the real article, my 6-year-old nephew Tyler bellowed, "We're all very lucky kids!" But I felt like the lucky one. Because in that moment, I felt the magic of Christmas that had escaped me since mom had died. I couldn't think of a single reason why I shouldn't be smiling.
And I finally started to warm up to my new role as the gatekeeper. I jumped in and fueled the speculative fire, asking why the boys thought this Santa was the real deal, speaking in that same wondrous timbre that I remember my parents delivering to me. I was happy to finally welcome back a piece of myself that had been missing for so long.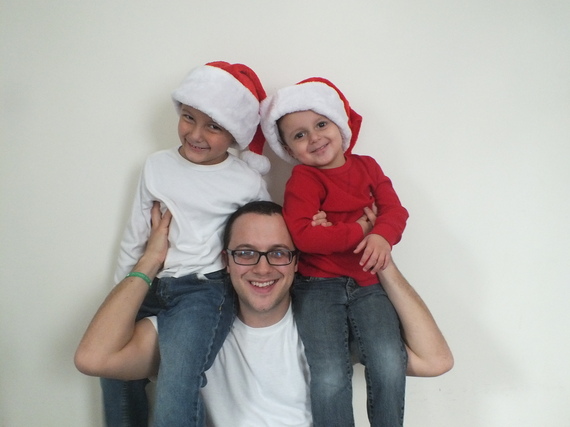 Me with my two boys, Antonio and Nate, during our Christmas card photo shoot
When I was a young adult, I was blown away by the performances in the film Glengarry Glen Ross. Al Pacino dazzled with his typical show-stealing charisma as Ricky Roma, and Jack Lemmon shone as the cunning veteran, Shelley Levene. And just last year, I was thrilled to receive a ticket to a Broadway performance of the play, starring Pacino himself. Only this time he was playing the Jack Lemmon role. He was too old to still play Ricky Roma. It felt a bit odd seeing Pacino play an entirely different part than what I was used to, but at the same time, I was grateful to have him as part of the production.
And I realize that life is like that. We all get older, we all take on new roles, but we're lucky if we still have some of the original cast members around.
From my keyboard to your hearts, here's wishing you a peaceful, joyous holiday season with as many original cast members as you can assemble.
Cheers.
You may contact me by email at jdeprospero@gmail.com or via Twitter @JoeDeProspero.