On March 20, Illinoisans go to the polls in what's likely to be the most nationally watched primary in our state for many years (thank Mitt for his incompetence).
I'm running to become the 1st Ward Democratic committeeman to make the 1st Ward whole again. I will continue to be alderman of the ward (like 29 of my 50 council colleagues). In a previous blog I did my best to explain the purpose of this opaque position, which you can read here.

Over the last few weeks, my volunteers have been knocking on doors to advocate for my election to this position and, just like everyone else, I have some nice adjectives -- accountability, accessibility, transparency and independence -- to describe my campaign. These are more than just adjectives to me. Over my last two years as alderman I've lived by these words as principles.
Almost every person I talk to is supportive of my effort to consolidate the government and politics in the 1st Ward. You don't get paid if you're the committeeman. It would be overly generous to even label it a "part-time" position. All you really get is control over political decisions that affect the community you represent.
Once I'm elected committeeman, I promise that I will not make a single decision without consulting the affected community.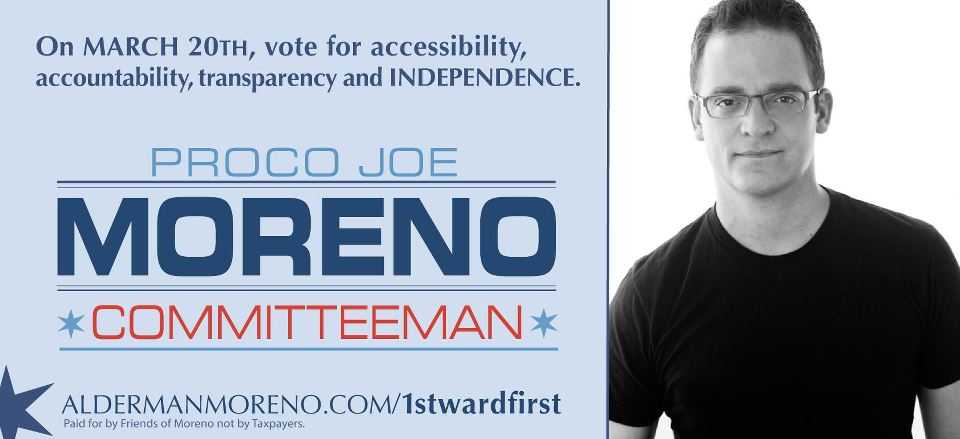 The current 1st Ward committeeman has held the position for over three years. No one knows who he is and no one knows what he does. He has been an obedient servant of a crumbling machine, whose relevance is constantly receding. His only achievement has been the development of self-grandiosity to previously unheard of levels. His campaign has been incredibly negative. This is all he knows. It's unfortunate that he thinks 1st Ward voters are ignorant. He's dead wrong.
The other candidate running for the committeeman position clearly does not understand (or care) what a Democratic committeeman does. She moved from the suburbs nine years ago, but only started voting in the 1st Ward in 2010. Her campaign is entirely based on the incitement of fear and a revolting cynicism, which has been polluting our politics for decades. She pretends that if she is elected committeeman a police station, which is to be closed because of the budget (something I also wrote a blog about) would stay open. It wouldn't.
More importantly, Democratic committeemen have zero say on municipal budgets, nor do they have any involvement whatsoever in matters of public safety. For someone to base an entire campaign on spreading misinformation and trying to create an us vs. them dynamic in our community, upsets me greatly.
A committeeman's only tasks are to slate candidates, replace outgoing members of the Illinois State House and increase voter participation. I will do all these things by continuing to strengthen the bonds of our communities.
Vote for me on Tuesday, and I promise to shake things up and show the "old-guard" that committeemen must be accessible and accountable to their constituency. If you don't know what a committeeman does or who your committeeman is by this time in four years, I'd welcome your contempt.