Last week I participated in a panel discussion for Social Media Week. The panel was moderated by Cook County Commissioner John Fritchey, who definitely has the most personal and probably the most interesting social media content out of all Chicago-area pols.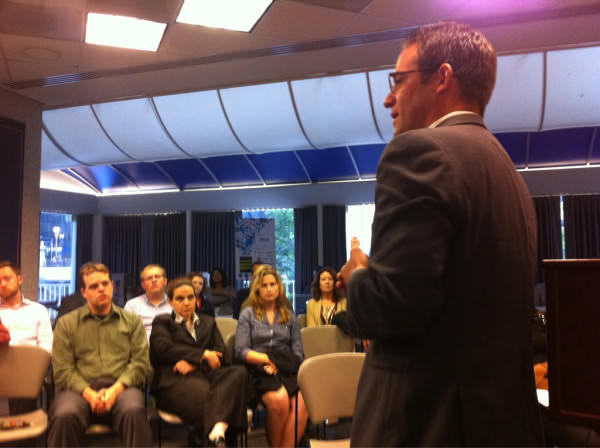 (The King Of Chicago Social Media himself snapped this pic of me during my presentation)
Basically, the point I tried to make was that there's literally no excuse for elected officials not to utilize social media. I would love to be known as the most accessible alderman in the city. Having a presence on all the different platforms is an important piece of this effort.  
Frankly, I'm embarrassed for elected officials who don't take advantage of social media as an obvious resource.  
Anyone can learn how to use the technology. I'm not tolerant of people saying they can't learn new things. That's one my biggest pet peeves. But I often find myself having to defend Facebook, as the umbrella term for all social media, as a thing to "older" people. It's so boring. I'm sick of hearing that Facebook is "a waste of time," "why do you care about what people had for lunch?" and all the other common blah-blah they say. 
 
It's incredibly easy for 1st Warders to DM me for a service request, ask me what I think about an issue or sometimes to call me bad words. I get a ton of ideas and feedback from Facebook and, thanks to my Hootsuite Twitter stream, I don't think I've ever been better informed.
 
Personally, I find it much more interesting to receive requests for city services through social media. It's nice to be able to put a face, and a personality to the people who you're serving. Exchanging emails with people about garbage collection, rodent abatement, etc. can be so dry. It's just simply more pleasant to carry out this bread and butter work when you know what the person on the other end of the request looks like and is interested in.
  
I often find it difficult to talk about my social media "strategy," and finding it difficult to talk about anything is a complete rarity for people in my line of work. I'm not entirely sure why it's hard to talk about. I'm not sure I have a "strategy"... perhaps it's simply something one can either do well, or not very well.
 
I have a closing message for the politicians who don't use social media: please stop being ridiculous... Hire someone fresh out of college, sit down with them and learn it. Your constituents should demand and certainly deserve that.