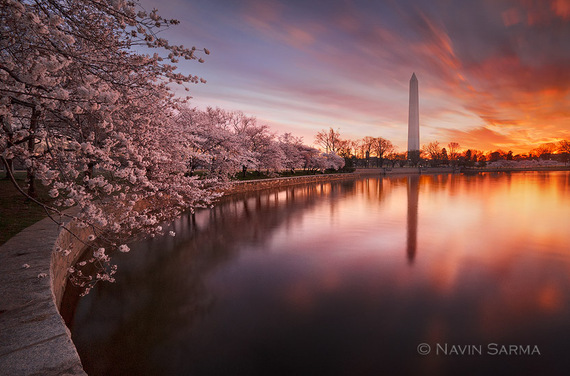 Over the next two weeks, more than a million visitors will pack the nation's capital to see the city's famous cherry blossoms. Many of them have expectations of leaving with a photo worthy of a postcard, much like the one above.
Seems simple enough, right? Make your way down to the tidal basin, point your camera in the direction of the blossoms and click away.
If only it were that simple.
A lot of first-time visitors headed to the National Cherry Blossom Festival in Washington, D.C. will be disappointed when they find out there is literally no shot they can line up that doesn't have a dozen other people in the frame. At the peak of the bloom, which is projected this year between April 11 and 14, tens of thousands of people will converge on the tidal basin at one time, giving it a carnival-like atmosphere.
So how do you get a picture that stands out from the crowd? Listen to the folks who know best -- D.C. photographers who have had years of experience figuring out the best times and vantage points.
1. Get to the tidal basin early to avoid the crowds and get the best light
Arrive at dawn, says Geoff Livingston, marketing expert and author, as well as avid photographer.
"It may seem trite to say that because of the blue and golden hours, but any other time of the day is just a madhouse," Livingston says. "If you do come later, you will be photographing people photographing and admiring the cherry blossoms, which is OK, too."
Jarrett Hendrix, who posts on Instagram as @brilliantartistry, says being early can't be stressed enough. "There are thousands of people at the festivals over the weekend and having people in your blossoms may not be a good combination."
But whether you come early or late, it's about getting the right light, says Lynford Morton, who runs PhotoTour DC.
"Tidal Basin photographs look best in low light," Morton says. "Try shooting closer to sunrise, early morning or late afternoon. Shots facing the Jefferson Memorial across the Tidal Basin work best in the morning because the light will wash across it more evenly then."
Navin Sarma, an award-winning landscape photographer, says it's also about reading the light once you're there.
"As I say in my workshops, think less about photographing the subjects themselves than how environmental light interacts with those subjects. For example, understand that when you shoot into the sun, the blossoms may be more silhouetted than if you shot with the sun to your back. Paying attention to light will exponentially increase the quality of your photographs!"
2. Promote a sense of place
"Try to frame a shot so that it's evident that your image was captured in our city during its famed cherry blossom festival," Sarma says. 
Getting a monument in the background of your photo isn't hard but for a more interesting photo, get creative with your composition or focus.
One tried and true technique is to frame the memorials inside the blossoms, Hendrix says. Try focusing on the monument and blurring the blossoms, or focusing on the blossoms while throwing the memorials out of focus, he says.
It's about telling a story, says Morton, who wrote a downloadable guide on photographing cherry blossoms.
"Don't just settle for flowers. Look for images that tell the story of the day for you," he says. "What were you seeing, smelling, feeling? Look for ways to tell those stories visually."
3. Go at night
The National Mall transforms at night and this is particularly true during cherry blossom season, says Victoria Pickering, a web designer and D.C. photographer.
"The nighttime views of the cherry blossoms are spectacular, especially in the dramatic lighting by the MLK or FDR memorials," she says.
4. It's not just about the tidal basin
If you're averse to throngs of fellow tourists, you can venture to other, less crowded places than the tidal basin.
Pickering suggests Upper Senate Park, across from the north side of the Capitol, and the Japanese-American Memorial on Louisiana Avenue.
You can also find great cherry blossoms if you're willing to go off of the beaten path, Livingston says.
"If you just don't want to deal with the crowd, check out the National Arboretum," he says. "They have many different kinds of cherry blossoms in bloom. It could provide the unusual shot."
5. Simplify your composition
Avoid clutter, Morton says.
"Your biggest enemy will be distraction --  in the frame," he says. "One is the magic number -- one flower, one cluster, one tree. Find one clear subject and work to eliminate everything else that does not lead your eye to it or help tell a story about it."
Hendrix seconds that advice. The blossoms are beautiful and you don't want that beauty lost in a photograph that tries to capture too much.
"Get in close," Hendrix says.  "You will do them justice by getting close in to catch the details of a single blossom among the many."
If you're using a camera with an interchangeable lens, you might consider using a neutral density filter, says John Jack Gallagher. Those types of filters let less light reach your sensor, allowing a longer exposure time -- in some cases, long enough that people moving through the frame will not appear in the image. However, keep in mind for a long exposure, you'll need to use a tripod to keep your camera steady.
No matter how you compose your shot or what time you make it out, be patient, Sarma says.
"Rarely can one arrive on a scene, fire off a few exposures and come back with a best-seller," he says. "The best images are made after careful observation of the scene and experimentation with multiple compositions. This is one of the major advantages of digital photography - there is no film to pay for, just memory to clear. So keep watching, listening, feeling, and shooting. Suffer the crowding (and trust me, it is suffering) and find your peace. And before long you will come away with a shot that is visually superior and will carry more personal meaning for you, the photographer."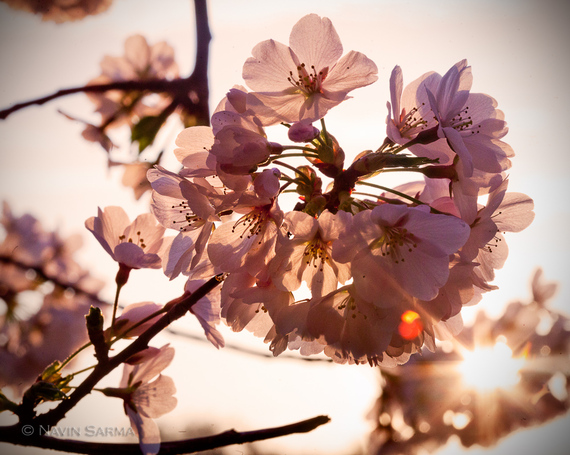 ____________
A version of this post first appeared on DC Focused.
All images © Navin Sarma are used here with permission.