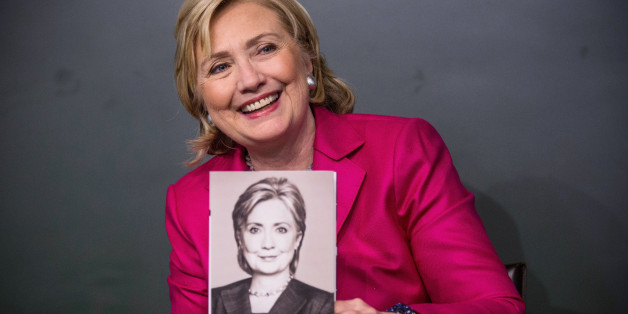 Hillary Clinton's Hard Choices is the opening salvo in her likely run for the White House in 2016. It is a deftly written memoir designed to reintroduce her to the American public, and to highlight her accomplishments and to define any controversies on her own terms. It is not a campaign manifesto; rather it is a largely self-serving personal account of her time at the State Department.
The book, for which she received an $8 million advance, was launched with a huge media campaign. In her first television interview, which aired Monday, Clinton told ABC News' Diane Sawyer that she will not make a decision on whether to run for president until the end of the year. "I just want to kind of get through this year, travel around the country, sign books, help in the midterm elections in the fall, and then take a deep breath and kind of go through my pluses and minuses about what I will -- and will not -- be thinking about as I make the decision," she said in the interview.
Even though she has not announced her candidacy for president, she is the Democratic Party's overwhelming frontrunner. But she is haunted by the bitter 2008 presidential campaign. "Having run for president before, I understand exactly how challenging it is on every front -- not only on candidates but on their families as well," she writes in the book. "After having lost in 2008, I know that nothing is guaranteed, nothing can be taken for granted."
Clinton has been a polarizing figure in the past, and a favorite political target of Republicans. Already, some have raised questions about her health, her age, and her term as Secretary of State.
For instance, Clinton may be called to testify before a select committee of Congress to answer questions about her role in Benghazi. Four Americans died in a terrorist attack at the U.S. diplomatic compound there on Sept. 11, 2012, including U.S. Ambassador Christopher Stevens. Clinton, who was Secretary of State at the time, has repeatedly said she takes full responsibility. Even so, several congressional committees from both houses have already investigated the tragedy. Further, the State Department's Accountability Review Board found, "Systematic failures and leadership and management deficiencies at senior levels within two bureaus of the State Department... resulted in a special mission security posture that was inadequate."
Republicans want to keep the so-called Benghazi scandal alive because they think it is the gift that keeps on giving. And a newly released ABC News poll shows that only 37 percent of Americans approve of Clinton's handling of Benghazi. Nonetheless, Clinton is defiant in her book, "It's just plain wrong, and it's unworthy of our great country. Those who insist on politicizing the tragedy will have to do so without me."
Republicans will not only continuously attack Clinton on Benghazi, they will also claim that a Clinton presidency would be a continuation of President Barack Obama's eight years in office. Clinton uses the book to make it clear that she and the president had their differences. Clinton favored arming the Syrian rebels in 2012, calling it "the least bad option available." The president disagreed. She wrote, "No one likes to lose a debate, including me. But this was the president's call and I respected it."
Clinton admitted she made a mistake voting for the war in Iraq in 2002, a vote that may have cost her victory in the 2008 primary against Obama. "I thought I had acted in good faith," she writes, referring to the bad intelligence the Bush administration provided about Iraq's weapons of mass destruction capabilities. "And I wasn't alone in getting it wrong. But I still got it wrong." She goes on to say, "I should have stated my regret sooner and in the plainest, most direct language possible."
Throughout the book Clinton discusses how she dealt with foreign policy dilemmas during her tenure at State. She writes about China, Iran, North Korea and the Middle East. As Secretary of State, she visited 112 countries, and travelled one million miles. The book will appeal to Clinton supporters, and her many critics will harshly trash it.
As if she had to be reminded how vulnerable to attack she is, she started a controversy when she told Sawyer that she and President Bill Clinton were broke when he left office. "We came out of the White House not only dead broke, but in debt," she said. "We had no money when we got there and we struggled to, you know, piece together the resources for mortgages, for houses, for Chelsea's education. You know, it was not easy." Republicans called these comments a major gaff, some even accusing her of being as tone deaf as Mitt Romney.
But Republicans should be careful how they handle a Clinton candidacy. She enjoys strong support among women, typically the largest voting block. Clinton will also appeal to middle-class white voters, Hispanics, African Americans and other minorities.
While she did not declare her candidacy in Hard Choices, she gave plenty of hints. "Ultimately, what happens in 2016 should be about what kind of future Americans want for themselves and their children," she writes. "I hope we choose inclusive politics and a common purpose to unleash the creativity, potential, and opportunity that makes America exceptional. That's what all Americans deserve."
Sounds like Hillary Clinton has already made the hard choice.