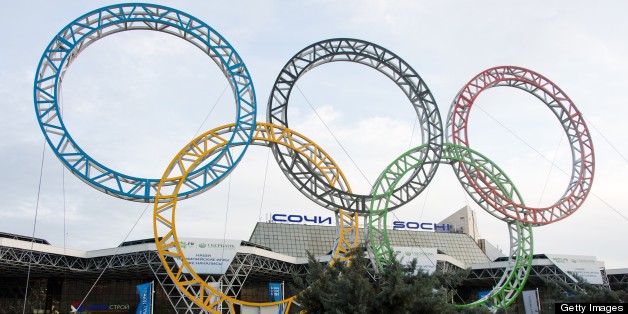 On Friday, Feb. 7, 2014, the XXII Olympic Winter Games in Sochi, Russia, will begin. Thrilling opening ceremonies will mark the recurrence of one of the world's most stirring events. Those opening ceremonies represent the culmination of a lifelong journey for the athletes who have endured unfathomable amounts of physical and mental pressure to meet a goal to which few can aspire. Just to make it to this moment is an extraordinary accomplishment that only a tiny fraction of the world's most elite athletes will ever know.
An even smaller percentage of those athletes are gay. Whether in antiquity or modern times, an Olympiad without gay athletes would have been impossible. It is only recently, however, that enlightenment has led to greater civil and cultural inclusion of gays in all walks of life; they're freely, openly, fearlessly able to be themselves. But that freedom is now marred by the threat of bigotry and hatred.
I was 8 years old when I first saw the 1984 Summer Olympics and became inspired by the artistry and strength of Bart Conner and Mary Lou Retton. That moment charted the course of my life, instilling in me a passion that still burns deep within my heart. Recently, laws in Russia have questioned the morals of a sector of humanity, and I wonder how it has impacted the passion of our young athletes. If I'd known I was gay in 1984 and these laws were standing, would it have turned me off the sport of gymnastics? Would I have gone deeper into my self-hatred, never striving to be the best I could be, not only because there was still prejudice toward homosexuality in the U.S. but because now an entire country, and a prospective Olympic host country at that, has put in place laws that would threaten me, if I were to visit, with imprisonment or worse for being born the way I am?
I think it is safe to say that most gay, lesbian, bisexual, and transgender people grow up with a devastating amount of fear, confusion, and lack of acceptance. Imagine growing up in a world where, from the beginning, one is told, "You are wrong and sick. You are an abomination to God." How does one carry on in life? It wasn't easy, but we did carry on, like most minorities. We kept marching through the pain of knowing what others thought of us, knowing deep within our marrow that we could not change the way we were born, as it took all the strength we could muster to accept ourselves. I'm proud of my gay brothers and sisters.
The athlete who is preparing for the Winter Olympics probably doesn't have much time to waste on political questions. As an athlete and gymnast myself, I can empathize with, but I cannot express, how much strength and energy I know it has taken for these young men and women to even begin their quest, a quest so extensive and difficult that not everybody who embarks on that journey makes it. Year after year, these athletes battle a relentless amount of exhaustion, physical agony, and mental stress. They have strategically placed themselves in pursuit of perfection, to be glorious on the one day that will honor everything they have sacrificed. Their dedication and drive alone should be applauded and honored, but now, as these athletes get down to the finish line, their Mount Olympus is stained in prejudice.
There are many unsung heroes in sport. Every winner on the dais has been helped there by supporters who have provided the strong safety net that holds them so that they can go up against themselves for what they have worked and fought for. How can gay athletes in the upcoming Winter Olympics access their support system if their sexual identities must be held in secrecy? Won't this kind of emotional fear impede their athletic abilities? Isn't it outrageous that we are even talking about this?
I don't know what the solution is. I don't even like acknowledging that this is happening, yet every day when I read the news I'm in disbelief. Athletics is one of the most beautiful, liberating gifts we have as humans. From team sports to individual sports, it brings us together in unity with ourselves and each other. It frees us from ourselves and pushes our physical limitations beyond what we ever imagined. It is a celebration of our God-given bodies. The Olympic ideal should be about who is best on that given day, measured only against the limits of his or her chosen sport. Nothing else should matter.
As the world watches the Winter Olympics from the stands or television sets, what kind of games will they be watching? The Olympic torch relay has always seemed to me an indelible expression of the human spirit. It burns so bright and is handed off, from person to person, and then finally comes to rest, to light the way for the start of the games. I urge my brothers and sisters to stand, to be that torch and to remember that we are all born equal, like the purity of that fire.